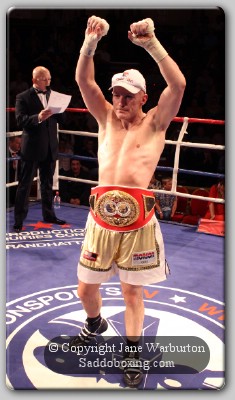 Click the above Image for more Photos from this Event
'Magic' Matthew Hatton secured a Unanimous Points victory over Belarusian - Andrei Abramenka on Friday night to win the IBF International Welterweight Title.
At the famous Blackpool Tower Circus, England, Robert Waterman promoted the fight-card of six bouts which headlined Hatton's first fight since suffering defeat to Saul Alvarez in March.
It was a steady start to the fight but Hatton picked it up in the second round – going in with a variety of shots while driving Abramenka backwards.
The fourth sees 'Magic' upping the pace but he sustains a cut to the left brow in the fifth from an accidental clash of heads. Thanks to the expert skills of cuts-man – Mick Williamson, the cut didn't give Hatton any problems.
The seventh sees the Mancunian warned by Referee Marcus McDonnell for a low blow but he finishes the eighth round strongly – attacking Abramenka on the ropes as the bell ends the round. The Belarusian suffers a cut to the left eye from a punch during this frame.
Hatton is deducted a point in the tenth for another low blow but it spurs him into action as he increases the work-rate in the last minute of the round.
Abramenka looks like he's had enough in the twelfth and final round and Hatton finishes the fight with a right-left to the head of his opponent in the closing seconds.
Hatton gets the Unanimous Points victory 118-110; 118-109; 118-109, to claim the IBF International Welterweight Belt.
Hatton improves to 42 wins (16 by KO) 5 losses (1 by KO) and 2 draws.
While Abramenka's record now stands at 15 wins (3 by KO) 1 loss and 2 draws.
Also on the Bill, popular local man – Matty Askin, secured a fourth round knockdown of Argentinean – Juan Manuel Garay.
Garay seemed to be enjoying the spotlight as he entered the ring – posing a number of times for me to take photo's!
But Garay looks 'chunky' next to taller Askin. The Argentinean dips low when going in for a shot and stands off with left arm dropped low by his side. Askin increases the pressure in the closing minute of the second frame and Garay pretends to look 'wobbled' by it! Seconds later, the local man has a point deducted for holding on.
It was a messy fight at times – a bit of a brawl, with Garay half-way through the ropes and then sustaining a cut high on the forehead from a clash of heads in the third.
As they begin the fourth round, Askin is warned again by Referee Howard Foster – and again a minute later for pushing. But Askin lands a right uppercut followed by another and Garay is under pressure and 'open' when Askin lands a left hook right on the button. Garay gets up but Referee Foster waves it off.
Askin - the 'Assassin' – wins by fourth round TKO and notches up his eleventh win with no losses.
Garay drops to 18 wins (11 by KO) 11 losses (6 by KO)
Richard Turba (Blackpool) v Mitchell Balker (Netherlands / WestHam)
6 Round Cruiserweight Contest
Slovakian-born Turba suffered a points defeat to Balker (59-57) despite having Balker on the canvas in round two.
Balker improves to 5 wins (2 by KO) and 1 loss (1 by KO), while Turba drops to 6 wins (5 by KO) 3 losses and 1 draw.
Tom Scott (Blackpool) v Billy Smith (Worcester)
6 Round Middleweight Contest
Debutant Scott looked surprised when the fight didn't finish at four rounds (!) but he continued regardless and notched up his first pro-win on points (60-54) against tough 'Gypsy Boy' Smith.
Smith's record now stands at 12 wins 98 losses (8 by KO) and 2 draws.
Zhanat Zhakiyanov (Kazakhstan) v Anwar Alfadli (Sheffield)
6 Round Bantamweight Contest
Zhakiyanov wins by fifth round TKO. He improves to 15 wins (8 by KO) and 1 loss while Alfadli drops to 1 win 16 losses (2 by KO) and 2 draws.
Adam Little (Kirkham) v Liam Griffiths (Bognor Regis)
4 Round Welterweight Contest
Little gets the points win (40-36) over debutant Griffiths.
His record improves to 3 wins (1 by KO)