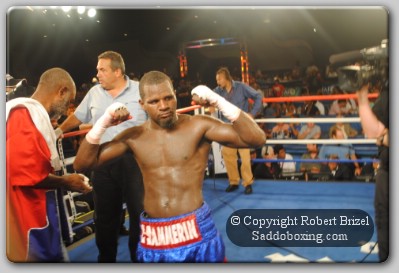 In an exclusive telephone interview with Saddoboxing after his controversial ten round majority decision loss to Raymundo 'Sugar' Beltran, which cost him his number one WBC ranking and his NABF title belt, Henry Lundy, better known as Hammerin' Hank insisted he won the bout-and wanted an immediate rematch with Beltran. Lundy spoke eloquently as he outlined the circumstances surrounding the bout, including his issues with the weigh-in and judging, but he did not make any excuses for his performance. Many experts still consider Lundy the best lightweight fighter in the world. The loss seemingly cost him a mandatory title bout with current WBC champion Antonio DeMarco. Lundy's promoter, CES Boxing President and CEO Jimmy Burchfield, currently the most active promoter in the world, had been after DeMarco's camp to put the mandatory bout together with Lundy for over a year without success.
The ESPN2 televised ten round main event resulted in scores of 95-95 a draw, and 96-94, 96-94 for Beltran, a Mexican Freddie Roach fighter out of the Wildcard Gym in Hollywood. If Lundy had won one more round the bout would have been a draw. Lundy, in a critical view of his own performance against Beltran, analyzed the circumstances before, during, and after the bout with Beltran in great detail during the interview.
Saddo: "Hello Hammerin' Hank Lundy! Do you want a rematch with Raymundo Beltran right away or at some point in the future? Does it matter if the rematch is held again in Atlantic City, or in Los Angeles or Las Vegas?"
Lundy: Hello. How are you? Yes. I want do a rematch with Raymundo Beltran right away. I will fight him anywhere! It does not matter where."
Saddo Boxing: "ESPN2 commentator Zab Judah thought you won the fight. Many fans at ringside thought you won the fight, but the fight appeared close. Do you think you deserved to win?"
Lundy: "I won the fight! I was controlling the fight. Beltran was punching inside and missing. I controlled and dominated the fight all 10 rounds. I won the fight!"
SB: "Do you think the judging in Atlantic City was fair?"
Lundy: "I feel the judging was not fair. I controlled the fight. In order to take the championship belt, you have to beat me. Beltran did not beat me. I put everything I had into that fight. When you try to score a bout, you should judge it correctly."
SB: "A majority of the ESPN2 fans watching the bout gave six rounds to Beltran and four to you. You are known for studying your bouts and those of your opponent. What did your review of your bout with Lundy the next day reveal?"
Lundy: "I'll be fair. I looked at the tape of the bout. I gave Beltran four rounds. I won six rounds and he won four rounds. But half of the rounds I won big. When I got on the ropes, he threw some big shots, but he was missing."
SB: "Hank, you waited for over a year as the mandatory number one ranked challenger for a shot at World Boxing Council lightweight champion Antonio DeMarco. Do you think the WBC should have stripped DeMarco of the belt and put you in a vacant title bout?"
Lundy: "I feel the World Boxing Council should have stripped and put me into a vacant lightweight title bout. I fought everybody they put in front of me. I could have waited. This is Hammerin' Hank. I'm not going to sit and wait for the guy (DeMarco). I wanted to stay active."
SB: "Some boxing experts questioned your weight difficulties at the scales the day before the bout. You initially weighed in at 136.8 pounds. What causes the weight troubles? Was it because of training?"
Lundy: "Before I left from Philadelphia the day before the fight (Thursday July 25) I was 134 pounds. The next day on Friday I weighed in Atlantic City and they said I was overweight. The digital scale is actually a little hard. It bounced back and forth. One time I hit the weight. The scale was just off. I went downstairs. I came back upstairs to weigh in again twice. I did not do anything. The second time when I came up, I weighed in lighter. The New Jersey Athletic Commission now had my weight at 135.6 or 135.8, and I did not do anything to lose any weight!"
SB: "What happened next?"
Lundy: "I headed to the Resorts Hotel and Casino sauna. I stayed in the sauna as I had to drop down to reach 135 pounds. It was hot. I don't like Jenny Craig. I did not like it. At the fourth weigh-in within the two hour allotted time period, I dropped my weight down to 134.8 pounds."
SB: "Did you feel dehydrated at that point?"
Lundy: "I did not have any water in me before the weigh-in. My weight was on point (135 pounds) when I got there on Friday. The commission had the scale on top of a board on top of a rug. When you use a digital scale, you must have a level platform. You do not weigh a fighter on a rug. A rug is not level, and it causes the digital scale to go up and down and give an inaccurate read. Even when you conduct a weigh-in on a stage, you have to use a leveler and make sure it is level. When the commission first placed the digital scale down, they placed it on top of a board without testing. They are supposed to test it."
SB: "So you feel the way the scales were handled were too haphazard?"
Lundy: "Yes."
SB: "What were your weigh-in experiences at Foxwoods last March for the Dannie Williams fight which you won?"
Lundy: "At Foxwoods, the digital scale was on a level platform on a stage. I still did not like it. Before you get to a weigh-in, someone has to check the digital scale to see that it is at 0.00 pounds. You team asks if the scale is accurate or calibrated. I did not see the commissioner check to see if everything was good with it (the scale)."
SB: "You had to weigh in four times to reach 135 pounds. If you did not, you would have given up your NABF title. What is it like to lose weight in the sauna?"
Lundy: "It's my job. I'm a professional. I chose my sport, and made the weight."
SB: "Did the weight loss so close to fight time on ESPN2 affect you either mentally or physically before entering the ring to fight Beltran?"
Lundy: "Entering the ring, I felt as if my body was ready. I got off to a slow start, and I am a fast starter. It affected me just at the very beginning of the bout."
SB: "During the bout, you seemed to be throwing a lot of punches on the move. While Beltran seemed to plant his feet before throwing his shots. Was this a flaw in conditioning or sparring? Were you uncomfortable with Beltran for some reason?"
Lundy: "In training camp, we had a good camp. I had injuries, but this is something all fighters go through and endure. I pulled my right shoulder during sparring three weeks before the fight. I strained it. I took a week off from sparring because I needed time to heal. I could say it affected my timing. During my fight with Beltran, I noticed I did not throw as many right hands. I did not tell Jimmy Burchfield about my injury however beforehand. I have my wife and kids to think about at the end of the day. If I have to fight hurt, I will fight hurt."
SB: "What did you notice most after the bout with Beltran began?"
Lundy: "I felt good when the bout started. As the fight went on, the punches Beltran threw which grazed my right shoulder caused it to tweak a bit. I really could not throw the right hand like I wanted to. But I still beat Beltran and won the fight."
Sloan Harrison has served as Henry Lundy's boxing trainer for the past five years.
Harrison: "I do think my fighter Hank Lundy won the bout. As for a rematch with Beltran (soon), I'll have to talk with Hank and Jimmy and see what's going on."
SB: "Thank you."