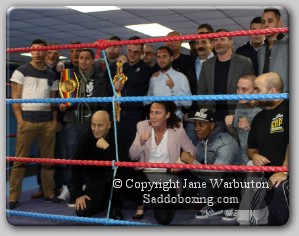 It was a great atmosphere yesterday at Jon Pegg and Richie Woodhall's Gym in Birmingham – when boxers, officials and fans came together to help raise funds for cancer sufferer Andrew Millwall.
The event organised by Jane Couch MBE was attended by boxing notables which included: Tyson Fury, Jamie Moore, Kevin Mitchell, Frankie Gavin, Terry Carruthers, Ryan Clarke, Ryan Rhodes, Dave Coldwell, Max Maxwell, Jody Meikle, Ashley Sexton, Sid Razak, Peter Buckley, Martin Gethin, Don Broadhurst, Referee Shaun Messer, Altaf Mubarik….infact too many to mention!
There was a raffle and auction and lots of photograph and autograph opportunities – it was a boxing fans paradise ! Many of the attendees were regulars of Andrew's WWBPL (Worldwide Weekly Prediction League) who enjoyed the chance to meet up with friends they connect with via the online League.
Andrew was surprised to receive a medal which was presented by Jamie Moore on behalf of the WBC. The letter accompanying the Award was signed by Jose Sulaiman, President of the WBC, who said that the medal was 'as a remembrance of all those people at the WBC who are with you in your corner, as our appreciation for your continuing contribution to this great sport of boxing that we all love'.
The medal is the same as the medals given to World Champions when they receive their belts and Andrew wore his with pride yesterday. He clearly looked to be enjoying himself and we hope that the event raised a lot of much needed money for his family.
The afternoon was topped off by a memorable (and unexpected) rendition of 'Walking in Memphis' by Tyson Fury which he dedicated to Andrew!
Andrew said that yesterday had been overwhelming, "Everything seemed to go well and there was a great turn-out by the Boxers – everyone looked to be enjoying themselves. So many fight fans got photo's and autographs. I'm very grateful to everyone for their support. The boxers deserve a big pat on the back and huge Thanks for how great they were with the fans and Jason Lowe was brilliant as MC."
Anyone who did not attend the fundraiser but would still like to donate – can do so via the following Paypal account : (A.Lipton) APL7779@hotmail.com
Thank you.