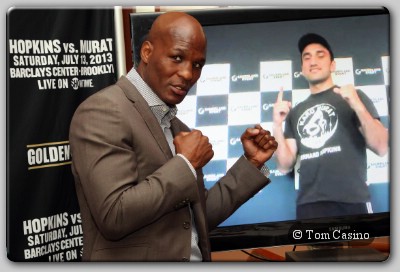 Bernard Hopkins Vs Karo Murat: Boxer Quotes from Hopkins, Murat, media roundtable in Midtown Manhattan to discuss July 13 title fight live on Showtime Boxing
Bernard Hopkins, IBF Light Heavyweight World Champion
"I discovered a month ago, the doctor will be present before the [fight week] press conference hopefully to explain this, As I must confess that I'm not human. I'm an alien. No, seriously. I realize that Pluto is not a planet now, so I'm from Mars. I've definitely retired the 'Executioner.' You won't hear me mention the Executioner.
"Now, I'm in this globe but I'm not of this globe. There is no aging process for me.
"The breaking news is that I'm an alien.
"I'm not just defending my title, but additionally defending my legacy.
"I'm from Philadelphia. I get a great deal of love in Philadelphia, but, to be a part of Brooklyn and fighting in a new facility which in 15 or 20 years from now, people will be talking about the great occasions which took place there and be mentioned for my performed on March 9.
"When Murat's name emerged and was agreed upon, I was like 'let's do this.' I see greater things in my future surprisingly and he's in the way of that.
"I feel like I'm in my mid to early 30's and not my 40's.
"If you don't know Karo Murat, then you'll know him after this fight.
"I know when I was a number one contender, I was hungry for a title so I think you should pay attention.
"There's a reason a fight between Cloud and Murat didn't take place.
"I look at it as 'look what's on my plate.' The pressure will be on me, not Karo Murat. The pressure is on me to show who I am and to tel the boxing world that when it comes to age, you should never count Bernard Hopkins out.
"Karo Murat and anyone I fight is a risk at this phase of my career.
"I must look beyond him to the future. Which means I'm motivated to make a statement and outdo the last fight. That's one of my goals is to outdo what people thought was a historic moment March 9. To me, other than the push-ups, I outdid myself in both Jean Pascal bouts. This is my motivation. I want a super fight before I retire. If I want that super fight, I must get past this. This is more of a political, do or die kinda fight for me. I'm great under pressure.
"Karo Murat, to me, is that super fight for now on paper, because there's no reason to speak about anything else if July 13 is a disaster for my plans. It's counterproductive to talk about anybody else beyond July 13.
"Karo Murat is hungry, he's been waiting and he has a mindset of, 'I'm in a win win situation because there are a great deal of other boxers who have lost to me. So that's not an embarrassment to him. It's almost like a badge of honor. Can you imagine getting a black eye from somebody you watched and loved growing up? Murat was 10 years old when I had a title. That's a shiner that you don't want to heal.
"I'm in a unique situation being 48 and getting a man who you don't take a risk with your fighters because I have a history of ruining many young boxers careers.
"This isn't an off day for me. I'm not taking him lightly because I understand what's on the table for my future. This year there is a possibility that you will see a 48-year-old athlete fighting at a top-level three times. Who does that?"
Karo Murat, Number One Rated IBF Light Heavyweight Contender
"I respect what Hopkins has accomplished so far in his career, But I'm traveling to The united states for the fight of my life. I'm ready for a fight and I'm going to show you a real fight once we get into the ring.
"I'm taking Hopkins seriously. Who wouldn't? I've followed his career since I was 10, therefore I know all of his moves; everything he does, I know already.
"The deciding factor will be who will be mentally stronger and I think its me because I don't have the same pressure that Hopkins does, so that provides me with an advantage.
"I believe there's a huge Armenian community in New York, therefore ever since I discovered that I was coming to New York, I've been hoping all the Armenians will come out and support me.
"I'm happy that he accepted the fight. It's by far the biggest fight of my career.
"It's a joy listening to Hopkins. He's a smart guy and it's been rather fun listening to him. In my opinion, the roles have reversed from his bout against Cloud. A great deal of people were writing him off because he's old. He was the dark horse in that fight, and I believe the roles have now switched. I believe I'm the underdog. I'm the dark horse. I'm caught in the cross hairs and I'll turn up in the best shape possible. I'll turn up with the right mind-set and Bernard Hopkins is going to feel that come July 13."
--
Bernard Hopkins Vs Karo Murat is 12-round fight for Hopkins' IBF Light Heavyweight World Championship taking place Saturday, July 13 at Barclays Center in Brooklyn, promoted by Golden Boy Promotions and televised live on Showtime Boxing.