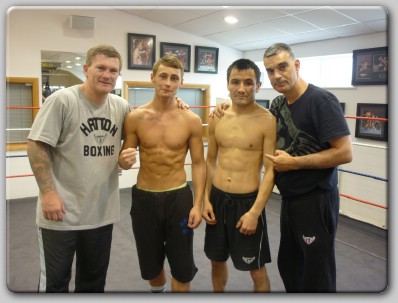 Ryan Burnett says he's going to follow the blueprint set by fellow Belfast-native Carl Frampton, in his attempts to get to the top.
The pair trained together under the legendary Gerry Storey at the Holy Family Golden Gloves Boxing Club as amateurs and have remained firm friends.
Frampton now sits on the verge of a world title shot despite having just 16 pro fights under his belt and Burnett sees no reason why he can't follow 'The Jackal's' lead.
"Carl Frampton is a big inspiration to me because I used to train with him and I've seen how he's gotten so far so quickly," Ryan, 21, said.
"Me and Carl have done a lot of work together in the lead up to his fights and he's always been great. It's something I've learned a lot from.
"I look at him and think 'he's from Belfast and he's done it so I can as well'. He's shown me what you can do and I want to follow the same path."
Earlier this year, Frampton began selling out shows at Belfast's stunning Odyssey Arena and Burnett hopes to one day do the same.
In the meantime, he will make his first professional appearance in his home city on a show promoted in association with Jane Wilton, at the Holiday Inn on June 28.
"I'm really looking forward to fighting in front of a home crowd," he said. "It's been a while since I last boxed in Belfast so I'm expecting a very big turn-out.
"It's early days and I'm taking things step by step, but my long-term plan is to build up good support in Belfast on these kinds of shows and then one day sell out the Odyssey Arena like Carl has."