**With Slideshow**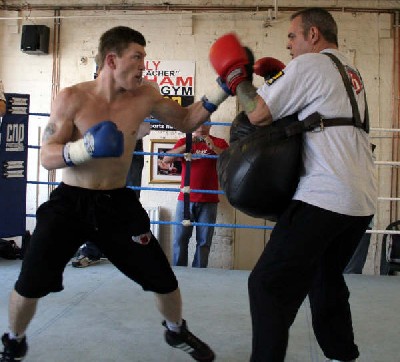 © Jane Warburton / Saddo Boxing
Any concerns that Ricky Hatton's health is a problem at the moment were dispelled today as members of the media were invited to a training session of 'The Hitman' at Billy ʽThe Preacher' Graham's Training Camp in Denton, Manchester, England.
Looking relaxed, Hatton - wearing hooded sweatshirt over sweat-top over tshirt and shorts - took to the ring. Shadowboxing around the canvas, he looked ʽsharp' and ʽquick' on his feet.
Billy Graham then stepped in to the ring and donning the huge black body-belt, the trainer braced himself for another gruelling session with 'The Hitman'.
Proving he'd not lost his usual cheeky charm - Hatton occasionally ʽshoves' Graham back against the ropes and even the serious looking ʽPreacher' can't help but laugh at the antics!
Stopping for a drink of water, Hatton spurts it back out of his mouth over the Sky Sports cameraman, who - holding a heavy TV Camera - was powerless to stop the cheeky Hitman from drenching his groin. Every one laughed; training is taken very seriously at the gym, but there's always time for a joke or two!
For several rounds, Hatton pounds away at the body-belt, digging in with crunching bodyshots.
He then jumps down to the floor of the gym where he trains on the punch-bag and then finally out in to the BettaBodies Gym to run on the treadmill.
Always happy to speak to the media, Hatton confirmed that he'd had a chest infection more than a week ago, so he'd taken a couple of days off training and had antibiotics, but was fine now. And judging by today's performance - we're in for an action-packed fight against Juan Lazcano on May 24!