**With Slideshow**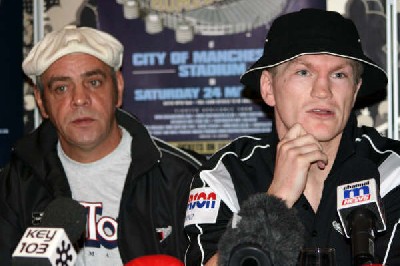 © Jane Warburton / Saddo Boxing
Yesterday, at Vermilion Cinnabar - the stylish, new, Thai influenced restaurant and bar in Manchester, England, Frank Maloney hosted a press conference to update media on the forthcoming fightnight which headlines Ricky Hatton and Juan Lazcano.
Despite other important press conferences held on the same day - it was a full-house at Manchester's trendy new venue.
In attendance were, Frank Maloney, Ricky Hatton, Ricky and Matthew's father/manager Ray Hatton, Hatton trainer Billy Graham, welterweights Matthew Hatton and Craig Watson as well as super bantams Danny Wallace and Mark Moran.
Frank Maloney in association with Punch Promotions and Golden Boy presents 'Homecoming' - a fightnight staged at the City of Manchester Stadium on Saturday, May 24.
Today, Mr Maloney confirmed that the undercard would include four title fights:
Paul Malignaggi vs. Lovemore N'Dou in a 12 x 3 IBF Light Welterweight title bout
Craig Watson vs. Matthew Hatton in a 12 x 3 Commonwealth Welterweight title contest
Andrew Facey vs. Thomas McDonagh in a 10 x 3 English Light Middleweight title bout
Danny Wallace v Mark Moran in a 10 x 3 English Super Bantamweight title bout.
Also, on the undercard is the popular Salford southpaw Jamie Moore. The overseas opponent for the former two time British champion is yet to be confirmed but he will take part in an eight round light middleweight contest.
Ricky Hatton looked relaxed as he spoke to media in attendance. Listen to the full audio here: