**With Slideshow**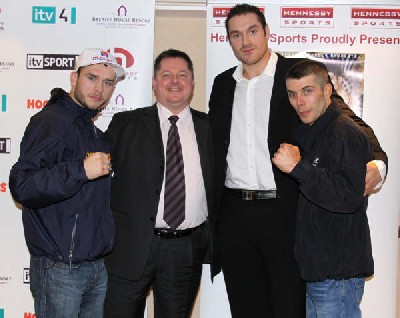 © Jane Warburton / Saddo Boxing
Yesterday at the Wrightington Hotel and Country Club in Wigan, England, Hennessy Sports hosted a press conference ahead of Saturday's fight night headlined by John Murray vs. Lee "The Aberdeen Assassin" McAllister for Murray's British Lightweight title.
Sitting at top table were heavyweight prospect Tyson Fury, Team Murray members Kerry Kayes, Joe Gallagher, John Murray and Mick Hennessy along with Lee McAllister and Dave Coldwell.
Press: John, there were a few hiccups and the fight [initial contest between Murray and McCallister] was called off.
John Murray: I cut my head and it wouldn't heal up.
Press: Was that in sparring?
Murray: No I did it on holiday in the summer [grinning] I had to have it opened up when I got back and it just needed more time to heal properly.
Kerry Kayes [Murray's Nutritionist]: Next time he goes on holiday - he'll be taking a cuts man with him! [laughing].
Mick Hennessy: Originally, the fight was penciled in for the 29th November, then we went to a confirmed date of 13th December, so it was really only put back the once.
Press: How are you feeling?
Murray: Good. Looking forward to it. Training's gone good; in good shape. Really can't wait till Saturday.
Press: There was some talk of John and Amir [Khan], wasn't there Mick?
Hennessy: Yes, there was a call just before Christmas about potentially doing the fight, but I told them that John had a title fight on the 17th January and assuming John comes through that unscathed - then I'm sure John will take that fight [vs Khan] on March 14th.
But John isn't prepared to give up his British title and at the time they asked, they were expecting him to vacate his British title and we only deal with the top traditional titles and we -as a team- weren't prepared to give that up. [Hennessy later said the offer was never put in writing].
SaddoBoxing: How has your training gone, Lee?
Lee McAllister: Everything is spot on. I've been doing a lot of training up in Aberdeen with my father and he's been my coach my whole career and I've had my training with Dave Coldwell up in Rotherham. It's been the best run up to a fight I've ever had. Obviously with the fight put-back, it was better for me because I had longer to train.
Press: Are you living in Sheffield now?
McAllister: No, I've come down for the fight and for training. I've spent a few weeks with Dave [Coldwell] to go over a few bits.
Press: Training through the Holidays; did it make it difficult sticking to your diet and routine?
Murray: It was no problem.
McAllister: John is lucky to have a Nutritionist [Kerry Kayes] looking after him, but I have a mum who cooks really well! All the pressure is on John. When I fight in Aberdeen, all the pressure is on me; I'm the main attraction. But Saturday, all the pressure is on John.
Press: If John is successful on Saturday, what are the plans afterward?
Hennessy: John would like to win the Lonsdale belt outright so we'd be looking for another defence of his title. In the future, there are great fights out there such as the European title or if Khan does decide to take on Murray... If John is fully motivated, he's capable of beating anyone.
Press: Tyson, can you confirm your height?
Tyson Fury: Six feet 8 and a half inches tall without shoes, with boots on I'll be a bit taller!
Hennessy: Tyson's opponent is flying in at the moment, subject to medicals. His name is Marcel Zellar he is a 6 foot 5 massive prospect in Europe.
Fury: For my debut fight, I'd just got back off honeymoon when I boxed so I wasn't in the best shape. But I've just had four weeks of training and I feel ready to fight anyone!
Press: Were you fazed fighting in front of 6000 people on your pro-debut?
Fury: I've fought in front of big crowds before, so I'm not fazed by it.
Hennessy: The problem for me is holding him back, it's refreshing. He'll say to me - can you get anyone better, Mick? Then he'll suggest Scott Gammer and other leading heavyweights - we did offer it to a few of them, but they've all declined.
SaddoBoxing: Will you be looking for another quick stoppage?
Fury: To be honest, I'm going to go out there and try my boxing skills and whatever happens, happens. I'm not going to be just looking for the quick knockout because when you go out looking for it - it never happens.
Press: What are your plans for Tyson?
Hennessy: I probably need to hold him back a bit. He wants to move fast - he wants to get a British title.
Press: John - what sort of fight are you expecting from Lee?
Murray: I've watched him fight - I think he's got a typical 'Ingle' style of a stand-up boxer. He uses his feet well and punches well when he lets them go. I've had an ideal sparring partner in Peter McDonagh, who's been coming down over Christmas and stayed over here, he's been a God-send really - he's sharpened me up and I'm as sharp and effective as I can be against his [McAllister's] style.
Press: At one point, you kind of lost focus because of what was going on outside the ring - is everything alright now?
Murray: Yeah. I went through a bad patch in me boxing and I very nearly quit because of what was going on outside of boxing - it can get you down but I'm where I want to be right now. I'm top of me game.
Joe Gallagher, Murray's trainer: It just shows you how much John values his title. I don't think anyone else in the country would have done what John did - when Amir Khan comes knocking on your door, other boxers would have dropped the British title and took the fight. Come Saturday night - people have to realise that John is a world contender, not like the other fella who is only a pretender.
McAllister: I think John is bang on. a lot of times boxing can get you down. But you have to raise your game. I'm a fan of John myself - I like to watch him box.
Gallagher: Lee McAllister is potentially a harder fight than Amir Khan. I've said before it's a 'banana-skin'. I can still see problems on Saturday night that he'll present us with. I don't see Lee running like he has done in the past. Scotland has a heritage of brave, proud warriors: Ken Buchanan, Jim Watt, Alex Arthur.
I expect Lee McAllister to carry on with that tradition. I don't think what you've seen of Lee McAllister in the past is what you're going to get on Saturday night.
People who have rubbished my remarks when this fight was first made - that this is an easy defence for John and me saying that Khan was the easier job - will soon realise that this is potentially the best fight between the best two fighters in Great Britain at the moment - and that's excluding Jonathan Thaxton by the way.
Kerry Kayes: [laughing] No pressure lads...
Gallagher: There's no pressure with John Murray because he's most happiest when he's in the ring. I think the pressure is for Lee; he's the former two time Champion and local hero up in Aberdeen and he's coming down here, I assume it's the biggest pay-day to date.
It's a great opportunity for Lee - he knows he's got one chance to grab it with both hands and we're aware of what Lee's got to come with and he knows if he doesn't do it Saturday night it'll be a long time before he'll do it again.
Press: What do you think about Khan vs. Marco Antonio Barrera, John?
Murray: Barrera is a bit older now and Amir's a big lightweight. I think the fight will suit both of them, but I think if Barrera is anywhere near his best, then he should knock Khan out.
Gallagher: This could be the end of his [Khan's] career if Barrera beats him. John and Lee are trying to go about it in the right, traditional way.
McAllister: My missus is about 7 and a half stone [105 lb], I'd let her have a shot at him [Khan]!
Press: Dave, how prepared is Lee going into this fight?
Dave Coldwell, McAllister's trainer: He is 100% prepared. Technically there were a lot of mistakes that he made before, so we've just tried to tighten him up and make him a little bit more cleverer. He's a lot calmer and controlled now.
Lee is massive in Aberdeen - that's pressure, but coming down here with just a couple of hundred fans supporting him in Wigan - that's not pressure. He wants hard-testing fights, that's why he's been shouting his mouth off, to get a big fight.
See what he's like now - he's not all-mouth, he has a lot of respect for John Murray. He knows that John Murray is the best lightweight out there, except for him [McAllister].
With the fight put-back, it's done us the world of good because we've had longer to work together. Lee knows what he has to do and it's going to be exciting.
Gallagher: John is consistent, Saturday night will be his best performance.
McAllister: That's a coincidence - it's going to be my best performance on Saturday as well [laughing]!
Gallagher: That's alright - it'll be either a contender for 'fFght of the Year' or 'Knockout of the Year'!
Mick Hennessy thanked both parties for their professionalism.