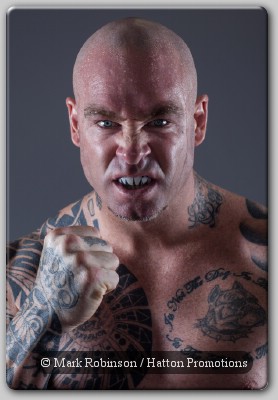 Aussie banger Lucas "Big Daddy" Browne plans on becoming the first man to knock teak tough Chanucy Welliver off his feet when they clash next month.
Unbeaten Browne defends his WBC EPBC crown against the New Zealand-based American on the undercard of the massive Mundine v Rabchenko bill at the Hisense Arena in Melbourne, on November 12.
As Browne is ranked in the top ten by three of the four main sanctioning bodies, this fight presents a potential banana skin on his route to a world title shot in 2015.
Welliver, 55-8-5 (22 KOs), has mixed it with the likes of Odlanier Solis and despite being stopped twice (one retirement), he has never been knocked down.
"I can't wait to get in there and put on a great performance. People love heavyweight boxing because of the one punch factor. I believe I've got the heaviest hands in the sport and the fans seem to enjoy that," Browne said.
"Chauncy has a very good record and I'm told he's never been knocked off his feet. He's also been highly ranked before. I've got plenty of respect for him, but nothing is going to get between me and the goals I have set for myself.
"I'm ecstatic to be on this huge card headlined by my stablemate Sergey Rabchenko. This is another step towards my goal of becoming Australia's first ever heavyweight world champion. November 12 is going to be a big night of boxing!"
Lucas's co-manager, Matt Clark, added: "This is another step on the way to Lucas Browne fighting for the most prestigious prize in sport - the heavyweight championship of the world.
"Welliver is a proven tough fighter and he's never been knocked down. He reminds me of other boxers of yesteryear like Willie Meehan or Buster Mathis. Both were far from body beautiful but they were effective boxers in their own right.
"But while Welliver has faced bangers like Odlanier Solis and Sherman Williams, he's going to find out that the power of Lucas Browne is on a whole different level to anything he's seen before. I'm confident Lucas is going to be the first to not only knock him down, but to keep him there too".
Lucas came through his toughest test to date when he outpointed the previously unbeaten Ukrainian Andriy Rudenko in August. The victory boosted his rankings with the WBA and WBC to number five and six respectively and promoter Ricky Hatton is sure that a title shot is on the horizon.
"This fight with Welliver reminds me a bit of when I fought Ray Oliveira before the Kostya Tsyzu fight because it's a massive risk and could cost a world title shot," Hatton said.
"My situation was a little bit different because I was already mandatory challenger, but Lucas really isn't far away from getting his dream of a shot at the heavyweight crown and he really can't afford a slip up at this stage.
"Welliver looks like a big and dangerous guy so Lucas needs to make sure he comes in fully focused and in the best shape possible.
"With Lucas's power I can't see anything other than a knockout win, to be honest. Once this fight is won, myself and my team can start looking at getting him a world title opportunity in the New Year."