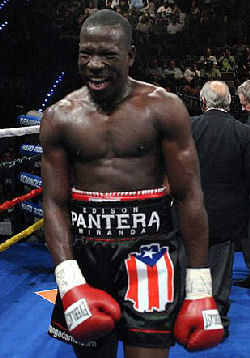 After a spectacular knockout over David Banks with a punch that will be in the top five knockouts of 2008 for sure, Edison "Pantera" Miranda kindly takes some time out to speak to SaddoBoxing again. Miranda now boasts a record of 30 Wins and 2 Losses and as always is working towards world domination in his weight class.
SaddoBoxing: As a child Edison, at what point was it you realized that it was your dream to become a professional boxer?
Edison Miranda: "When I was 12 years old, I had a dream about me boxing. I didn't even know what boxing was. Than the next day, I saw for the first time a fight on TV and I remember it was Mike Tyson. I know it was a message from God and I had to follow this dream."
SB: Considering you have so many achievements in boxing, including being your national boxing champion, being champion of the national games and challenging for a world title, what would you say you were most proud of?
EM: "I am very proud of my knockout of Howard Eastman. He was my hardest fight yet. Before the fight, he had fought some great fighters and they were not able to hurt him. I knew this was my chance to let people know Edison Miranda was for real. I hurt him a few times and finally had him out against the ropes. I was happy to give the fans the stoppage."
SB: You say your strengths are discipline, faith and hard work. After all the set backs in your early life, has it been hard to 'keep the faith'?
EM: "Not at all. I know God had a purpose for me to be here, I just had to find out what it was. There were times I was very down, so bad that I wanted to die and asked God to take me away But he kept me alive and it was for a reason. I did not know why for so long. But now I know why.
"He wanted me to be a boxer and give people excitement. That is what I do for my fans. I want all the children to keep the faith and find their purpose because although it may not always be easy, you must stay strong and trust that God has a reason for you to be here."
SB: Now onto fighting with David Banks, is that the best punch you have ever landed? Knocking him senseless through the ropes, one commentator described it like "a shotgun being fired off."
EM: "I did my job. I timed him perfectly and hit him with a good right hand. That is what we trained for. To give him a round or two to feel comfortable and than attack. It felt good to make my fans proud."
SB: Could you see he feared you before you got in the ring? Did you sense that he wanted to avoid your power at all costs?
EM: "I know he feared me. We had a contract to wear Reyes gloves. Before the fight, he refused to come out of the locker room unless we switched to Everlast. I did not care. If he wanted me to wear airbags on my fists I would have still put him though the ropes. I hit him with my rock and nothing was going to protect him."
SB: What did you have to do differently in your training and diet when moving up to 168 lb? How do you feel the extra weight has benefited you?
EM: "The extra eight pounds means the world to me, you have no idea. I was killing myself to make 160 lb and it was no longer healthy. I don't know how I ever did it and kept my strength. 168 lb is not easy for me either, but I feel I can make the weight without having to drain my body of everything I have. I felt incredible in the ring with David. I was at a very comfortable weight in the ring and felt very strong."
SB: Kelly Pavlik claimed that your bragging was a mechanism to hide your fear when you fought at middleweight; if he were to move up and give you a rematch would you be as confident this time knowing you would be a heavy underdog?
EM: "Kelly is a great fighter and I did not expect so much out of him. I knew I was not at my best when we fought, but I thought I would have enough to win. I quickly realized I had more of a fight on my hands than I expected and my power was not there to keep him away. The only reason I lost was due to the weight. I want to fight him again, but only at 168 lb. There is no doubt in my mind that this is where I need to be and at this weight I would knock Kelly out. He is the champ at 160 lb, but he will never beat me at anything higher."
SB: Last time we interviewed you it was Jermain Taylor you wanted the most, if he were to beat Pavlik in their rematch which of the two would you strive to fight?
EM: "I want to fight the winner no matter who it is. I think Kelly will win this one because Taylor will fight scared. I want Kelly Pavlik more than anyone since he is the only person to beat me. It was his night. I will get mine."
SB: Now the Banks fight has gone to plan when do you see yourself challenging someone such as Mikkel Kessler? Do you believe you will carry your tremendous power up to super middleweight enough to knock someone like him out?
EM: "I will fight anyone. I want the big names so I can give my fans a good knockout. I will fight Calzaghe in his backyard. I will fight anyone anywhere. Whatever the fans want to see, Edison Miranda will be there to make it happen. HBO, Showtime, ESPN, make a big fight happen and you will be proud to have Edison Miranda show the world another great fight and represent your network. Boxing fans love to watch me because I give them what they want, excitement."
SB: Lastly Edison, do you think that there is anyone who can challenge Floyd Mayweather for the p4p crown in the next year in your opinion?
EM: "Mayweather is a very smart boxer. There is nobody close to him. I am happy he finally gave the fans some excitement in his fight against Ricky Hatton. He better stop moving up in weight though. If he ever makes it to 168 lb, I will steal his money (laughing)."
SB: Thank you very much Edison and good luck! I hope to speak to you again very soon!
Photo © www.panteraboxing.com