**With Slideshow**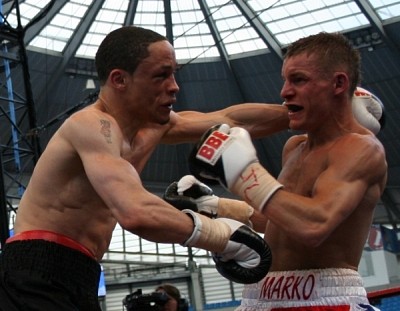 © Curtis McCormick / Saddo Boxing
Our massive coverage of the historic Ricky Hatton vs. Juan Lazcano card this past Saturday night in Manchester, England continues with the first of three undercard bouts.
A contest for the vacant English Super Bantamweight title opened the show and it was a highly contentious affair between undefeated prospect Mark Moran and the half-brother of ex-British Champion Carl Johanneson, the gritty Danny Wallace.
The bout opened with southpaw Moran using good footwork to deal with the pressure of Wallace. The highly regarded Liverpool lad tried to keep Wallace at bay with the right hand jab and the tactic worked initially.
But Wallace kept closing the gap, winging big overhand right hands that were mostly missing at this point, and Moran began to let loose with left hand bombs straight down the middle.
When they connected, Wallace's forward motion was temporarily scuttled but the Leeds battler refused to be put off and he continued to press Moran.
As Moran began to tire, Wallace started to range in the right hands and the southpaw struggled to keep from being overrun by his oncoming rival.
There was rugged two action with both men landing solid shots but neither could take the reigns until Wallace speared Moran with a body shot at the bell to end the sixth, causing Moran to sink to the canvas on his way back to the corner.
With promoter Frank Maloney spurring on Wallace from ringside, the Yorkshireman tore after Moran when the action started back up and Wallace had some genuine successes as Moran looked to try and survive the onslaught.
But survive he did and when he got his wind back, Moran began to trade once again on even terms but Wallace was relentless and put on the full press to try and get his opponent out of there.
By the ninth frame, Wallace was running low on gas and Moran started to land heavy shots between the increasingly ragged efforts of Wallace.
Moran caught Wallace in the corner and went to work with brutal efficiency, clattering Wallace until he forced the Leeds hard man to take a knee. Wallace was back up before the count but was in no shape to defend himself from the followup battering from Moran and the bout was waved off at 0:48 of the ninth.
Mark Moran improved to 10-0-1 (3) and captured the vacant English Super Bantamweight belt while Wallace saw a five bout win streak snapped and drops to 12-5-1 (6).