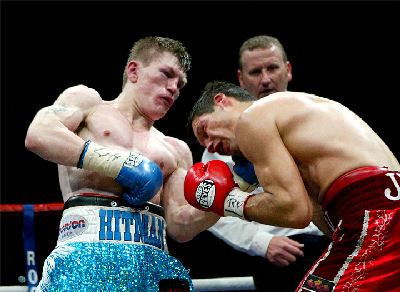 © Tom Hogan
Before the Hatton-Lazcano fight, I watched Lazcano's previous two fights to gain an ʽidea' of Hatton's opponent. Those two fights suggested to me that Lazcano was a ʽslow-starter' with a good solid right punch, used the left-uppercut, threw few body-punches, but did include a couple of low ones, and clearly didn't like being on the receiving end of a body-punch!
But, he only ever suffered one knock-out, out of five losses, so he was obviously a durable guy, but even so I personally was expecting a quick end to the Hatton-Lazcano fight.
I met Lazcano in the pre-fight run-up and admitted I was disappointed to find that I really liked the guy! In fact, I'd watched a short 'youtube' video footage from a few years back and noted how much he seemed to have changed since then.
The guy with the seemingly 'in your face' attitude was replaced by a very 'thoughtful, spiritual' man - clearly 'at peace' with himself and very pleasant to be around. This, I think, continued right to the point of the fight.
At the weighin, both Lazcano and Hatton were relaxed, there was none of the 'circus-style' hype that we'd witnessed at the Mayweather-Hatton proceedings and both men conducted themselves in a calm manner, Lazcano - in particular - looked to be enjoying the occasion.
Some media notables commented that it was all a bit unexciting - and I suppose to those hundreds of fans watching - it wasn't the most entertaining of weigh-ins - but, for me, it was 'nice' to see a 'lack of aggro' and an obvious mutual respect.
It seems that Lazcano is the type of fighter who adapts well, but in both his previous fights he'd done little in the first round so I was surprised that he threw the first punch against Hatton.
Hatton sustained his usual busy work-rate throughout but Lazcano was no ʽwalk-over' - he'd come to fight and though he took a lot of punishment he managed to ʽrattle' Hatton who was caught a number of times by the same left hook.
Knowing that Hatton's trademark body-crunchers would be predominant - the 'Chosen Juan' had clearly worked on a 'cover-up' strategy in his training - which is just as well, because the Hitman spared no mercy. But Lazcano turned the tables in round eight and landed a 'body-shot' of his own which visibly affected the Mancunian.
More punches were thrown and landed by Hatton, but Lazcano proved himself to be a very tough opponent and although he looked tired in the closing rounds, he was not about to go down, least of all in front of 57,000 Hatton fans!
A unanimous points decision marked the return of Hatton's ʽwinning track', though he appeared more relieved than pleased afterwards.
After a brave and commendable effort from Lazcano - I hope he continues to fight.
As for the Hitman, it sounds like we'll be seeing him in the States later this year against proposed next opponent - Paulie ʽMagic Man' Malignaggi - and lets hope this time Paulie doesn't have a ʽbad hair day'!