**With Slideshow**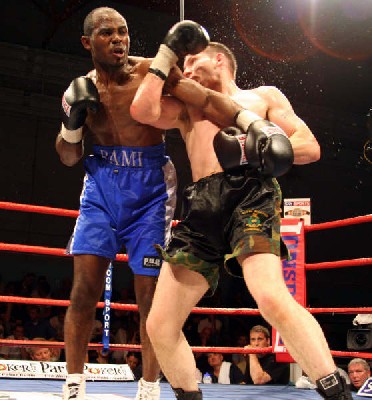 © Jane Warburton / Saddo Boxing
The Everton Park Sports Centre in Liverpool, England also played host to a cracking undercard on Friday night in a Matchroom Sports promoted fight night which was headlined by British Light Welterweight Champion David Barnes's unanimous points win over Scottish boxer and former titlist Barry Morrison.
The second main fight of the evening was the eight round light welterweight contest between former European Champion 'Dangerous' Ted Bami of Brixton, London, and Stuart Elwell of Darlaston, West Midlands.
A former Commando in the Royal Marines, Elwell got off to a great start against Bami. Managing to 'smother' Bami's work on the inside - the West Midlands man looks focussed in the first couple of rounds but Bami settles in around the third frame delivering a couple of good body-shots.
It's a messy round three and referee Phil Edwards tells both men to clean it up. In the closing half minute of the frame, Bami is warned for holding down and hitting - and he 'bows' his apologies to Edwards.
Round four sees Elwell adopt his earlier tactics - smothering Bami up close. Bami doesn't look impressive but lands a good left shot in the closing seconds of the frame. After an 'even' round six, Bami looks dejected in his corner as his trainer tells him he needs two good rounds.
It's a close contest with little between them as they come out for the seventh, but in the opening seconds, Bami lands a great uppercut and Elwell immediately lands a solid right hook as they both open-up then almost fall through the ropes in their efforts.
With a minute of the frame to go, a couple of body-shots from Bami result in Elwell taking a knee. He takes the count but in the last half minute of the frame, he endures another body-shot followed by a left hook and referee Edwards steps in to end the contest.
Afterward, Bami said he was only fighting at 50% of his strength due to a problem with his shoulder.
Other results included:
David Dolan of Sunderland won a fourth round KO over Brazilian Elvecio Sobral at cruiserweight. Dolan, who was favourite to win the heavyweight 'Prizefighter Series' earlier this year at York Hall, dropped down to cruiserweight and in the first half minute of round four, Dolan lands a good right uppercut and the Brazilian falls to the canvas unable to make the count.
Bury Boxer Scott Quigg made light work of Italian Angelo Villani to score a second round stoppage of a scheduled six round super bantamweight contest. Nineteen year old Quigg looked impressive as he started round one but as both men throw a shot - it is Quigg that comes off worst from the left hook of Villani which finds its target a split second ahead of Quigg's shot and the Bury fighter topples to the canvas.
Looking surprised by the shot, Quigg takes the count and quickly gets back to work. After an onslaught from Quigg, which culminates in a hard body-shot in the last half minute of round two, the Italian falls to the canvas.
Taking the count, he unsteadily continues the fight but Quigg gets straight at him and Villani's head is snapped back from the shots as Quigg pins him to the ropes. The referee steps in to stop the contest. "Easy, Easy" the crowd cheer. Quigg improves to a perfect 8 out of 8
Other results include:
John Donnelly, of Liverpool, defeated Faycal Massaoudene of France on points at bantamweight.
Joe Smyth, of Liverpool, made his pro debut and won on points after six rounds over last minute opponent Paul Bonson.
Rhys Roberts, of Liverpool, defeated Delroy Spencer, of Walsall, on points at super bantam during a four rounder.
Steve Williams, of Liverpool, outpointed Karl Taylor, of Birmingham, in a four rounder at light welter.