© Jane Warburton / Saddo Boxing
Friday night at the Robin Park Arena in Wigan, England Hennessy Sports hosts an exciting night of boxing billed as 'Strictly Business', which headlines John Murray and Lee Meager's clash over the vacant British Lightweight title.
But also looking forward to his fight on Friday night is Darren Askew - the Workington-born southpaw who now lives in Manchester, training under Joe Pennington at the Northside Boxing Gym.
He faces Graham Fearn of York in a six round welterweight contest. Fearn - ten years older than Askew - has won all four of his professional contests.
SaddoBoxing caught up with Darren as he attended a press conference for the fight card recently at the trendy casino, Manchester 235.
Clearly enjoying the occasion - Darren said he was really looking forward to the fight ahead, "It's the most I've been 'up' for a fight before - it's a big step up and a a bigger 'bill'. I want to get noticed and improve myself, show my skills off.
"I've been in the Amateurs for nine years and a pro for a year so I've been in boxing for ten years in total now."
When asked how his training had gone for this fight, his fifth professional contest, Darren didn't hesitate, saying, "Its been spot-on. I've been doing plenty of running - stepping up on sprints, strength-work, I feel fine - in great condition".
And when asked for a fight prediction - he laughed and said confidently, "A win! A good win!"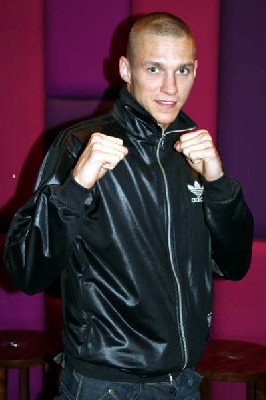 © Jane Warburton / Saddo Boxing