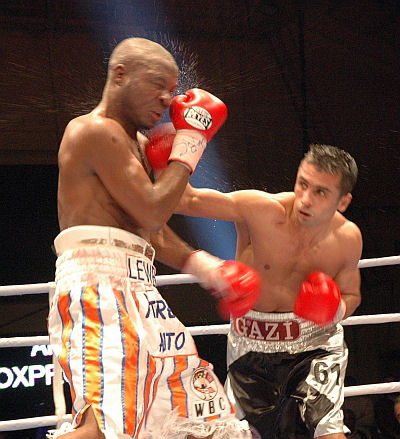 © M.A. Sayer of arena box-promotion
Welterweight Selcuk Aydin, 15-0 (12), has parlayed sterling amateur days bristling with medal winning efforts into one of the most promising professional careers in the world of boxing today.
The 24 year old from Trabzon, Turkey is one of the brightest stars in the stable of Hamburg, Germany based promoter Ahmet Oner's Arena Box-Promotion and shed the prospect tag in April when he defeated tough South African Lucky Lewle over twelve rounds to win the vacant WBC International Welterweight title.
SaddoBoxing: How did it feel to fight in your hometown for the first time in your career? Would you like to do so again or is it better to only fight in front of friends and family every now and then?
Selcuk Aydin: I used to fight in Trabzon a lot as an amateur, but doing a professional fight in front of your home crowd is a whole different story. It felt great to be there and to show all my fans, friends and especially my family, my best boxing. It was a great honour for me fighting in Trabzon and I thank Ahmet Öner and Arena Box-Promotion for making this possible.
It was like a dream come true and I will never forget this day. For the future, I would love to do my first title defense in Trabzon again; and it is always a pleasure and honour to fight anywhere in Turkey but, of course, I will fight wherever my promoter wants me to fight. I have no problem with travelling and beating guys in their backyard.
SB: In that hometown win in April over South African Lucky Lewele, many expected it to be a long hard fight but you won by wide point margins; was this fight more difficult or easier than you expected it to be?
SA: This was surely the toughest test of my pro career so far. Lewele is very experienced and has a great chin. Other opponents would have been knocked out two or three times, but he kept upright and was even fighting back, although I gave him a lot of punishment.
SB: Lewele brought a great deal of experience into your fight; how were you able to nullify his abilities while imposing your will and controlling the pace of the bout?
SA: First of all, I am an experienced fighter as well. I've had 380 amateur fights and won 360 of them. I think the key to the victory was that I was very well prepared. My trainer Karsten Röwer and I had worked out a perfect fight plan. I knew that I had to be very fast to control Lewele and that I had to fight in my own style. I feel that I simply overwhelmed and outpowered Lucky. I kept him in the passive role and left him no room for development.
SB: This was the first time that you fought more than eight rounds in a professional contest; was it difficult to fight for 12 rounds?
SA: I could have gone 15 or even 20 rounds at the same pace. As I said, I was very well prepared and in great condition. Of course, I always want to stop my opponents but if I have to go the distance, I can outbox them as well. When I recognized that Lewele just didn't want to go down, I stepped back a little and paced myself which was very important and a good experience as well.
SB: How does it feel to have won your first professional title, the WBC International belt? Has winning that title changed things in your life in any way?
SA: It feels awesome. I am only the second Turkish professional boxer after Sinan Samil Sam to win any pro title. So, I made history. Of course, this is one of the biggest things I achieved in my life so far. But, I know that it is one thing to win a belt and a different thing to defend it. I want to be a 'fighting champion', which means that I will have to work even harder and live more disciplined than before. And, of course, winning one title makes me even hungrier to win more belts. I don't want to stop at the WBC International crown, but become world champion.
SB: You have fought 15 times over 17 months since turning professional in November, 2006. Do you feel that this busy schedule helps keep you very sharp in the ring and you will continue at the same rate or would you prefer to now to fight less often and prepare longer for the more important fights that are in your near future?
SA: It is right that I have been very busy in the last one and a half years. I've fought almost every month. That was very important for me to gain pro experience so that I could win the WBC International championship in my 15th fight. Not many fighters have the chance to fight that often and I thank Ahmet Öner and Arena Box-Promotion for making this possible for me.
In the future, I won't be in the ring that often. My next fights will be more important and against stronger opponents, which means that I will take my time to prepare thoroughly. Right now, I'm taking a few weeks off to recover from the last one and a half years. It is the first time since I turned pro and it feels great. But I will be back in action soon. I think I will fight between 4 and 6 times a year from now on.
SB: Is it the plan of your team to keep you fighting European fighters and try for the European welterweight title or are you going to try to climb the world rankings instead in hopes of getting a major world title opportunity?
SA: I have been one of the best in Europe as an amateur, so I kind of know how it feels to belong to the 'European elite'. Now, I want to take the next step and show that I am one of the best boxers in the world. I want to move up in the ratings fast and hopefully fight for a world title soon. But, if the European championship crosses my way, I'll be happy to compete for it. As I said, winning one title made me hungry to win more of them.
SB: Are there any particular fighters you would like to face over the rest of 2008?
SA: To be honest I don't care a lot about my opponents. To be the best you have to beat the best. And to become world champion, you got to beat anybody who crosses your way. If anybody out there wants to face me in the ring: I'm here, I'm ready to go!
SB: Where do you see yourself in the sport of boxing one year from now?
SA: Hopefully, I am in a top position in the world rankings so that I can prepare for a world championship bout in one year from now. But, you never know.
SB: Is there anything that you would like to say in addition or do you have a message that you would like to say to your fans?
SA: I want to thank everybody who supported me over the last one and a half years; especially my fans who cheered for me in Trabzon. It was a great atmosphere and I will never forget it.
SaddoBoxing would like to thank Malte Müller-Michaelis of Arena Box-Promotion for making this interview possible.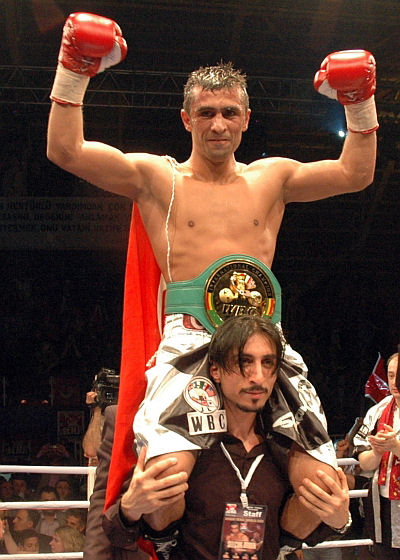 © M.A. Sayer of arena box-promotion