**With Slideshow**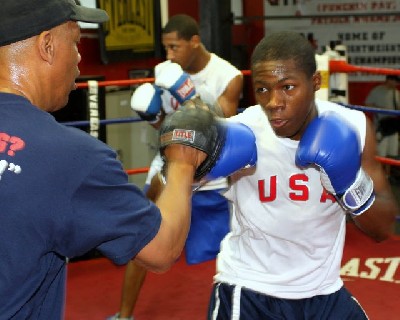 © Jim Everett / Saddo Boxing
Raynell Williams credits his being part of the U.S. Olympic boxing team to his mother. He qualified at the final possible event for the U.S. Championships, the lone qualifier for the Olympic Team Trials after considering quitting boxing. His mother insisted that he compete in the final event and raised the money for him to do so.
In the U.S. Championships, Williams went through some big amateur names, winning decisions against Luis Del Valle from Newburgh, New York and Hylon Williams of Houston, Texas. In the finals, he won a decision against Rico Ramos for first place.
After winning a decision against Shemuel Pagan during the U.S. Olympic Team Trials, Williams faced Hylon Williams three times, winning two of the three matches for first place. He then earned his spot internationally by reaching the quarterfinals of the AIBA World Championships.
Williams' career highlights include: two-time USA Boxing Athlete of the Month, National Champion and Olympic Test Event Champion.
Williams was born on February 4, 1989 in his hometown of Cleveland, Ohio. He began boxing in 2001 and is coached by Clint Martin. He began boxing after his father asked him if he would like to try the sport and loved it.
Having the opportunity to watch the southpaw counterpuncher workout with the rest of the team at Gleason's Gym in Brooklyn, New York last month, I wasn't sure if he looked more like a young Jermain Taylor or Floyd Mayweather, Jr. "A lot of people say I look a lot like Floyd," laughed Williams.
Williams has spent the last several months at the Olympic training facility in Colorado Springs working with his team. "It's been a lot of hard training, especially being away from my family for so long," he said. "I enjoy the team atmosphere and like to encourage my teammates by yelling for them at ringside."
When asked what is feels like to be part of the U.S. Olympic boxing team, the southpaw says it's a dream come true, "To have the opportunity to represent your country and be a part of history is what drives me."
Watch for the next U.S. Olympic Boxing Spotlight on Heavyweight Deontay Wilder