**With Slideshow**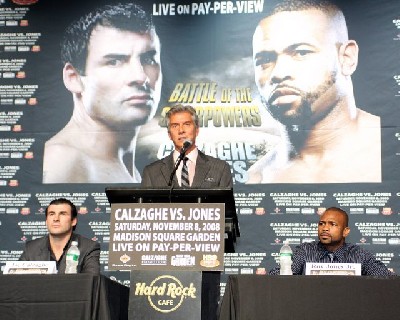 © Jim Everett / Saddo Boxing
Yea, what up Joe?
I already know your 45 and 0,
already know you got a flawless record
and that's why this fight is so expected.
If I'm gonna fight I'm gonna fight the best
and Joe Calzaghe you done beat the rest,
B-Hop didn't know it neither did Lacy,
but I know Joe Cal coming to break me,
110 punches a round yea I know,
but this is going to be the fight of the year so let's go,
and you goin' to bring the best outta me so let's go!
Awww, let's get ready to fight!
If you're wondering about the opening excerpt it's a verse from Roy Jones' new rap song, it's always nice to get a quote from a fighter at a press conference announcing their next big event but to get it in the form of a recorded rap song was something a little different.
This past Tuesday at the Hard Rock Café' in New York City the media received a copy of Jones' new rap CD which features four different mixes about his upcoming bout with the undefeated Joe Calzaghe. The atmosphere at the event was that of a big premiere to announce the " Battle of the Superpowers" which will take place on November 8 at Madison Square Garden, New York, NY.
Ring Magazine Light Heavyweight Champion "Super" Joe Calzaghe, 45-0 (32), and eight-time world champion "Superman" Roy Jones Jr., 52-4 (38), will not only meet in the ring but they have joined forces on the promotional front utilizing their own companies to promote the fight, Calzaghe Promotions and Square Ring, Inc.
"This is probably one of the biggest fights of my career," said Jones. "It's been one of the most enjoyable events of my career because we have already defeated the odds. I had to deal with Don King, he had to deal with Frank Warren; however it goes we got them out of the way first in order for us together and make a fight happen. It's so wonderful to finally get together and make this fight happen."
The fast talking Jones had nothing but praise for the Ring Champion, "You never know a person for real until you do battle with them, that's when you find out the true essence of real people because you share something special that nobody else can come between. Joe is a true athlete you have to respect that, we have nothing bad to say about each other but when it comes November 8 we are going to give every single ounce we got. We understand that we are going to do the best we can to put each other on the canvas."
"I know this is going to be a wonderful fight, you can't possibly going wrong, I don't do that holding and stuff, I don't come to a fight to hold, I come to a fight to fight," said Jones before joking about Calzaghe's work rate. "Joe throws enough punches that he is going to have us all tired. He's going to start punching about seven o'clock the day before!"
Joe Santoliquito from Ring Magazine made a small presentation during the press conference and presented Calzaghe with the Ring Light Heavyweight Belt. "Joe holds a unique place in boxing history," said Santoliquito. "He is the first fighter to ever win the Ring Super Middleweight belt and the first since Henry Armstrong to hold two titles simultaneously."
After posing for the media with his new belt Calzaghe had a chance to speak about his final fight in the ring. "After my fight against Bernard [Hopkins] I was wondering what else to do with my career and there was only one guy that I wanted to fight and obviously that's Roy Jones, Jr. I followed his career from the amateur days obviously the Seoul , Olympics when he got robbed against the Korean; I've always been a fan. What can I say to have my final fight at Madison Square Garden against one of the greatest fighters of the last twenty years Roy Jones, that's all I can do to prove myself, that's the only thing missing from my career."
"Roy says how pretty he looks all the time, I'm not the bad looking myself, what will matter is who looks prettiest after the fight," joked Calzaghe. "It is going to be a great fight. It's going to be a fight of the year, don't miss this, it's going to be a treat."