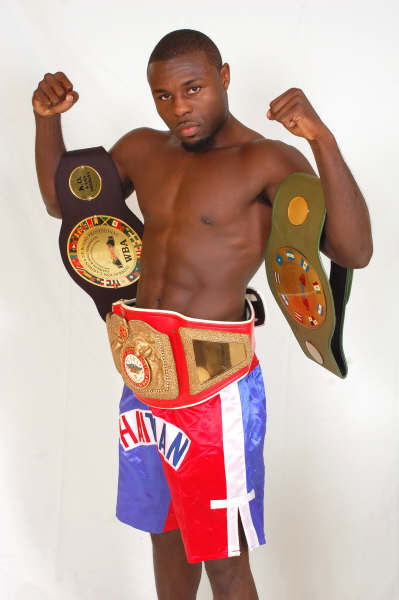 © Haitian Sensation Promotions
Daniel Edouard, 21-2-2 (12), like every fighter, wants to be a world champion, middleweight champion of the world to be exact, and so far, he has had an impressive start towards his goal.
In just under six years as a professional, Edouard has captured a fair share of minor titles including the USBA Middleweight and currently holds the WBA Fedecaribe Light Middleweight, WBA Fedecentro Light Middleweight and WBA Fedelatin Middleweight titles.
While the majority of titles "The Haitian Sensation" holds are regional Caribbean and Latin belts, the fact that he holds them all simultaneously sends out a message of "There is a new fighter on the rise and he is serious!"
Edouard is beginning to build his resume in a business-like manner, learning a little bit from every bout and stepping up in competition each time out. Thus far Edouard has lost only 2 of his 25 contests, one to former middleweight Kingpin Jermaine Taylor and the other to highly regarded prospect Eromosele Albert.
Since his last loss to Albert in July, 2007, Edouard has won three straight, his last a more than impressive win over Eduardo De La Cruz in Panama where he picked up the WBA Fedelatin Middleweight Championship via first round TKO.
But there is more to Edouard than stepping in the ring and searching out world titles. If you should ever get the pleasure to speak with him, you will learn Daniel fights not only for himself but he also fights to help to further the efforts of "The Haitian Sensation Foundation", aptly named after his own nickname.
The Foundation is a program that helps out youth in Haiti by bringing awareness to different sporting programs, adding track and field, basketball and boxing to a country that is mainly known for its soccer, giving children a chance to participate in other avenues also with hope of attracting tourism as the programs grow larger.
Here in the United States, immigrant youth from Haiti receive help in learning English and adjusting to life in America, along with tutoring programs for area kids and food distribution programs for those in need.
Edouard is adamant on setting a good example for these kids and if possible, use his success as a way of furthering the cause of his foundation. With a solid team behind him and men such as Tim Walker, who is also an executive for the foundation, Edouard is able to concentrate on his efforts both in and outside the ring.
Getting ready for a short rest before heading back to the gym, Edouard is looking for his next challenge, but exactly which opponent is on the horizon right now is not for certain, but whoever it is, Edouard is ready.
I had the chance to speak with Daniel recently and find out what he would like to see happen next in his career, how he feels about being victorious in Panama and much more. Read it here only on SaddoBoxing.
SaddoBoxing: Daniel, first let me say congratulations on your victory in Panama, it was impressive. What's next for you?
Daniel Edouard: "It was great, I was very surprised by the people there and how supportive they were of me. They cheered me on more than Eduardo De La Cruz, my opponent who is actually from Panama. The fans were very accepting and I came home with a good victory".
SB: You currently hold titles in both the middleweight and light middleweight divisions. Which one are you more comfortable in? Which weight class will you campaign at full time in the future?
DE: "Middleweight, middleweight, middleweight (laughs). I don't like 154 lb at all. I like to be able to go into camp and train not worrying about weight. I feel if I am worrying about my weight and wondering if I will be able to weigh-in on target, it takes away from my focus. I want to spend my time training, perfecting my jab, my footwork, my game plan and so on. If I am spending my time cutting weight, I am not in full focus. So it will be middleweight for the future".
SB: Your most recent loss was in 2007 against Eromosele Albert and afterward, you took a year off and returned in September of this year looking more focused, like a whole new fighter. Was that loss something that opened your eyes to a few things that needed to be changed stylewise or did you just need the break from the sport?
DE: "That was a fight I should not have been in. I had not been very active, I came in after a long layoff and there were outside issues on my mind. My wife was pregnant with our child at the time, we had been recently married, I just went through a tough divorce not long before and I was not 100% health-wise, so I should not have taken the bout to be honest. After the fight, I took some time to rethink things, get all my personal affairs together, concentrate on our child being born and prepare for my future".
SB: Now that you hold some minor titles and in the past have held the USBA Middleweight title, a belt that has been known to be a stepping stone to a world title shot, are you looking to make the step to the next level? Perhaps target some of the other better known prospects in the middleweight divisions?
DE: "I am ready to move on and take the next step, face other fighters out there who are also making their way toward the top of the division".
SB: You have just fought three times in four months, a pretty rigorous schedule. Is that going to be the type of pace we will see from you in the near future or is this just something to help shake off the ring rust after the year layoff, perhaps catch up for lost time during your absence?
DE: "Right now yes, I am going to keep that pace. I am fighting next sometime during February down here in Florida, then I am looking to have another four or five more fights in 2009. In 2008, I slowed down a bit, only stepping in the ring three times since 2007. Right now, I am getting back in the flow of things learning as I go along and having some fun.
"I used to fight for fun, but never really looked at the business side of it, now I am having fun but also I am also learning the business side of the sport as I go along. As I get older, I have started to realize that this is my livelihood and I have to make wise decisions. I need to make sure I take bouts that count. I am not trying to fight forever and I have other things I would like to pursue after boxing. So every fight I take will be one to help me get closer to a world title and accomplish my goal in the sport."
SB: Are there any opponents you currently have lined up in your sights?
DE: "No, no one in particular. I am not calling out any names, I am not at a level right now where I can do such things, I am still grooming myself and building myself up so I can be at that level. I am trying to market myself correctly, make sure I keep getting quality wins. That is part of the business side of the sport we were speaking of before. Hopefully with the right decisions, I will be in a position to seek out bouts against certain names, but not right now".
SB: I heard something about you having a college degree. Out of curiosity, what is your degree in?
DE: "I have a degree in Biblical Studies and I have a minor in Organization Management".
SB: How is it you chose boxing instead of your studied field as a career choice?
DE: "I started an amateur boxing program for kids when I was in college, putting on small amateur cards and things like that. One of the officers involved the program asked why I am not boxing and that I should participate in the program as well, this way the kids would be into it seeing me would kind of inspire the ones that looked up to me.
"After I had some bouts, I noticed the attention I was receiving from people, not that they knew who I was but they were just interested in the fact I was a boxer. I continued on while I was in school working with the boxing program. Then I had seen some guy I had beaten in the amateurs, as a professional, getting paid to box.
"I figured that I would turn professional as well to help earn a few bucks while I was in college and it turned out to excel further. Originally, I started out boxing as a way to help people where I was from and get through school. Now, I am using boxing to earn my livelihood and further causes for the foundation I work with. I think that is my greatest accomplishment so far, being able to help others with what I do".
SB: What should we expect to see from Daniel Edouard over the next 12 months?
DE: "In the mix I hope, winning the WBA Fedecaribe, Fedelatin and Fedecentro titles should have me ranked somewhere in the top 15 of the division. If I have the four or five fights planned and then a few fights with some other ranked opponents, I hope to be near a title shot at least, if not scheduled for one if all goes right."
SB: Anything you would like to say to your supporters out there?
DE: "I would just like to say to everyone, be it young or old, to find one failure or success in life and learn from it. If you learn from it, then you gained so much more from the experience.
"I want to that my management team, Jacques Deschamps Fila, I want to thank Bob Pergament, my trainer Carlos Panama Lewis and Tim Walker, President of Haitian Sensation Promotions. Also, everyone out there who has supported me in my career".
SB: Daniel, I would like to thank you for myself and on behalf of Saddo Boxing for your time today, it is greatly appreciated. I look forward to seeing you in the ring again soon.