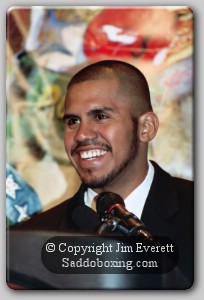 This past weekend, SaddoBoxing had the opportunity to speak with Juan "Baby Bull" Diaz in an exclusive interview as he completes his preparation to face the Ring Lightweight Champion Juan Manuel Marquez on February 28 at the Toyota Center in his hometown of Houston, Texas.
In 2008, Diaz, 34-1 (17), suffered his first loss, losing the WBA, WBO and IBF Lightweight titles via split decision to Nate Campbell. Consequently in his first title defense, Cambell lost the belts this past weekend, not in the ring but on the scales, unable to make the 135 pound weight limit.
The bout with Campbell was the Houston native's last contractual fight with promoter Don King, who also promoted Nate Campbell.
After signing with Golden Boy Promotions, the "Baby Bull" charged back from his first loss refusing to take an "easy" comeback fight, winning a split decision victory against hard-hitting Michael Katsidis last September.
Although Diaz's upcoming fight with Ring Lightweight Champion Marquez, 49-4-1 (36), is against the biggest name he has faced in his career, Diaz doesn't seem to be phased. He is able to work harder than ever before, still take his college courses and is scheduled to graduate in May.
SaddoBoxing: Hi Juan, how are you doing? Are you beginning to wind down your training camp with a couple weeks to go until your fight?
Juan Diaz: "It's going pretty good. I've just got to stay in shape now and keep everything going. I had my toughest day in sparring and training last Thursday, so now it's just to maintain everything I have worked for over the past several weeks."
SB: Tell me a little bit about your sparring session on Thursday, was it a lot of rounds or the specific people you were sparring?
JD: "It was a little bit of both, I did ten rounds of sparring against three different guys. They put the first guy in for two rounds, the second guy for four and the last guy for the last four. It was a tough day; it was a little bit of a test to see if I was in shape and condition for the twelve rounds and I passed the test like I have always done."
SB: Did they emulate Marquez's style?
JD: "Yes, they sure did they emulated him and also what they did is change it up a little bit. We all know that Marquez is a boxer, counter-puncher and they did a lot of that and they also were able to put pressure on me and change it up and fight how they fight.
"It's good to get different types of angles and sparring, not just the same all the time. When you get into fights you think a fighter fights one way and you think he's going to do certain things but then it turns out its completely different."

SB: What do you feel you worked on the most during your training in regard to the preparation, anything different than previous camps?
JD: "I know when they say I'm in the best shape of my life or this is the best training camp I have ever had, now I can see why they say that, I can definitely say that This is already my seventh week of training, I think I have trained a little extra hard than all my previous fights.
"My strength and conditioning coach added some things, for example hitting a big old 18 wheeler tire with a sledge hammer and changing my routine of lifting weights. In the gym my brother had a little clicker and I was averaging 150 punches per round when I started, I slowed it down a little bit when I started sparring but I tried to up everything."
SB: Do you feel this will be the biggest challenge that you faced in the ring?
JD: "I wouldn't say that right now. I think I need to make that judgment after the fight. As far as the biggest name, yes, Juan Manuel Marquez is the biggest recognized name fighter that I have ever fought. Therefore it makes it that much more harder for me to come in and not do anything, because he has accomplished so much my trainers push me every day to the fullest."
SB: What does it mean to have this fight in your home town?
JD: "It's an amazing experience. The city of Houston has shown their support towards me since I was a little kid and knowing that there are going to be thousands of people here cheering me on that night on February 28; it's going to be that much better to me.
"A lot of guys when they fight in their home town they can't take the pressure but I welcome that pressure. It's not even pressure to me it feels like they are there with me, fighting with me. Every round that I step in I feel confident because I have them to back me and support me."
SB: How do you feel about fighting for the Ring Championship for the first time in your career?
JD: "It's a great honor, because it's the Ring belt that you can't win, it's given to you only after you beat the best. Juan Manuel Marquez is considered to be the best lightweight in the world and by beating him it's going to be a great honor to be the Ring magazine champion. There's not going to be a doubt who is the best lightweight in the world.

SB: Have you heard that Nate Campbell was not able to make weight for his title fight?
JD: "Yes, Mr. Savannah told me that he wasn't able to make weight. It's a little crazy to me that a world champion would not make weight and after he is given some time to make the weight. It's a sad thing that as a professional you can't make weight.
"Fighters should know that when you get to a certain point before a fight you should know you are either going to make the weight or not. They should let the commission know that you are not going to make it and cancel the title fight and make it a regular ten or twelve round fight, that's not professional at all."
SB: How has it been for you making weight, still no problem making the 135 pound limit?
JD: "No it hasn't been a problem at all, we are two weeks away and I'm weighing in at 139 pounds which is real good. I've been at 141 for two weeks and this week I dropped two more pounds. Next Saturday I will work on cutting the weight and getting down to 136 or 137."
SB: The lightweight division is full of talent and big name fights but there are also some attractive fights at junior welterweight. In the past you mentioned to me that you don't typically attend fights but I noticed you sitting ringside at the Hatton – Malignaggi fight and I was speculating a little bit that maybe you were looking for a possible future match up with Hatton at 140 pounds?
JD: "I was there to watch them fight, moving up to 140 would not be a bad idea for me. I don't have problems making 135 or 140 pounds. If the opportunity came up and the right opponent came up like Ricky Hatton or even Manny Pacquiao then I would definitely make the move up.
SB: Did you have an opportunity to see Pacquiao's performance against De La Hoya?
JD: "Pacquiao was superb in that fight, his body looked like he was in incredible shape, and mentally he looked ready to win that fight. He just surprised me because he was able to box Oscar even though he was the smaller guy moving up in weight, he was able to box him and put pressure on him at the same time.
SB: How has the change been on the business side of the sport going from Don King to De La Hoya's Golden Boy Promotions?
JD: "I guess I can give you this analogy, working with King is like jumping in the water infested with Great Whites and working with De La Hoya is like being a little boy walking into a candy store. The change is like night and day. Working with Oscar, we have more opinion on the fights we are going to take, the contracts are a lot easier to read and we come to an agreement a lot faster than we did working with King.
SB: That has to take away some of the burden of things that you went through in the past.
JD: "As a fighter we are there to concentrate on working hard and winning fights. We shouldn't have to worry about our promoter trying to rip us off or trying to do something behind our backs. We're a team, we signed a promotion deal to become a team and work together and that's how I feel now with Golden Boy."
SB: On a personal note, how is school going? Are you taking any classes this semester?
JD: "Yes, I contemplated a lot about not going to school this semester because of the magnitude of my upcoming fight. But I said, it's just another guy, it's just another fight, so I'm definitely going to go to school. I thought about it a lot and I'm taking my last three classes and I will graduate in May. I thought why should I hold that up, it's only two months of work and school so I can handle that."
SB: That's great, what are your last three courses?
JD: "Statistics and Social Sciences, Research Methods and Social Sciences and a Geology class. I already signed my graduation papers and am looking forward to graduation in May."
SB: Congratulations, that's a great accomplishment on its own let alone completing it while working as a professional fighter.
JD: "My future aspersions are to become a lawyer so in the future I'll still be fighting but not in the ring anymore but in the courtroom."
SB: That's really great, as far as the next couple weeks before the fight do you have any other commitments other than media work outs and press conferences?
JD: "Actually tonight is a big special day for my younger brother who is getting married tonight. So I'll be up there with him and be his best man."
SB: That should be fun, do you have anything in the works in that area?
JD: "No, not me (laughing). I told my brother to let me know how it is when you cross that finish line because I'm way back at the starting point. I'm not ready yet, I'll think about that maybe when I'm in my thirties."
SB: So you don't have anyone special in your life right now?
JD: "There is a special lady but no commitments yet."
SB: Has she ever been to one of your fights before?
JD: "She actually has, we have stayed good friends for awhile and she has come to see me fight."
SB: How does she react to watching you fight? Anything like how your mom reacts?
JD: "No, no (laughing), nothing like my mom. My mom gave birth to me, she brought me into the world, I'm her blood, I don't think anyone else could ever feel what my mom feels when she watches me fight."
SB: Do you have anything you would like to say to your fans while you have the opportunity?
JD: "I want to thank them for all their love and support. I know the year has already got going but I want to wish them all a healthy, happy new year and that all their dreams and wishes come true in 09."
SB: I hope the same for you, I wish you luck on the 28th, have a good time tonight at your brother's wedding and wish him well.
JD: "I sure will thank you very much.