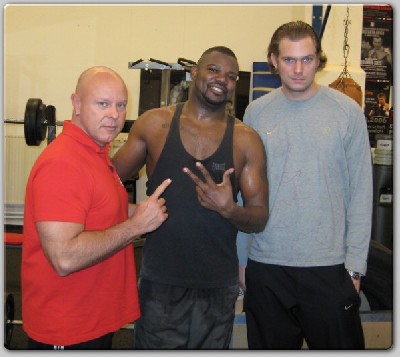 © ARENA Box-Promotion
With only nine days to go, Team Gomez are just putting the finishing touches on the preparation for the great March 21 showdown against WBC heavyweight champion Vitali Klitschko.
Fitness and conditioning coach Mo Klatten sums up their work in training camp over the last three months.
"We know that we've done our job very well", says Klatten. "Juan didn't miss one single session and has always been on time. He did everything I asked him to. I have never seen a fighter – especially a Cuban fighter – as disciplined and focused."
Klatten, who also worked with former cruiserweight king David Haye in the past, is confident that "The Black Panther" will strip the belt from "Dr. Ironfist".
"Juan has what it takes and after all the work we've done, he will be able to go 12 rounds at extremely high speed. For the Vladimir Virchis fight, we did a lot of strength training. This time we put more emphasis on conditioning and speed.
"Vitali will be surprised at what is coming towards him. When it comes to technique and speed, Juan is the best heavyweight boxer in the world today. We know that Vitali is fast as well, though he has lost some speed over the years.
"Also Vitali is definitely stronger than Juan and punches very hard. But Juan knows that and will be aware that Vitali doesn't hit him. From what I've seen in training, I call it a decision win for Gomez."