**With Slideshow**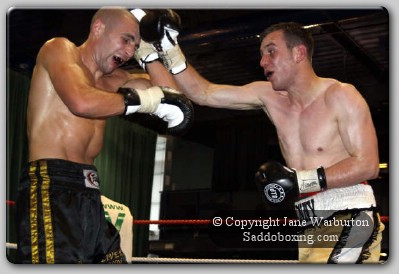 © Jane Warburton / Saddo Boxing
On Sunday afternoon, boxing fans were treated to a full fight card of nine contests which included the British Masters Light Middleweight Championship. Promoted by Steve Wood's V.I.P Promotions, the event at De Vere Whites Hotel in Bolton, England, was a rousing success.
The main event saw local man Alex Matvienko face Jon Musgrave of Barnsley for the vacant British Masters Light Middleweight title.
Matvienko, the 'One Man Riot', looked better this time out - using both left and right punches with success, while Musgrave concentrated on the long left straights.
Matvienko wins on points 98-93 to take the title, improving his record to 14 wins (4 by KO) 1 loss.
Tony Aitcheson (Dewsbury Moor) v Karl Taylor (Birmingham)
6 x 2 Light Welterweight Contest
Debutant Aitcheson had a testing first contest against veteran Taylor but secured his first pro-win on points, 60-55.
Mick Jenno (Liverpool) v Jamie Ambler (Aberystwyth)
4 x 3 Super Middleweight Contest
A close fought contest, but Ambler was counted in the third - from what looked more like a 'slip'. Jenno wins on points 39-38 and improves to 4 wins (1 by KO).
Andy Butlin (Huddersfield) v Simon Fleck (Leicester)
4 x 3 Light Middleweight Contest
Butlin wins on points and his record now stands at 6 wins 3 losses (2 by KO) 1 draw.
Chris Johnson (Manchester) v Martyn King (Cleator Moor)
4 x 3 Light Middleweight Contest
King went down from Johno's right hook in the third, but apart from that it was a close contest. Johno wins on points 38-37 and improves to 10 wins (5 by KO) 2 losses (1 by KO).
Johnny Kays (Ashton) v Steve Gethin (Walsall)
4 x 3 Super Featherweight Contest
'2Smokes' Kays wins on points 40-36 and his record now stands at 8 wins (2 by KO) 1 loss.
Trevor Crewe (Sunderland) v Geraint Harvey (Pontypridd)
6 x 2 Light Middleweight Contest
The much anticipated 'Wrecking Crewe' looked impressive in his debut contest against Harvey. Unleashing a barrage of shots - Harvey was stopped in the fourth and final round. Crewe wins by TKO round four.
Keiran Farrell (Manchester) v Delroy Spencer (Wolverhampton)
4 x 3 Bantamweight Contest
Providing an all-action fight, impressive little slugger Farrell landed punches with ferocity at experienced Spencer. The many Farrell supporters were delighted with his victory as he improves to 3 wins (1 by KO).
Rick Godding (Bolton) v Carl Allen (Wolverhampton)
4 x 3 Light Welterweight Contest
Godding got the points win over late substitute and veteran boxer Carl Allen. Godding improves to 8 wins (1 by KO).