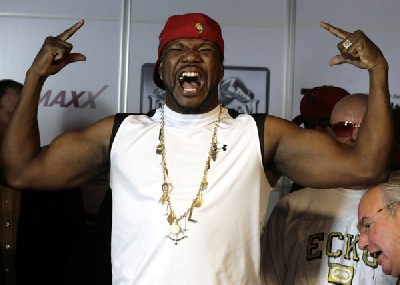 At the official weigh-in for the WBC Final Elimination bout between Juan Carlos Gomez, 233.5 lb, and Vladimir Virchis, 240 lb, the "Black Panther" shouted out "It's Showtime!"
The former world cruiserweight champion can't wait to step into the ring with "The Hunter" to fight for a shot at the world title. The winner will face either Vitali Klitschko or WBC champion Samuel Peter after their clash on October 11.
"I am in great shape and all fired up!" states Gomez. "Virchis had a photo shoot with him holding a rifle. I only want to say: Even if you bring that rifle to the ring, the calibre won't be enough to shoot a Panther! And I got two big guns that fire faster! I will definitely take my last chance for a big pay day – although this fight is not for money, it's personal!"
Actually Gomez will not be paid his purse of $200,000 USD because Universum claims their former fighter still owes them the money.
"I don't care!" says Gomez. "I will fight just to beat Klaus-Peter Kohl. When I left Universum in 2005 he told me I would never step into a ring again. Now here I am fighting for the chance to become heavyweight champion of the world. This is my revenge!"
Although it is the most anticipated fight of the night Universum has not declared the WBC Final Eliminator a main event and will not broadcast the fight in German national television. Instead the fight will take place as the fourth undercard bout of the night.