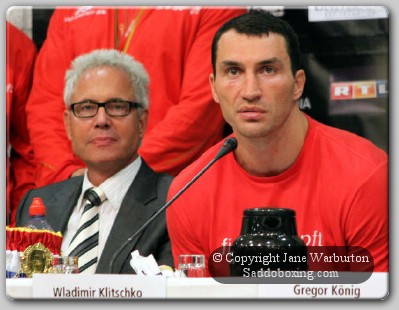 © Jane Warburton / Saddo Boxing
In the early hours of Sunday morning, media gathered in the press room allocated at the Veltins Arena, Germany for the post-fight press conference of Wladimir Klitschko and defeated Ruslan Chagaev.
Chagaev looked completely dejected as he sat on the top table. Wearing a peaked cap - he quietly sat alongside his trainer, diverting his eyes from the gaze of the watchful press in attendance.
Obviously, most of the talk was in German, however, there were some questions in English.
Question: Who will you fight next?
Wladimir Klitschko: "There is still the American, Chris Arreola, who is unbeaten and there is Alexander Povetkin, also still unbeaten and also David Haye.
"I'm very disappointed that Haye wasn't allowed to box today for whatever reason and I'm very happy that we decided not to wait two weeks longer for him, because two weeks would have become seven weeks. We just couldn't depend on Haye because many promises were made and many broken.
"But Chagaev's fight with Valuev was off and because of this, we were both forced to come together the way we did and I think it was good for heavyweight boxing.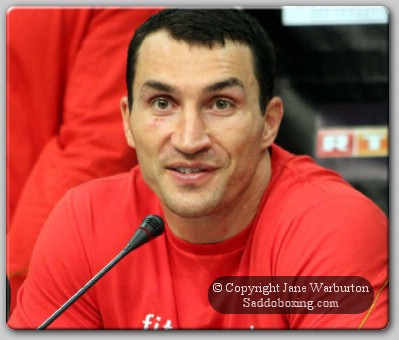 Question: Wladimir was asked to comment on Valuev.
Wladimir Klitschko: Nikolai Valuev was the first man who was asked - when David Haye dropped out of the fight - and he was the first man who said 'No' to the fight. But Chagaev was the man who took it and didn't think too long so I give Chagaev respect for making the decision.
There was also a lot of pressure on me from questions off people; how I would switch in two weeks to southpaw from normal, but it wasn't that difficult thanks to experience which I gained and actually I felt pretty comfortable with southpaw because one of my sparring partners, Andy Lee, he is much lighter than I but we sparred for speed and he is southpaw.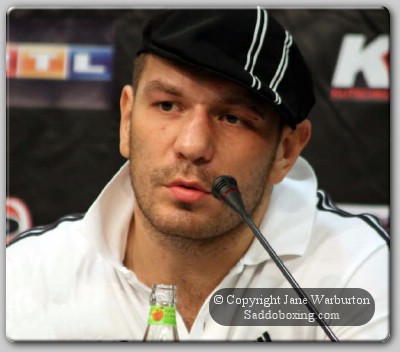 Question: On paper it looked like it would be a pretty good fight, but it wasn't that good a fight actually, as in competitive, because you dominated obviously; why was that?

Wladimir Klitschko:
That's a criticism you get when you dominate a fight. If you both end up on the canvas and there's a lot of blood and one gets up to win the fight - that's called a competitive fight. It wasn't that. I'm not looking forward to proving my chin because it's made from glass and I'd better take care of it! (laughing) So, I want to dominate my fights - like I do, pretty much.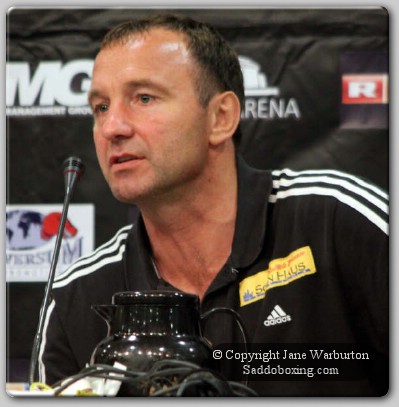 Question: Did everything go according to plan?
Wladimir Klitschko: Yes, it went as planned with Emmanuel Steward and what we were expecting, with Ruslan putting more pressure on me, because that was his only chance to do and not box with me. It's very difficult to just technically fight with me, he has to go and try to 'work me down'.
I was ready for it and I saw from the middle of the fight that Ruslan was pushing and trying to work me down and I just had to move more on my feet and shift my positions and jab.
I believe the Klitschko brothers have almost all of the belts, well, maybe all of them. I just enjoy the process. I'm not thinking about my legacy, I'm not thinking about any titles, I'm just enjoying the process and to get a stronger fighter out there and fighting and beating them.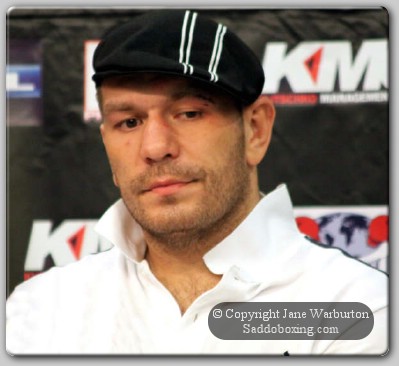 British Media: Wlad do you have a message for David Haye?
Wladimir Klitschko: I'm very upset about David Haye. Because of him I missed one of the fights in March/April and because of him I moved one of the fights. It was supposed to be at Chelsea Stadium, he could not deliver Chelsea Stadium but I delivered for him; Schalke Stadium.
I was shocked when I got the news that David Haye could not fight. I don't want to blame him, I understand that any athlete can get injury and cannot continue his preparation - so no blame on that. But I do want to put some blame on him. And he mentioned to the press that he needs two more weeks, please postpone for two more weeks and I thought 'ok, because of him, I'm going to postpone it again for two weeks'.
Then later on, it came back it was going to be four weeks then maybe six weeks and maybe seven weeks. I never ever worked with such unprofessional people as David Haye and his team, because there was no statement from the doctor; what happened? How much time he officially needs.
And he has a big, dirty, mouth and I told him before, actions speak louder. If you want a chance to fight me, then get in the 'freakin' line. A lot of heavyweights are going through a lot of fights to become a number one mandatory.
David Haye - because of his mouth - wants to get this chance. Get in the 'freakin' line. Get some fights; if you can make it, but I think you are going to end up on the floor. I cannot rely on David Haye at all. To me, this man is immature as a fighter and immature as a person.