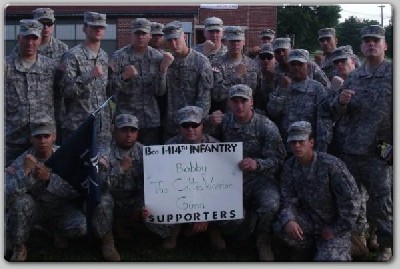 A professional prizefighter is often referred to as a soldier or warrior, as they literally take blows to the head for a living.
Bobby Gunn's "Celtic Warrior" moniker is an excellent example of a pugilistic nickname. While swapping punches for a pay check is undoubtedly dangerous, his career is nothing compared the heroic men and women who risk their lives to defend our country.
"These people are the real American heroes", said Gunn. "We get in the ring and battle for sport a few times a year but these people fight every day for their lives and country. The soldiers of the past and present fighting to give us the luxury of living free are the real world champions."
To his pleasant surprise, Gunn was recently contacted by a fan named Conor, a New Jersey native serving in Iraq.
An Irish-American soldier from the 1-114th Infantry, Conor extended support to Gunn for his July 11 world title fight against IBF/Ring Magazine Cruiserweight champion Tomasz Adamek.
With an opportunity of a lifetime against Adamek already psyching up Gunn, Conor's unexpected support brought his motivation to a whole new level.
"That incredible email really moved me" said the current WBA-NABA and WBC-USNBC champion. "It made me feel like all my hard work and grueling training is nothing compared to what they have to go through. My friends in Iraq are a newfound inspiration."
Bobby Gunn vs Tomasz Adamek is taking place July 11 at the Prudential Center in Newark, NJ. For tickets, call 973-200-7050.