**With Slideshow**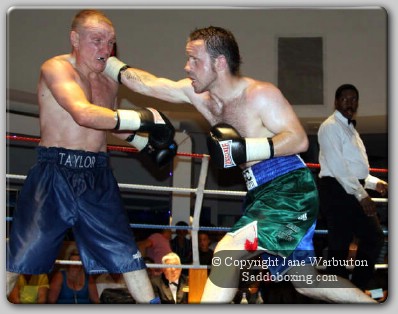 © Jane Warburton / Saddo Boxing
On Sunday, at the Liquid Envy Night Club in Luton, England, PJ Rowson and Errol Johnson of First Team Promotions put on another action-packed fight card.
The show was headlined by local-man, the former British and Commonwealth lightweight champion Graham Earl, against tough veteran Karl Taylor of Birmingham.
It wasn't an easy fight for Earl, who hasn't fought since he lost by first round TKO to Henry Castle in October. He had success with the straight left, sometimes dipping low to target the body, but experienced Taylor scored with some left shots of his own and gave Earl a tough contest throughout.
The Luton favourite secured a 60-54 points win and improves to 26 wins (12 by KO) and 4 losses (3 by KO).
Undercard fights included:
Blaine Courtney (Luton) v Pavils Senkovs (Mansfield)
6 Round Featherweight Contest
Featherweight debutant Blaine Courtney defeated Mansfield-based Latvian Pavils Senkovs on points. 'Blazin' Blaine used the long reaching left with success and despite suffering a bruised swelling under the left eye - managed to cause more damage to his opponent, who's face was covered in blood by the end of the contest.
Courtney wins on points 59-55 to notch up his first pro-win.
Martin Gethin (Walsall) v Jason Nesbitt (Birmingham)
4 Round Lightweight Contest
Ex-English Lightweight Champion Gethin outpointed veteran Jason Nesbitt to win for the first time over his last four appearances.
The Walsall man must be thrilled to end his losing streak after patiently and calmly getting the job done against experienced Nesbitt. Sneaking his left jab through the middle of Nesbitts' guard, Gethin kept focussed to secure the points win.
Gethin improves to 16 wins (7 by KO) 3 losses (1 by KO) and 1 draw.
Michael Devine (Luton) v Michael Harvey
Debutants Devine and Harvey produced an all-action exciting contest which sees Devine win despite being on the canvas in round three.
This was a messy fight; Devine ended up through the ropes on a number of occasions. Harvey had sustained a cut to the right of his forehead by the end of the second round. Perhaps this spurs him on because he 'goes for it' in round three - putting Devine on the canvas then bundling him over again moments later.
It was a fast-paced contest which sees a relieved Devine's arm raised aloft. Devine wins on points to gets his first victory as a professional.
Luke Wilton (Belfast) v Delroy Spencer (Wolverhampton)
4 Round Bantamweight Contest
Veteran bantamweight Spencer was delighted to win on points 39-38 in his 100th fight as he defeated Belfast man Wilton to stop a three year losing streak!
It's the third time that Winky Wilton faced Delroy Spencer - but it was third time lucky for Spencer as he got the win. He fought well - making his opponent miss then sticking in a sweet little hook or uppercut as he dodged to the side.
Spencer's corner were clearly happy with his improvement and delighted to see him win on his 100th outing.
Spence'rs record now stands at 11 wins (1 by KO) 86 losses (10 by KO) and 3 draws.
Jamie Boness (Biggleswade) v Ryan Clarke (Pinchbeck West)
6 x 2 Minute Rounds
Debutants Boness and Clarke gave it everything they had in this all-action contest. Both keen to impress - it was difficult to separate the two men in terms of success, though 'Bad Boy' Clarke had a good last flurry in the final round.
The result was a well deserved 'draw'.