**With Slideshow**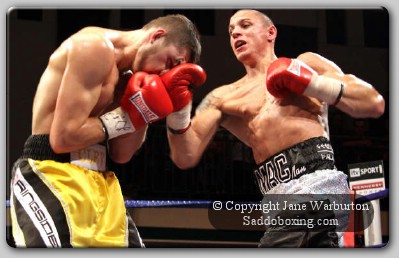 © Jane Warburton / Saddo Boxing
Saturday night at the York Hall in Bethnal Green, London, England, Hennessy Sports promoted a fight night headlined by the British Light Heavyweight title clash between Commonwealth Champion Nathan Cleverly and English Champion Danny McIntosh.
Cleverly of Cefn Forest, Wales, enters the ring first, clearly enjoying the atmosphere of the York Hall.
Confident McIntosh jumps over the top rope and in to the ring, striding over to Cleverly before being stopped by referee Howard Foster.
Obviously very 'fired-up', McIntosh goads "Clev" from his corner position until trainer Brendan Ingle steps in front of him to keep him back.
Showing off a fantastic ripped torso, McIntosh looks like he can't wait to get started! There's a lot of excitement from the crowd; everyone expecting a cracker of a fight between these two exciting boxers.
As the bell sounds the start of the contest, both men fly out of their corners! Cleverly throws the first shot but both men look keen to show their opponent who's the better man early on. It's clear that this will be an all-action contest.
The first notable shot comes from Cleverly mid-way through the round as he sinks in a left hook to the body of McIntosh. But McIntosh comes back with a left hook of his own to the face of the Welsh man.
Cleverly lands a solid right to the face of McIntosh, then moments later lands a right, then a left to the body followed by a right uppercut. McIntosh shoves him off but Cleverly sneaks in another uppercut followed by another.
McIntosh looks undeterred as he throws a straight left at the face of Cleverly. Moments later, McIntosh grimaces as he signals a low blow. Cleverly is made to stand in the corner while McIntosh takes a few seconds to recover. Clev gets a warning and they resume fighting.
Cleverly lands another solid right and McIntosh waits to land a big shot. He tries for it - a swinging overarm right - but it misses it's mark. Cleverly targets the body of McIntosh, but as the round draws to a close McIntosh replies with a bit of show-boating.
Round two begins and it's a slug-fest as both men stand toe-to-toe, unloading a barrage of shots with both scoring. Into the second minute, McIntosh complains that there was another low blow but referee Foster tells them to get on with it.
He digs in a couple of decent lefts to the body of his Welsh opponent and for a moment it looked like Cleverly might be feeling it. But it's Clevs turn to show-boat now as he shakes his head at McIntosh as if to say, 'I was just kidding - that was nothing!'
Now Cleverly scores with shots to the body and McIntosh looks under pressure. A big left hook to the side of the head sends McIntosh to the canvas. He looks more surprised than anything as he gets up - shaking his head.
He smiles and resumes fighting. Cleverly flies at him with a right to the head and follows it up with body shots and head shots. McIntosh calls him on and moments later a big right lands to the face of McIntosh and he drops to the canvas.
He lies on the canvas almost as if he was thinking about the incident and for a minute looked like he forgot he was being counted! He springs to his feet and looks at the crowd as if he can't believe he's been on the canvas again!
It's near the end of the round and Cleverly subjects him to a barrage of shots which ended with a low blow just as the bell rang.
As the third round begins, McIntosh again complains that Cleverly has landed a low blow, but referee Foster tells them to carry on. After just half a minute has passed, McIntosh is on his knees from a right hook to the side of the head.
He gives a look of 'I can't believe that' and as the count ends, Cleverly goes straight in landing a short left to the nose. McIntosh hangs on but Cleverly practically pushes him over and he rolls across the canvas.
Moments later, it looks like he could be stopped as Cleverly lands head shots and McIntosh struggles to cover up, but then he stands upright and goads Clev, making him miss and walking away.
McIntosh digs in as Cleverly looks to 'finish it'. McIntosh looks like he could drop at any second but as the last seconds of the round tick away, he lands the final shots of the frame. Now it's Cleverly's turn to show-boat as he 'shimmies' at McIntosh as if to say 'Surely you don't think that hurt me?'
Just inside the first minute of round four, Cleverly lands a big right to the face of McIntosh and he shakes his head again, disregarding it. It gets messy as both men grapple and Clev is told to 'watch the head'.
A minute later, Cleverly is given a harsh warning by referee Foster about the low blows. In the first minute of round five, Cleverly lands a clubbing left to the side of McIntosh's head and the Norwich man sticks out his tongue at Cleverly in reply. He 'pulls some faces' then show-boats, talking and taunting his opponent.
Cleverly lands a good right to the face of McIntosh, who nods his appreciation! Moments later his head is snapped back by an uppercut. Amazingly, round five comes and goes.
Almost in arrogance, McIntosh stands with gloves dropped to his sides as they begin round six. Mid-way through the round, McIntosh is still talking in Cleverly's ear and he replies with a couple of short hard hooks! Referee Foster calls time to tell both men off.
Cleverly lands a solid right at the start of the seventh and McIntosh gives a look of 'yeah - that was quite good,' then continues to taunt him. McIntosh is warned by referee Foster for hitting back of head and fighting resumes, but a right from Cleverly sends him to the canvas again.
He gets up but takes a number of punches before referee Foster steps in to stop the contest mid-way through the seventh round.
Nathan Cleverly is the new British Light Heavyweight Champion. His record now stands at 17 wins, (7 by KO) and no losses.
Jonathan Thaxton (Norwich) v Tom Glover (Essex)
8 Round Light Welterweight Contest
Former British and European lightweight champion Thaxton gets off to a good start, switching between southpaw and orthodox and sticking in a couple of solid body-shots.
Glover is happy to play it cautious this first frame as he susses out his opponent. Thaxton - the busier of the two - lands a sweet right hook in the opening seconds of the second round which rocks Glovers head.
Inside the first minute, Thaxton's forehead starts to trickle blood from a nick. Adopting a low defence, Thaxton has to take a more confident Glover's head-shots. With just over a minute of the second remaining, Glover lands a good left hook right on the nose of Thaxton.
Thaxton's gloves are dropped low and Glover finds him easy target as he lands a left and a right to the head before Thaxton holds on to him for a moment.
Glover continues to gain confidence with each round, coming forward to pressure Thaxton, who's open wide to the head-shots. With just under a minute remaining of the third, Thaxton is warned by referee Ken Curtis for use of the shoulder.
Thaxton tries another uppercut, which doesn't land flush. Almost every time Thaxton throws a shot, Glover throws a counter punch that catches Thaxon as he steps back.
A cheer goes up from the crowd as Thaxton slips to his knee inside the closing half minute of round four, but referee Curtis waves it off.
Glover lands a decent left hook at the start of round five, which sees Thaxton trying to put some distance between them. He's starting to look tired now.
Thaxton gets a warning for holding mid-way through the sixth. Glover continues to go after him, landing a lovely right to the head inside the closing minute. Glover lands a couple of shots to the body followed by little shots to the head and Thaxton hangs on again. He throws under a couple of uppercuts but looks relieved to hear the bell.
Mid-way through the seventh, Thaxton has a point deducted for holding on. The end of the round gets messy as both men tangle together.
The eighth and final round sees the two fighters up the work-rate. Thaxton throws in an uppercut which misses it's mark again and as he holds on to Glover and referee Curtis gives him another stern warning for it.
Inside the last minute, Thaxton digs in to throw a flurry of short punches but as he moves away - again Glover catches him with a right hook to the face. In the last 15 seconds - as Thaxton goes to step away - Glover lands a right to his nose and he holds on.
He digs in again for another short flurry till the bell signals the end of the contest. Both men offer out their hand to referee Curtis, but it's Tom Glover's hand that is raised aloft. Glover wins on points, 77-76.
Afterward, Thaxton gave credit to Glover. Fighting above his usual weight, Thaxton said that Glover was too strong for him.
Glover said he was 'surprised to get the fight - as he was the heavier guy - and felt honoured to have been given the chance'. "I had nothing to lose and everything to gain", he said.
Thaxton - who was looking at a fight with John Murray - was left wondering whether if it would still go ahead. Glover - a part-time boxer who is a bricklayer by day - must be wondering if his bricklaying days are over!
Other results included:
Tyson Fury (Wilmslow) v Aleksandrs Selezens (Latvia)
6 Round Heavyweight Contest
Giant Fury notched up his seventh win by scoring a third round TKO over Latvian Aleksandrs Selezens. Fury's record is now 7-0 and he faces John McDermott for the English Heavyweight title in September.
Andy Murray (Cavan, Ireland) v Adam Kelly (Sheffield)
6 Round Lightweight Contest
Despite getting off to a fast start, Kelly was forced to retire at the end of round three with a shoulder injury, leaving Irishman Murray to notch up his sixteenth win (8 by KO) against no losses.
Angel McKenzie (Thornton Heath) v Lana Cooper (Wales)
4 Round Featherweight Contest
Recent Big Brother evictee - Angel 'The Artist' McKenzie - had her first fight back after leaving the 'house'.
Entering the ring wearing a white sailors-style cap, McKenzie looked in sombre mood till she spotted fellow 'housemate' Sree in the crowd. After a quick hug, she waited for opponent Lana Cooper.
McKenzie 'dangled' her arms by her sides in between 'flicking' out left and right jabs but looked 'bored'. After a 39-37 points win, the Russian-born boxer 'came to life' dancing erratically around the ring.
McKenzie's record now stands at 3 wins, 15 losses (2 by KO).
Steve O'Meara (West Drayton) v Lee Noble (Barnsley)
6 Round Light Middleweight Contest
O'Meara wins on points. His record now stands at 9 wins, (2 by KO), no losses.
Bobby Ward (Nazeing) v Sid Razak (Birmingham)
4 Round Lightweight Contest
'Boogaloo' Ward wins on points, improving to 1 win and 1 draw.
Lee Purdy (Colchester) v Kevin McCauley (Stourbridge)
6 Round Welterweight Contest
Purdy wins and his record now stands at 11 wins (5 by KO), 1 loss and 1 draw.
Del Rogers (Birmingham) v Mo Khaled (Sheffield)
4 Round Featherweight Contest
The featherweights fight to a draw. Rogers' record now stands at 2 wins, no losses and 1 draw while Khaled's record now stands at 3 wins, 7 losses (2 by ko) and 3 draws.