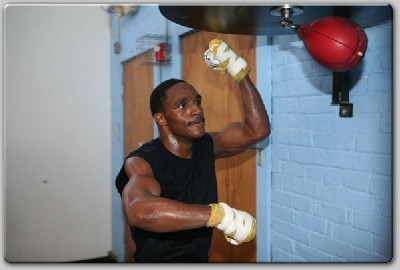 © Bob Barton
Undefeated WBC No.1-ranked super lightweight and mandatory challenger Devon Alexander "The Great" opened his final workout today to the media in his hometown Marquette Gym in St. Louis prior to departing for Rancho Mirage, CA, to make his first appearance in a world championship boxing match.
Alexander will face former WBC super lightweight champion Junior "The Hitter" Witter on Aug. 1 for the same title that was recently vacated by Timothy "Desert Storm" Bradley.
Bradley, ironically, is fighting on the same Showtime-televised doubleheader at 9 p.m. ET/PT at Agua Caliente Casino, Resort and Spa against former unified lightweight world champion Nate "Galaxxy Warrior" Campbell.
"I've watched tapes on Junior Witter," Alexander said. "He's a crafty, slick fighter that likes to take pot shots at you when he gets the opportunity. My goal is to give him something where he will not be able to stay with that all night. I want to dominate him for 12 rounds. I want to be smart and aggressive at the same time."
Alexander has had the same promoter, Don King, since he turned professional and the same trainer, Kevin Cunningham, since he began boxing as an amateur.
"From what I've seen in Witter, I see an experienced, savvy veteran that can be awkward at times but I think a sharpshooter like Devon can make him pay for his mistakes," Cunningham said.
"Witter does have the edge in experience but Devon has fought guys all over the world going back to his amateur days. Youth, speed, talent and persistence are things that Devon is blessed with so he can overcome anything he put his mind to.
"I think at some point in this fight it's going to come down to the fact that Junior Witter is going to realize he's in the ring with a young, hungry and extremely talented fighter that will prove that he wants it just a little more."