**With Slideshow and Audio**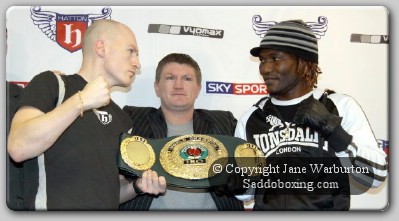 © Jane Warburton / Saddo Boxing
Today at Fenton Manor Sports Complex in Stoke-on-Trent, England, Hatton Promotions hosted a head-to-head final press conference for Matthew Hatton and Lovemore N'Dou.
In a Hatton promoted fight night this Friday the 13th, Australian resident N'Duo will defend his IBO Welterweight title for the first time when he meet 'Magic' Matthew Hatton, having defeated fellow native South African Phillip N'Dou in July for the vacant belt.
Present on top table today were British and Commonwealth light middle titlist Anthony Small, ex-British featherweight champ Andy Morris Jnr, former WBU and English featherweight strapholder Derry Mathews, Matthew Hatton, former world light welter champion Richard Hatton MBE, Hatton Promotions CEO Gareth Lewis, Lovemore N'Dou, ex-English lightweight titlist Scott Lawton and Contender Season 3 contestant, cruiserweight Akinyemi Laleye.
Listen to the audio of the press conference here:
Also on the bill this Friday, Rob Norton of Stourbridge defends his Commonwealth Cruiserweight title against Nigerian born Laleye, while Dudley 'Bodysnatcher' Darren McDermott defends his English Middleweight title against Danny Butler of Bristol.
Local boxer Lawton drops down in weight and faces Matthews of Liverpool in an eight round super featherweight contest.
Remaining bouts include:
Cello Renda v Paul Samuels, middleweights, 8 rounds
Gary Buckland v Istvan Nagy, lightweights, 8 rounds
Dean Harrison v Darren Askew, light welterweights, 6 rounds
Paul Economides v Stephen R. Russell, super bantamweights, 6 rounds
Alex Dilmaghani v Jason Nesbitt, lightweights, 4 rounds
Adrian Gonzalez v Steve Gethin, lightweights 4 rounds