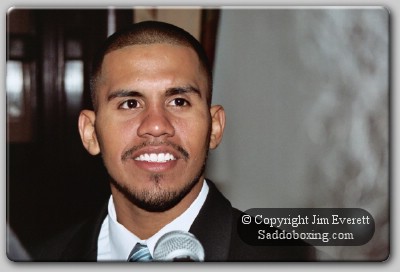 © Jim Everett / Saddo Boxing
This Saturday December 12, Juan "Baby Bull" Diaz will face Paulie "Magic Man" Malignaggi in their highly anticipated rematch at the UIC Pavilion in Chicago, Illinois. Their first fight took place in the hometown of Diaz where he received a controversial unanimous decision victory.
Malignaggi 26-3 (5) told anyone that would listen before stepping in the ring in Houston, Texas that he had already lost the fight due to local Texas referee Laurence Cole and judge Gale Van Hoy both assigned to the match providing Diaz 35-2 (17) with a hometown advantage.
Although it was a close match that many feel could have gone to either fighter, the judges score cards gave Diaz a unanimous decision with scores of 115-113, 116-112 and 118-110. The outlandish score of 118-110 came from local judge Gale Van Hoy which seemed to validate Malignaggi's claims of a hometown decision.
The location of their rematch was set in the neutral location of Chicago, Illinois. In addition the officials for the bout are also neutral hailing from Illinois, Ohio and Florida.
Saddoboxing had the privilege of speaking to Diaz in an exclusive interview to discuss his upcoming rematch with Malignaggi.
Saddoboxing: Hi Juan, how are you doing? Before we talk about your rematch tell me what you though about the outcome of your first fight with Malignaggi?
Juan Diaz: "The fight was a close fight; I'm not going to deny that. Once I went back and reviewed the tape myself I definitely thought that I won the fight It was close but I do think that I won."
SB: I agree it was a close fight, the only downside was the one score of 118-110 which was a bit lopsided.
JD: "Right and I think that's why all the controversy was made, because that one judge that gave me the fight by such a wide margin."
SB: Yes, that and the fact the Malignaggi made such a big deal about the officials before the fight unfortunately gave him some credit to what he was saying.
JD: "On top of that it didn't help that the fight was here in Houston."
SB: I had read that the fight was not going to happen, negotiations broke down and then it was on again. Were the negotiations for the rematch difficult?
JD: "To my knowledge I think the main thing was Malignaggi's promoter Lou DiBella and himself wanted a neutral site since the beginning. Right away they came back with the fight was going to be in New York, they started putting in all these stipulations about the ring size and the judges and that they were going to pick all of that.
That's when we said hold on, if we agree to take the fight you wanted a neutral city why now are you trying to take it to New York and pick your judges and referee. I wouldn't mind it being in New York but let the New York commission chose the referee. That was one thing that held up the fight from happening but eventually we settled in Chicago I don't know who picked the judges and the referees."
SB: I read that the officials are from Illinois, Ohio and Florida.
JD: "Yes, that's right."
SB: In the first fight what did you find the most difficult? Was Malignaggi's speed a problem?
JD: "Definitely his speed and I would have to say his movement. He really has quick feet and he can use his angles really good. That's one of the things that I prepared for but I wasn't expecting him to go out and use his lateral movement like he had used it in the past.
In his previous fights he was just the type of guy that would stand and trade at some point. I think that's where I got a little confident that he would do the same thing but he didn't, he stuck to his strategy and boxed."
SB: So his movement frustrated you?
JD: "It's a little frustrating as a fighter, I love to get in there and mix it up. When he was moving side to side and backing up I just wanted to hold him and say stay still and fight. I wish I could do that but I know that in boxing you have all different types and kinds of fighters."
SB: How much did it throw you off when he didn't play into your game plan?
JD: "It threw me off a little bit. For a boxer naturally it's easy to hit a pressure fighter like myself who is just coming straight forward. That was one of my mistakes is that instead of sitting back and thinking about how to adjust my style to beat him I just kept going forward, going forward. Like a bull charges a matador without even thinking I was just going straight in and without even thinking. I believe that was my fault and my problem in the fight. I just kept going in and giving him an easy target."
SB: What specific things did you do in camp to make adjustments?
JD: "I started listening more to my corner. Ronnie would tell me in the first fight when you use the jab, move a little bit and I wouldn't listen to him. What I did this training camp is I would listen to my corner after a round of sparring and really go out there and do what they were telling me. If they tell me to use my jab, body shots or fast combinations I worked exactly on what they told me to do."
SB: Do you have any ideas on how to cut off the ring from Malignaggi?
JD: "Yes what I did was my sparring partners used a lot of lateral movement going left or right. My plan in the gym was to cut them off and don't let him move as much as he was in the first fight, don't have that much space between us."
SB: Malignaggi doesn't have a very high KO percentage, what do you think about his punching power?
JD: "That's one of the things that I don't really worry too much about. When I fought him this past August I really didn't feel any of his punches. They were more like those stinging punches. You can't really feel them but you just feel that stinging sensation.
That leaves me to focus more on strategy and not being concerned about him throwing a lot of power punches when I do get inside because I know he didn't hurt me in the first fight."
SB: Were you comfortable with the rematch taking place in Chicago?
JD: "Yes, I don't have a problem with Chicago, I fought there before. It's neutral it's not his pick, it's not my pick. Lou DiBella and Golden Boy decided on Chicago and that's where we're going to get it on."
SB: With all the upcoming fight week schedules of open work outs and press conferences it's no secret Malignaggi likes to talk a lot, does he get under your skin at all?
JD: "At the beginning in the first fight he did. Even after the fight it made me just want to put the gloves back on that night and tell him let's go in the ring and finish it right now. This time around whatever he says and talks, the things that he has to say about me they don't get under my skin. I know that come Saturday night December 12, we're going to be in the ring against each other and that's where I'm going to make him pay, on fight night."
SB: How did it feel to have your first fight at junior welterweight?
JD: "It actually felt pretty good; I really didn't have to cut any weight. This time around it feels even better because I didn't have much time off. I took about a month off and there were talks about a possible rematch and I got right back in the gym. I was already lifting weights and running and swimming with my strength and conditioning coach.
After that month I got back in the gym and said let's start working. Naturally I walk around 147 or 148 I think the first or second week of training I was already down to 144. I spoke to my strength and conditioning coach Brian Caldwell who is also a nutritionist and he gave me some tips on what to eat to maintain my weight. I was working so hard throughout my training camp and I was already down to 140 and I had to force myself to eat a little but more."
SB: You picked a good time for the fight because it will still allow you to enjoy some holiday food after the fight.
JD: "Oh yeah definitely. I was able to enjoy Thanksgiving too. I was happy because I trained that day and I went to my aunt's house and I got to eat just as much as they did."
SB: Are you ready for the weather adjustment heading to Chicago?
JD: "Well it was ironic because Houston got me ready for Chicago. This past Friday it actually snowed down here. It was 30 degrees and snowed the whole day."
SB: Would you like to say anything to your fans while you have the opportunity?
JD: "Most importantly I want to invite all the people to watch the fight on Saturday. I want to wish everyone a Merry Christmas and a happy new year and I hope that's everyone's dreams and wishes come true in 2010."
SB: Thanks for everything; I wish you the best of luck on Saturday.
JD: "Thank you very much, I really appreciate that."