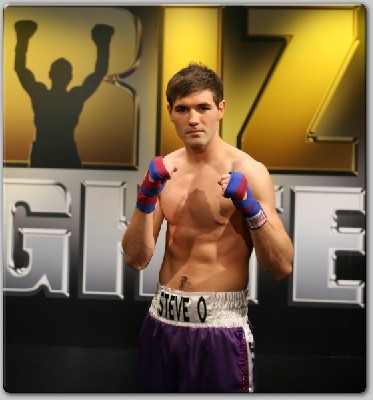 © Lawrence Lustig
Steve O'Meara says he has got nothing to fear ahead of the Prizefighter Light-Middleweights tournament - thanks to a sparring session with Floyd Mayweather Jnr.
Unbeaten O'Meara is one of eight boxers who will be trying to win three, three round bouts in one night to pocket the £32,000 prize money at the York Hall in Bethnal Green on Friday, February 26.
O'Meara claims he has been transformed as a fighter since sparring with American Mayweather, a former world champion at five weight divisions.
But the 26-year-old from West Drayton, who has won all of his ten fights since turning professional nearly two years ago, admits he was unhappy with his last fight against Stourbridge's Kevin McCauley in September immediately after sparring with Mayweather.
O'Meara blames jetlag after getting back from working with Mayweather in Las Vegas on under-performing against McCauley and is determined to show what he has learnt in front of the Sky Sports cameras.
He said: "I sparred with Floyd Mayweather in August and then came back to fight in September, but it was too soon after the flight and I was still jet-lagged when I got in the ring.
"It was great sparring with Floyd. My trainer Jimmy McDonnell set it up over in Las Vegas and the experience was unbelievable. Floyd will be remembered as one of the all time greats and I learnt so much, but it wasn't easy.
"When I went to touch gloves at the start he banged me and I realised it wasn't going to be fun and games. But the spar was good and my trainer said I did really well. Afterward Floyd came over and shook my hand and wished me luck with my career.
"Now it doesn't matter who I fight they won't be as good as Floyd Mayweather so that spar gave me a lot of confidence.
"But I probably took me eye off the ball and didn't give my opponent enough respect when I got back to England that week. The fight was only four days after I got back and I just had no energy and couldn't do anything.
"Floyd Mayweather didn't hit me as much as Kevin McCauley did that night so there was definitely something up.
"I can't complain with how it has gone so far but there's still a lot to come and I wasn't happy with my last fight."
O'Meara, who works as a personal trainer away from the ring, knows one of the other light-middleweights in the knockout tournament as George Hillyard trains at the same gym.
O'Meara, who took up boxing after breaking his leg playing for semi-professional football side Uxbridge as a teenager, sees the Prizefighter as an opportunity to move his career onto the next level.
He said: "This is a chance to get me some great exposure, exposure on one night that I might not have got by boxing in another two years.
"This is a chance to propel me towards bigger titles. I've sparred with George Hillyard at my gym (The LA Gym in Loughton) but we haven't done any ahead of this. We're mates but if we have to meet it's business."
Prizefighter Light-Middleweights takes place at the York Hall, Bethnal Green, London and the full line-up is Prince Arron (Droylsden, Manchester), Danny Butler (Bristol), Martin Concepcion (Leicester), Brett Flournoy (Birkenhead, Merseyside), George Hillyard (Canning Town), Steve O'Meara (West Drayton, Middlesex), Bradley Pryce (Newbridge, Wales) and Neil Sinclair (Belfast).