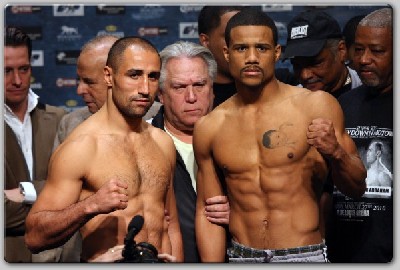 © Tom Casino / Showtime Boxing
Arthur Abraham and Andre Dirrell squared off after their official weigh-in yesterday at the MGM Grand in Detroit for their Group Stage 2 bout in the Super Six World Boxing Classic tonight live on Showtime at 10:30 p.m. ET/PT, delayed on the West Coast, at the Joe Louis Arena.
The scheduled 12-rounder will be televised during a Free Preview Weekend on Showtime.
The undefeated Abraham (31-0, 25 KOs), the tournament leader with three points after one round, weighed 168 pounds, while Dirrell (18-1, 13 KOs) tipped the scale at 167.5 pounds.
Abraham and Dirrell went face to face after a well-attended weigh-in, attended by none other than the legendary Detroit Hitman, Thomas Hearns.