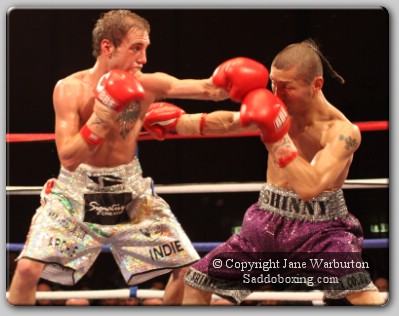 Click the above image to see all photos from this Event
Last night, at the Goresbrook Leisure Centre, Dagenham, England, Frank Maloney promoted a fightnight which headlined Oldham-based Shinny Bayaar's first defence of the British Flyweight Title against Ashley Sexton of Cheshunt .
This proved to be an exciting and bloody (!) contest with most of the Dagenham crowd on their feet during the second half of the fight.
It was a steady start (surprisingly) with Sexton teasing the Champion with the left. Mid-way through the first and blood is flowing from Sexton's nose already!
With distance between them – Sexton lunges forward but is caught by Bayaars right 'on the way in'.
'Flash Ash' looks focussed as he strives to 'settle in' but Bayaar is proving awkward and at times it gets messy as both men tangle together.
Sexton's gumshield flies out mid-way through the third and he dashes over to retrieve it himself off the canvas (dipping down to pick it up with his teeth!)
Manager Mickey Helliot at ringside urges Sexton to throw a right punch 'through the middle!'. Bayaar keeps centre of ring while Sexton continues to 'suss him out'.
Bayaar starts to show-boat in the fifth but Sexton is unfazed by it.
Perhaps sensing the urgency – Sexton flies out of his corner for the ninth! Getting in close – Sexton goes at the Champion who sustains a bad cut to the right brow area from a clash of heads inside the first half minute of the round.
Clearly angry – Bayaar grapples with Sexton throwing him to the canvas. Bayaar kicks his gumshield across the ring and it lands a couple of rows back in the crowd!
Referee Victor Loughlin calls both men together to get them to 'clean it up'. Sexton seems incensed as he goes after Bayaar, who's face is now covered in blood. In the closing seconds, Sexton lands a peach of a left shot right on the injured eye area and blood splatters out again.
The final rounds are rough and messy! Sexton works up close and both heads rub together. Bayaar has a cut to the left brow and head in the twelfth round! They maul each other right up to the bell!
Sky Sports Statistics reveal that Bayaar has landed 131 of 517 punches thrown (25% success) as opposed to Sexton's 108 of 667 punches (16%).
The contest is deemed a draw 114-110;110-114, 114-114. Shinny Bayaar retains his Title.
Immediately afterward, Maloney agreed that a re-match would be organised once Bayaar's cuts had healed!
There was some great undercard action also on the Essex bill:
Larry Olubamiwo (Hackney) v Colin Kenna (Southampton)
10 Round Heavyweight Contest for the Southern Area Title
'War Machine' Olubamiwo proved too much for Irish-born Kenna, who goes down to the canvas mid-way through the first. Unable to get away from the heavy blows - Kenna drops to the canvas again inside the closing minute and cannot make the count.
A visibly delighted Olubamiwo is the new Southern Area Heavyweight Champion by first round knockdown. Olubamiwo improves to 8 wins (7 by KO) and 1 loss, while Kenna drops to 16 wins (7 by KO), 11 losses (7 by KO) and 2 draws.
Scott Woolford (Ramsgate) v Scott Haywood (Derby)
6 Round Welterweight Contest
This was a much anticipated re-match between the two 'Scotts'. 'The Gent ' Woolford got off to a good start round one, but Haywood soon settled in – looking relaxed.
An accidental slip was his only hiccup on the night and the extra weeks of training looked to have paid off as he won comfortably on points 59-56.
'Super Scot' improves to 20 wins (4 by KO), 5 losses (2 by KO) and 1 draw while Woolford drops to 10 wins (3 by KO) and 6 losses (2 by KO).
Martin Welsh (Swanley) v William Warburton (Atherton)
6 Round Welterweight Contest
Welsh wins on points 59-55 and improves to 6 wins (1 by KO) and no losses, while Warburton drops to 2 wins, 9 losses (1 by KO) and 2 draws.
Tom Dallas (Chatham) v Lee Swaby (Lincoln)
6 Round Heavyweight Contest
Impressive Dallas made quick work of Swaby, scoring a first round knockout. He improves to 10 wins (8 by KO) and no losses, while Swaby drops to 25 wins (11 by KO), 25 losses (9 by KO) and 2 draws.
David Price (Liverpool) v Daniel Peret (Russia)
6 Round Heavyweight Contest
Price secured a points win over likable character Peret. He improves to 6 wins (4 by KO) and no losses while Peret drops to 16 wins (6 by KO) and 28 losses (7 by KO).
Menay Edwards (Thamesmead) v Hari Miles (Blackwood, Wales)
6 Round Light-Heavyweight Contest
'Emperor' Edwards (wearing a jeweled crown to prove it!) scored a points win 60-56 over scarlet haired Miles. Edwards improves to 3 wins (1 by KO) and no losses, while Miles drops to 5 wins (2 by KO) and 2 losses.
Erick Ochieng (Hackney) v Curtis Valentine (Nottingham)
4 Round Light-Middleweight Contest
'Eric the Eagle' secured the points win 39-37 in a close contest with Valentine. Ochieng improves to 4 wins (1 by KO) and no losses, while Valentine drops to 2 wins (1 by KO) and 1 loss.
Lewis Pettit (Thamesmead) v Delroy Spencer (Wolverhampton)
4 Round Featherweight Contest
Pettitt notches up his first pro-win on points 39-37 against a determined Spencer. Spencer drops to 11 wins (1 by KO), 98 losses (12 by KO) and 3 draws.