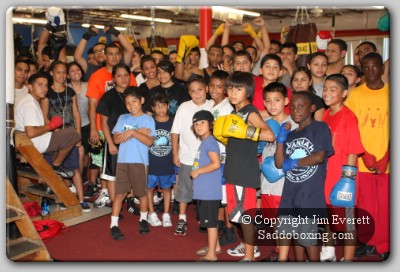 Click the above Image for all Photos from the Savannah Boxing Club
Often, when people are first introduced to one another they politely say, "It's a pleasure to meet you." They may not mean it all the time but once in a while you come across someone that is truly a pleasure to meet.
Willie Savannah is that individual.
Although it was not my first time speaking with Savannah it was my first opportunity to visit him at his boxing club in Houston, Texas. He is an outgoing person who puts others before himself and says what's on his mind.
Most people may recognize Savannah as the manager of former three-time Lightweight World Champion Juan Diaz but his success and influence can be seen every day just by spending a few hours at the Savannah Boxing Club.
We spoke for hours about a variety of topics not only closing up the gym but staying well after hours. Just after closing time as you looked out into the gym area it had a look of being well utilized for the day with full spit buckets, sweat on the floor, empty water bottles and a carpet peppered with lint and dirt after heavy use from students working the bags.
As we sat in Savannah's office I was amazed to see the last dozen or so kids ranging from ages ten to eighteen begin cleaning up. No one asking them, no one telling them just systematically each of them chose a role; dumping out the spit buckets, mopping the floor, filling and refrigerating water bottles, vacuuming the floor and even cleaning the bathrooms.
I paused to let Savannah know how impressed I was and asked if they were paid or perhaps given free memberships to the gym. He replied, "Most of these kids are the ones that are able to pay, they all work their asses off. The kids know that if they bust their butt for me I will always work my butt off for them."
If the exercise of having the kids do chores without being asked wasn't enough as they all finished cleaning each and every one of them came into Savannah's office thanking him and shaking his hand or giving him a hug.
Savannah has made a difference in many lives and offers the youth of the community a choice for not just a place to work out but to earn respect.
Willie Savannah opened his first boxing gym on February 1, 1980 on Martin Luther King Blvd in Houston, Texas. Two locations and thirty years later he is still in Houston giving the youth of the city a fighting chance at his newly remodeled location at 6909 Ashcroft.
Over the years "Mr. Savannah" as he is affectionately referred to by his students raised nine underprivileged boys in his home. He took an active role in their lives in and out of the home getting involved in the local little league and football programs.
After some of the kids moved on to play college football and join the Air Force rather than take a break he got "bit" by boxing after attending a Golden Gloves tournament. He began to spend time at a couple of different boxing gyms, learning the ropes from experienced veterans like Kenny Weldon where he helped out anyway he could whether it was filling up water bottles or helping out some of the kids financially.
Eventually he began working with Ronnie Shields and decided to open his own gym while still working full time with the railroad. "The railroad used to do stories on me when Ronnie was fighting for a title," said Savannah. "I was in charge of a territory just outside of Houston, and was the only railroad freight agent in the history of the Southern Pacific Railroad who had a fighter that fought for a world championship."
In the beginning Savannah remembers working from seven in the morning until five and then going to the gym getting home at ten at night and repeating it five or six days a week. Always humble Savannah laughs as he says, "I retired ten years ago and work more hours now than I did when I was with the railroad. When I was working I was at least able to make phone calls, do some paperwork, or maybe maybe have a secretary help me out, now all the stuff I used to do at work my wife and I have to do at home."
When asked why not slow down and enjoy his retirement he will tell you that the kids continue to motivate him, something he likes to remind the professional fighters from time to time. "In the morning we have a lot of pros training here and I remind them that if it wasn't for the kids you wouldn't have a place to train in the morning that's what this gym is for the youth of the community," states Savannah.
"In this zip code 77081 we have more gangs than any zip code in the state of Texas, these kids need more help than any kids I have seen in my life," said Savannah. It's a statistic that is echoed from high schools that have replaced athletic programs with day care facilities for young mothers and graduating classes shrinking from 600-800 students a year down to approximately 100 students.
After supporting the gym out of his own pocket for twelve years Savannah's Boxing Club was on the ropes and on the verge of filing bankruptcy. After attempting to get aid from local merchants in that area, the mayor's office, the county, the state and the federal government he told his wife that they should be realists knowing that no one was going to help out a boxing gym.
It was around this time that Juan Diaz came to the gym for the first time. Savannah recalls, "Juan kind of wobbled in, he weighed 110 pounds at eight years old and ate everything that wasn't nailed down. I remember telling my wife as soon as this little fat kid leaves we're going too close."
The next month Juan still came back and Savannah borrowed money to pay the rent. Even though both he and his wife had good paying jobs at the time taking care of the household and the gym was putting a strain on them.
With his credit going bad Savannah remembers, "That little fat boy kept coming back month after month and a year later we were both still here, after that I really got motivated again because we started taking him all over the country to fight in the Silver Gloves and stuff like that. He was such a lovable kid you couldn't help but fall in love with him. Everybody all over the country whether it was coaches or other boxers they never had a bad thing to say about Juan."
"His first two years here he only had two fights because we couldn't find another fat kid his age," recalls Savannah. "He started to get a lot of fights when he turned eleven fighting kids two years older than him."
"I remember we used to go places and we might have 15 kids in the van," said Savannah. "If Juan bought a Snicker bar he would offer every kid in that van a piece of that Snicker bar. That's just the kind of kid he was, just a pleasure to be around."
"When a fight was over it didn't matter how bad he beat the kid he would always go and pat the kid on the back and let the other kid know how good they did. He could stop the kid in the first thirty seconds and he would tell them, you did good you put up a tough fight."
"He fought all the better guys; he came up at the same time as Andre Berto, Timothy Bradley and Andre Ward," continued Savannah. "He and Andrew Ward never did fight, they came real close in the Junior Golden Gloves one time and he ended up fighting Timothy Bradley at 139 while Andrew Ward fought at 132."
Savannah recalls when Juan faced Andre Berto. "During the course of the fight Berto's trainer got kicked out of the corner because at the time you couldn't talk in the corner during the course of the round. Berto came to the dressing room and told us I was trying to do what my coach told me to do but every time I looked up he was in my face. I saw Berto not to long ago and we still laugh about that."
Juan was the number one junior fighter in the world. Just after turning sixteen he competed in his first open tournament which requires competitors to be seventeen years old.
They traveled to Puerto Rico to fight in an International tournament where Juan stopped a Puerto Rican fighter in the second round, and then he beat another fighter out of Canada who was a bronze medalist in the Pan Am games.
After the fight the Canadian coach asked the age of Juan, who replied he was seventeen. The coach didn't believe him, replying, "Boy, you ain't seventeen." Savannah believes this began a chain of events that led to Juan being unable to compete at the Sydney Olympics.
"We went to Tijuana to qualify for a spot on the Mexican Olympic team," recalls Savannah. "The Puerto Rican coach had Miguel Cotto and the manager of the United States team had Ricardo Williams competing at 139 pounds, they both protested Juan participating."
Savannah continued, "Miguel Cotto had previously lost in Orlando at 132 pounds which was why he was trying to qualify for a spot at 139. He probably would not have protested had the Puerto Rican coach not seen Juan defeat his 139 fighter at his previous tournament."
The Puerto Rican coach stated Juan should not fight because he was still only sixteen and may get hurt. "One of the fight doctors got up and asked if he was really concerned about the sixteen year old hurting his fighter," said Savannah.
Francisco Garcia, the president of Mexico's Amateur Boxing Federation pleaded to allow Juan the opportunity to qualify for a spot on the Mexican Olympic team. Savannah stated, "I remember the Mexican president saying it would be the first time that Mexico ever had a chance to win a gold medal at the Olympics."
At just sixteen years of age, after being unable to fight in Tijuana and holding an impressive amateur record of 105-5, Juan told Savannah that he wanted to turn professional. Feeling that Juan was getting bored fighting in the juniors and with nothing else to accomplish, he agreed.
"We fought the first three fights in Mexico because he was only sixteen," said Savannah. "When he turned seventeen we brought him to Houston to fight, after that the Nevada State Athletic Commission voted to let him fight in Las Vegas as a seventeen year old [eighteen is the regular age]."
"When we got a chance to fight for the title, I questioned my sanity fighting Lavka Sim; he was a hell of a fighter," remembers Savannah. "The night that he won the title, I remember people saying I didn't see you jumping up and down. I expected him to win; it wasn't like I was surprised and jumping for joy. I was so used to Juan winning I expected him to win."
Savannah gives Juan all the credit in the world. "He is where he is today because of his dedication. He trains his butt off. Juan has had a couple of rough spots lately but I think come July 31 he will erase all the doubts that anyone has about him."
"I've just been so happy with him especially that he got his college degree," said Savannah. "I told Juan it was no option, you either go to school or you don't box. I remember when he was around eighteen, he said he was getting tired of going to school and boxing."
Savannah continued, "I told him that was OK, he could quit boxing. He said what about school and I told him that wasn't an option. I told him we will always arrange your boxing schedule around school. He never missed a semester and was one of the top graduates in his class."
Through the course of thirty years the Savannah Boxing Club has gone from a close little group of thirty kids to a hundred or two hundred coming in each day. Although Savannah misses how close the group was in the earlier days it has been happily replaced by over a hundred appreciative kids.
"The kids are always going to come up and hug you," smiles Savannah. "You get so many hugs and kisses here it's just unreal. Some people ask me why do you fool with those little kids, I said I'm bribing those kids one day when I'm in a nursing home they might just come by and give me a hug. I'm bribing them today for later on in life."
Although it has been a hard road it has been well worth it for Savannah and his wife. "We struggled for so many years trying to keep this thing going. We sent out proposals, my wife even went to the University of Houston to take a course on grant writing. No matter what you can never get anything because if you have boxing attached to it these people aren't going to give you a grant."
"Juan makes donations to the gym and I donate to the gym and that's how we keep going. I haven't been as bad off as some of the other people, even though we have hit some rough spots along the way we were always able to rebound." Savannah laughs saying, "I'm on my last wobbly legs now and maybe I can last another five years and then maybe after that I'll sit back and drink some gin and tonic and watch As The World Turns."
Savannah always has the kids best interest in mind, he is a father figure type offering not just good advice but good career lessons, telling the kids, "No matter who your manager is, you need to be very loyal. The more loyal you are to your manager you won't hear other people whisper in your ear so much. When you start listening to all that stuff that comes from promoters, other managers and trainers it dilutes the power of your manager. Everyone knows you are a listener and the manager doesn't have the power they used to have with the promoter because they know they have a prostitute on their hand."
Savannah recalls what some of his fighters went through, "When Ronnie Shields first started out people would call him and he would tell them to call Mr. Savannah. Juan was the same way and would tell anyone that called him for something to call Mr. Savannah."
Savannah notes that people are not always what they seem, "I had a guy that interviewed Juan once when he was seventeen and after getting a few quotes from him offered him a $10K signing bonus to join with a promoter."
Savannah's teachings are in no way limited to boxing, always encouraging the youth of the gym to stay in school and get an education. One of the proudest moments in his life was when Juan graduated from college, "He is the first person to graduate from college in his family. When he got out of high school he wanted to be an engineer, and I remember telling him he could be anything he wanted to be just don't sell yourself short. He said at that point he wanted to be a lawyer."
"I believe in shooting for the sky," says Savannah. "Don't wish you had a Chevrolet wish you had a Mercedes Benz than you might be able to get a Chevrolet. But it you wish for a Chevrolet then you might be able to get an old car beat up car. Shoot for the sky, if you are dreaming you might as well dream big."