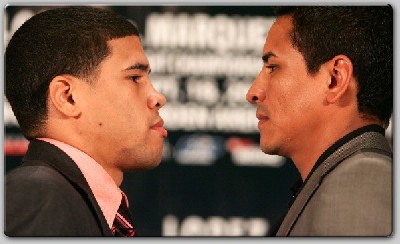 © Chris Farina – Top Rank
Undefeated WBO featherweight champion Juan Manuel Lopez and two-division world champion Rafael Marquez the pride of Puerto Rico and México, respectively, hosted a News Conference Luncheon announcing their highly anticipated world featherweight title fight on Tuesday in the Gold Ballroom at the Millennium Biltmore Hotel Los Angeles.
Promoted by Top Rank, in association with PR Best Boxing, Zanfer Promotions, Gary Shaw Productions and Showtime, the Lopez-Marquez world championship fight will take place Saturday, Sept. 18 at the MGM Grand Garden Arena in Las Vegas and will be televised live on Showtime Championship Boxing at 9 p.m. ET/PT, delayed on the west coast.
Lopez (29-0, 26 KOs), of Caguas, Puerto Rico, will be making his second defense of the featherweight title he captured in January. He previously held the WBO junior featherweight crown during a two-year reign which included five successful title defenses, four by knockout.
Marquez (39-5, 35 KOs), of México City, has held the IBF bantamweight and WBC super bantamweight titles. He'll be looking to join his brother Juan Manuel as the only brothers to win world titles in three different divisions. Marquez returns to the ring after knocking out arch rival Israel Vasquez in the third round of their May 22 championship bout to even up their historic series at 2-2.
Here's what the principals had to say on Tuesday.
Juan Manuel Lopez:
"For me this is a great honor to fight a fighter the caliber of a Rafael Marquez. When you fight the best you become the best and this is the opportunity for me to become the best. To fight a guy at this level it is my chance to show everybody what I'm capable of doing. I'm really looking forward to this fight.
"Me and (Felix) Tito ( Trinidad ) are good friends and we talk a lot. You know, I can't believe it when he calls me and talks to me and says he wants to be my friend. He was my idol and now all of a sudden he's my friend.
"I'm here for the fans. They are the ones that made me and I want to give them the best show I can. Whenever I go into the ring I'm always thinking of my fans.
"I know I'm going to have to go in there smart and fight intelligently. You can't just go in there and trade with this guy. You have to know when to strike."
Rafael Marquez:
"I am very prepared for this. In my career I have only fought the best fighters out there and that's what I will continue to do. I feel I'm fighting one of the best in Juan Manuel Lopez.
"Who wouldn't like to be remembered as one of the best ever? I think I will be remembered as a warrior fighter who fought the best. When I'm all finished I would like to be a guy who is remembered as one who always put his entire heart into a fight. I have loved this sport since I was a little kid and I just want people to think of me as someone who always gave their all.
"I feel the best at this weight, 126. I feel better than 118 and better than 122. This is also just my opponents' third fight at 126. So no, I do not regret this decision to fight at this weight.
On the fight being held the weekend of Mexico 's Independence Day:
"There will be a lot of Mexican fans in Las Vegas celebrating that weekend. I will be very patriotic and represent by holding up the Mexican flag."
"I know they say (Lopez) has big punching power, but I have faced big punchers like Vazquez. I know he is younger also. But age has nothing to do with anything in this sport. It all depends on how you take care of yourself and how you prepare yourself for the fights. And that is the key. Age will not make a difference.
"This fight will end by knockout. And I'm going to win."