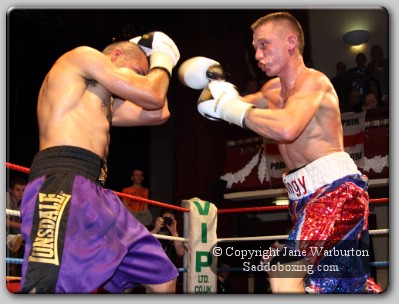 Click the above Image for all Photos from this Event
It was a lively and noisy crowd at The Municipal Hall in Colne, England last night as Steve Wood/VIP Promotions (in association with Kevin Maree Promotions) hosted a fight-card of local boxers.
Mike Robinson (Liverpool) v Shaun Doherty (Bradford)
4 x 3 Super-Bantamweight
A closely matched, all-action contest sees Robinson cut on the right brow in the first round but it wasn't as bad as Doherty who sustained a bad cut to the right eye in the second round - his face awash with blood from the wound.
He didn't let it distract him though - as he then floored Robinson in the second. Referee John Latham declared the contest a draw 38-38.
Robinson's record now stands at 4 wins 1 loss (1 by KO) and 2 draws. Sean Doherty's record stands at 2 wins 3 losses 3 draws.
Wayne Bennett (Burnley) v Kristian Laight (Nuneaton)
4 x 3 Light-Welterweight Contest
It was a good points win for Bennett against tough veteran Laight. Landing lefts and rights to the head of his opponent – Bennett was not deterred by Laight's grins (!).
Bennett wins on points 40-37 to notch up his second pro-win while Laight drops to 6 wins 83 losses (4 by KO) 6 draws.
Steve Harkin (Liverpool) v Bobby Wood (Walsall)
6 x 3 Middleweight Contest
A messy start to this four rounder which sees Referee Latham pull both men together for a 'word'. Harkin gains in confidence at the mid-way point and throws some big swinging rights 'playing up to' the crowd at the end of the fourth as pals cheer him on.
Round five and both men topple over. Harkin is told to keep his punches up. Harkin wins on points 60-55 and improves to 4 wins (1 by KO) and 1 draw – no losses, while Wood drops to 3 wins and 2 losses (1 by KO.
Keiran Farrell (Heywood) v Daniel Thorpe (Sheffield)
4 x 3 Lightweight Contest
'Vicious' Farrell comes out 'barring his teeth' in usual 'wound-up' manner at the start of this four rounder against experienced Thorpe.
The third round sees the Heywood man sink a left hook in to the body of Thorpe right above my ringside position and I see the Sheffield veteran dip momentarily before dropping to one knee.
He cannot make the count and Farrell wins by third round KO. He improves to 6 wins (2 by KO), while Thorpe drops to 23 wins (9 by KO) 108 losses (24 by KO) and 3 draws.
Shayne Singleton (Colne) v Ali Wyatt (Torquay)
6 x 3 Light-Welterweight Contest
There was huge noisy support for local man Shayne 'The Pain' Singleton who had a testing fight against the more experienced and mature – Wyatt.
But 'Singy' looked a little un-nerved this time out as he waited to enter the ring, the fact that he had to wait for the correct entrance music didn't help (!).
He seemed to be less 'settled in' to this fight but he got his confidence in the third only to find him-self on the canvas in the fourth! I couldn't see the shot but he was counted and clearly was unhappy about that.
A glancing left to the top of Wyat'ts head in the sixth sees him wobble slightly, but the fight goes to points and the local man gets the win 59-56 and improves to 6 wins (2 by KO), while Wyatt drops to 4 wins (3 by KO) 14 losses (4 by KO) and 2 draws.