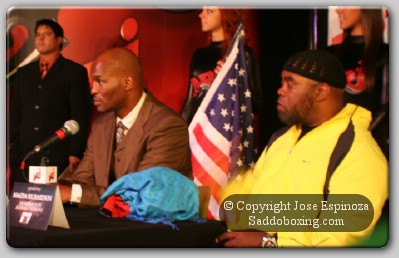 © Jose Espinoza / Saddo Boxing
When you think of great boxing trainers, you think of Freddie Roach or Emmanuel Steward. How about Naazim Richardson?
For those who don't know about Naazim Richardson, he trained Shane Mosley to a victory against Antonio Margarito recently and he's also been a long time trainer of Bernard Hopkins. These future Hall-of-Fame fighters' put their trust in a man who has a deep knowledge of the sport and its tactics.
SaddoBoxing recently sat down with Richardson to talk about his fighter's upcoming bout against Jean Pascal. Here are the two most poignant answers I got from Richardson, who wanted to focus more on Pascal's questionable victory over Chad Dawson.
SaddoBoxing: Do you see Hopkins walking through Pascal or is this going to be a challenging match?
Naazim Richardson: Bernard will not walk through Pascal. The reason being is, Pascal needs this fight. Pascal is not legitimized yet, he needs this and he's gonna bring the best of his best because he knows there's still questions about him.
I mean people saw the Chad Dawson fight; we glad you won but for those of us that know boxing, we saw were that was going. Had Chad decided two rounds early to start doing that, you might not be in that. Pascal knows the world saw that, you know, we didn't see you walk in here and wipe this dude out and we say hey! Here's the young kid.
You didn't come here like Mike Tyson, "This the future," you know. His own people in Quebec, are like is he real? Is he real? I'm not sure? He squeezed by the last dude [Chad Dawson] and the thing is, I know the last dude, so I know everything that was going on…
SB: So looking forward to December 18 in Quebec City. What kind of fight are looking for? Are you looking for it to be a slugger's fight? A technical fight?
NR: I know the young boy is not gonna come and slug with Bernard. The people around him got better sense than that. So they're not gonna come, he…I'm not knocking the hustle, the hustle he put on Chad, is the right hustle. See if I fight you in my backyard, I throw some punches at your arm and shoulders and then leave, the crowd gonna scream: aww! bloody murder.
Hey, he hit the dude's elbow, he hit the dude's shoulder. f I throw enough of these rocks at the bull, I'll land one or two. Now if they scream when I hit your arm, they gonna go ballistic in this joint when I land a shot or two. It was a good hustle. It was for Chad to do something about it. See what happened is Chad looked at the dude and didn't give the dude the respect that's due.
Sometimes you look at a guy and you look at their skills and you're not impressed, you look at their heart and you're not impressed, but people have a tendency to overlook sometimes is the guy's ambition. Chad overlooked the guy's ambition to be champion.
Naazim Richardson Audio Interview: