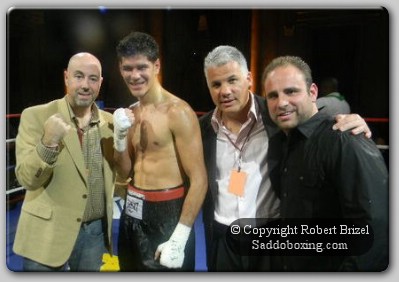 Jorge Teron scored a fourth round stoppage over James Hope on Friday night in the main event of the "Capitale Punishment II" card held at the Capitale in New York City's Chinatown, sponsored by Empire Sports and Entertainment, and Joe DeGuardia's Star Boxing. The bout had an impressive start for Hope of two rounds, who then faded away.
Hope, now 6-6-1 (4), overcame Teron's height and reach advantage to win the first two rounds. Hope landed several clean rights to Teron's head, then worked the body on the inside. Hope showed a good defense, and held on whenever Teron tried to get inside. Teron was holding a low left, and Hope leaned with his head in that direction.
Teron seemed to suffer from ring rust and inactivity. Hope threw a lot of wild overhand rights trying to get lucky. Neither fighter showed any head movement. Hope was more active than Teron, who was not hurt but nonetheless could not keep Hope away from him.
In the third, Teron landed some good body shots. An accidental butt from Hope caused a bloody cut on the corner of Teron's right eye. Blood streamed down Teron's face from the cut, but the blood did not affect his vision. Teron began landing more and more overhand rights which scored, winning the round.
In the fourth round of the scheduled eight rounder, Teron and Hope crashed heads in center ring, trying to take the fight to the inside. Teron was landing a lot of head shots, while Hope was landing a lot of body shots. Teron continued scoring with head shots until Hope's guard dropped. Hope was out of gas and defenseless on the ropes. Seeing this, Teron emptied the tank with nonstop flurries till referee David Fields stopped the bout.
The card was originally scheduled for September, but was rescheduled when the original main event fighter, Chris Algieri, pulled out with a metacarpal hand injury suffered while in training. Algieri had not recovered for this card. Former world lightweight and junior welterweight champion Carlos Ortiz and light heavyweight contender Elvir Muriqi were in attendance.
Result: Jorge Teron TKO 4 James Hope
Time: 1:38 of the fourth round