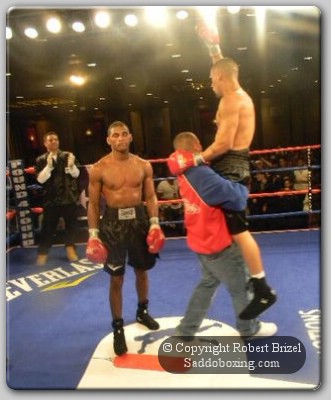 Last Saturday at Bally's Hotel Casino in Atlantic City, junior welterweight Ronald Cruz of Bethlehem, Pennsylvania, remained undefeated at 10-0 (7), with a turnaround stoppage of Jeremy Bryan of Paterson, New Jersey, a former two time national Golden Gloves champion, who fell to 14-2 (7). Bryan appeared to win the early rounds in what initially appeared a bad mismatch.
Bryan opened the bout by winning round one with a fast jab to the head of Cruz, and followed with head combinations which scored, moving side to side. Bryan had reach advantage and used it. Cruz could not reach Bryan, and Bryan tied him up in clinches whenever Cruz tried to get inside. Cruz tried to cut off the ring, so Bryan went to the body.
In round two, Cruz tried to wage war in center ring. Both fighters leaned on each other. Bryan landed straight head punches and body hooks to win another round, staying out of Cruz' range. Cruz kept punching and missing short. Cruz appeared to be the harder hitter when he landed a few power shots in rare mutual exchanges, but Cruz was walking in flat-footed, moving in too slow.
Bryan, still using his reach advantage to score during the third, landed some brutal power head shots in close. Cruz came forward with great courage, and took Bryan's best shots. In a ring contrast of professional boxing styles, Bryan landed consistent head shots, while Cruz landed the body shots. Bryan landed more often to win his third consecutive round.
In round four, Bryan landed left hands to the body, and left-rights to the head. Cruz tried to go to the body up close with sparring partner type tap punches with no zap. Cruz was very slow with all his punches, and got hit time and time again by the faster Bryan, who won his fourth consecutive round. The bout began to appear a mistake, a poor matchup.
Bryan started throwing head combinations in round five, but stopped moving along the ropes. This allowed the slower Cruz to land some hard body shots on Bryan along the ropes. Bryan took a knee after a left hook, much to the surprise of the crowd and his opponent. Confused and hurt, Bryan got up and tried to run, and eventually spit out his mouthpiece to buy time. After a brief stoppage the action resumed, Cruz, smelling blood, jumped forward and threw a straight right which dropped Cruz coming in as the referee signaled the bout to continue. Bryan got up again, ran and also held on for dear life. Clearing his head, Bryan fought back near the end of the round. A decisive 10-7 round for Cruz.
In the sixth, Cruz dropped Bryan with a straight left on the ropes. Bryan beat the count, but gave up. The referee then stopped the bout at 0:59 of the sixth. Cruz made a great comeback.
It appears that Bryan has not been the same fighter since April 17, 2010, when he was knocked out at 1:43 of the eighth round by Vincent Arroyo in a bout where Bryan won seven rounds easily then suddenly wilted. That bout cost Bryan more than just confidence, and it showed against Cruz, a slower less talented opponent who, with the sprit of the great boxers of long ago, had something extra few fighters have in a lifetime.
"Ronald Cruz has a heart. Jeremy Bryan doesn't," correctly noted promoter Russell Peltz.
Result: Ronald Cruz TKO 6 Jeremy Bryan
Time: 0:46 round six