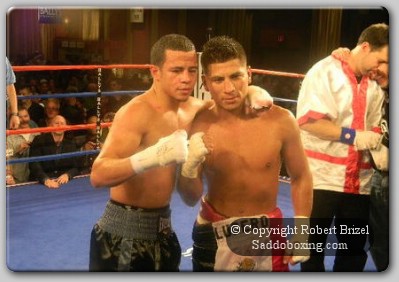 Jorge Diaz of New Brunswick, New Jersey, remained undefeated at 15-0 (9) last Saturday night, with an ugly looking ten round decision over veteran Emmanuel Lucero of Mexico City, Mexico, now out of Albany, New York 24-6 (14). The bout promoted by Pound for Pound Promotions featured numerous low blows, head butting, shoves to the floor, sitting on the ropes, and other infractions, was a nonstop Mexican style dirty war.
Sal Alessi, co-manager of Diaz commented after the fight, "We expected a dirty fight! This guy Lucero beat Rogers Mtagwa and fought Manny Pacquiao. He wanted Jorge to get angry and tired, a quintessential Mexican fighter. Lucero threw monster shots to the body. This is the first time Jorge went ten rounds, a pretty good test for a first ten."
The pro-Diaz crowd spent the whole bout hurling racial epithets at Lucero, yelling, Taco Bell, an illegal Mexican without papers and go home you illegal Mexican. Lucero was not bothered by the noise but the pro-Diaz screamed its hate all ten rounds. Lucero later explained how he dealt with it. "I do my job; I don't care about anyone else."
The first round was a cautious feeling out round in center ring. Lucero, who had good head movement for all ten rounds, slipped a lot of left and right jabs thrown by Diaz. Both fighters tried body shots. The round looked to be an even round, though Diaz clearly threw more punches.
During round two both fighters wrestled in center ring for position. Lucero pounded Diaz on the ropes with body shots. Diaz fought back off the ropes with speed combination flurries, spun off the ropes, and landed a good left to the head of Lucero.
In the third round, both fighters traded power body shots, making loud sounding bangs. Diaz threw bombs to the head and body which landed, but held his left hand dangerously low, and Lucero countered over it.
Lucero attacked Diaz in round four, pinning him in a corner and emptying the tank for thirty seconds with everything he could throw. However, he got warned by referee Alan Huggins for hitting behind the head several times. Diaz, in response, was warned for leaning with his head and butting Lucero. Diaz landed some good left-right combinations in center ring.
In the fifth round, Diaz landed several overhand rights to Lucero's head, but got warned for low blows several times. Lucero slipped a lot of punches, but missed with haymaker bombs. Diaz tried throwing combinations, but Lucero stayed out of range.
Lucero leaned on the head of Diaz and shoved him to the floor in the sixth, ruled no knockdown. Lucero landed a low blow again, stopping the action. Lucero continued head butting and got warned again. Lucero pushed Diaz behind the head and shoved him to the canvas again.
In the seventh, Lucero was warned for holding, while Diaz landed head combinations. Lucero felt the pressure as he tried to counter.
In the eighth round, with Diaz beginning to tired and fade, Lucero came forward and attacked Diaz, who threw many jabs which Lucero slipped. Lucero dropped his hands and taunted Diaz, and then shoved him to the canvas.
Diaz and Lucero went toe to toe in corners during the ninth round, waging war nonstop, bringing the crowd to their feet. During one of the exchanges, Lucero shoved Diaz to the canvas. The ringside electronic count reached two before the referee ruled no knockdown. Lucero continued to throw head and body shots at will on a tiring Diaz to win the round, but did not try to knock him out. Diaz sunk to sit between the ropes twice in the ninth, but no infraction was called.
In the tenth round, Diaz, with some facial bruises, was in trouble as Lucero worked him over in corners. Diaz appeared exhausted, with just enough left to spin out of trouble and survive. Again Diaz sat between the ropes during an exchange. Both fighters were in a heated exchange at the final bell. Lucero jumped atop a corner rope and raised his hands in victory, to the boos of the crowd.
According to Lucero's manager Gunther Fishgold, "Every close round went to Diaz. If we were in Albany, I'd say to Lucero finish strong. There's no way we would get a decision here. We're disappointed. Diaz leaned between the ropes went on his knees many times. However, we (the Lucero corner) congratulate Diaz on a good fight."
Fishgold was adamant about Diaz sitting between the ropes. "There should have been a warning and then point deductions." In New York State, sitting between the ropes counts as a knockdown. The three times Diaz sat between the ropes in the last three rounds were not called in New Jersey. Fishgold summed it all up. "One good right hand by Lucero would have knocked Diaz out. Clearly, we did not have the power."
The whole bout was one of fouls. The referee could have spent the whole bout taking points away from both fighters if he wanted to. Diaz, an eight round fighter, needs to work on his stamina. Lucero, who went ten rounds without getting tired, is a good test, but still lacked the power to put Diaz away in the final two rounds, and failed to cut off the ring on his opponent. Diaz ran away and escaped. Thus Diaz won the bout on points.
Result: Jorge Diaz W10 Emmanuel Lucero
Scoring 99-92 twice and 96-94