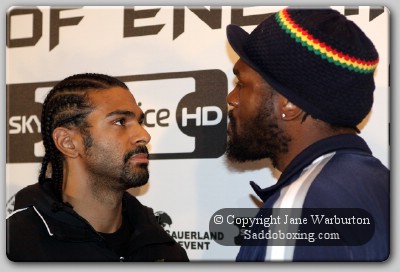 Click the above Image for more Photos
Saturday, November 13th we will be treated to the biggest all British heavyweight world title fight since Lennox Lewis took on Frank Bruno back in 1993.
David Haye, 24-1 (22), defends his WBA title against Audley Harrison, 27-4 (20), at the MEN Arena in Manchester, England.
This will be Haye's second defence of the title since he went to Germany and took it off Nikolay Valuev, whereas this will be Harrison's first real crack at a world title. Some say he does not deserve it, but as he is now the European champion, on paper it is legitimate.
Audley Harrison's career has been a long old road, with its ups and downs and twists and turns. Never has he fully recaptured the public belief that he once carried with him after his stellar amateur career, which culminated in a Gold Medal at the 2000 Sydney Olympics. He also won a Gold at the Commonwealth games two years earlier in Kuala Lumpur.
He may have lost nearly all public attention and belief, but he has always believed in himself, almost dumbfoundedly after some of his lacklustre performances. Which, one might commend and another may scold.
The bottom line here is that Audley Harrison can fight, or should that be "could" fight? Either way, two gold medals from an amateur career are going to stand anyone in good stead when it comes to turning their hands to the pro game.
And it began beautifully, as he had signed a contract with the BBC, was getting good regular fights and was being touted here and stateside to be the next Lennox Lewis, the next big thing to hit the heavyweights and do us proud.
He was training in America, getting the best sparring he could get and assured everyone who listened that he was now ready to step up and face world class opposition.
Around the same time David Haye was beginning his pro career at cruiserweight, after his amateur start which led to a Silver Medal at the World Amateur Championships; obviously his amateur days were not as glittering as Harrison's.
Harrison continued his climb through the rankings, and eventually came back to Britain to secure a shot at the vacant Commonwealth title against Danny Williams, who was 33-4-0 at the time. Harrison took this fight on five weeks notice as Matt Skelton had pulled out. In a relatively close fight, Harrison lost a split decision.
Upon returning to the U.S., Harrison took on Dominick Guinn in the hope of restoring public interest and confidence, only this time he was outboxed and outworked and lost unanimously over 10 rounds.
Two months later, Harrison takes on journeyman Andrew Greeley 11-12-2, stopping Greeley in three rounds. Then back to Britain to avenge his loss to Danny Williams, which is exactly what he did, stopping Williams in, again, three rounds.
He was then picked up by new management and once again assured everyone that he was now over the former losses, and was ready to be a world champion. To get to that stage, he had to fight Michael Sprott for the European title and the vacant British title, but Harrison was knocked out in the third. A clean knockout as well, as Harrison about to launch an offensive of his own and got caught mid-flight with a beauty of a punch; lights out.
Even after the devastating defeat, Harrison still believed and proclaimed that he would be a world champion, even though his management was saying that the public had lost interest and getting another crack may be difficult.
A couple of wins against Jason Barnett and George Arias, and then came a fight against fan favourite Martin Rogan.
Rogan, former Prizefighter winner, with no amateur background or any real pro experience, a few fights, only recently having quit his full time job as a taxi driver, took on Harrison in his tenth pro fight whilst this was Audley's twenty seventh. Harrison was quite soundly beaten. He looked gunshy, never really at ease and could not deal with the pressure that Rogan was putting on him.
Once again Harrison declared that he would win that world title. The fact that he had failed nearly every time he stepped up to get his shot, and that he had just lost to Martin Rogan…No disrespect to Rogan but an Olympic and Commonwealth Gold Medal winner should not have lost to Rogan.
Yes the amateur game is different to the pro game, but the pedigree should have been there, the Harrison that was capable, the one we knew could fight, the Harrison who bought us a Gold Medal - was surely gone.
Whilst Harrison's career was laying in tatters, Haye had gone from strength to strength, with only a single blemish on his record against Carl Thompson, who was 32-6-0 at the time, when going for the IBO Cruiserweight title.
Although that loss you can put down to inexperience, Haye relentlessly attacked Thompson, who just soaked it up, By the fifth round, Haye had gassed out, and Thompson caught him coming in with a shot, which rocked him, and followed it up until the fight was stopped.
That is the kind of fight that one can learn from, though. Haye wasn't outclassed, he got caught with his hands down as he was tired.
Haye continued on with his career, picking up the European title and defended it four times, with a cameo appearance at heavyweight against Tomasz Bonin, who was 37-1 and was ranked number 11 by the WBC. Incidentally, Bonin's sole loss on his record was handed to him by Harrison earlier on in his career. Harrison stopped Bonin in nine rounds, while in contrast, Haye stopped him in one.
Later on in the year, Haye travelled to France to fight for the WBC and WBA Cruiserweight titles, which were being held by Jean Marc Mormeck. Haye was put down in round four, but showed determination and grit by coming back and knocking Mormeck out in round seven.
Then, a unification fight took place with Enzo Maccarinelli who put up his WBO belt. This was a huge fight for both parties and for the viewing public, with a huge amount of interest shown. Haye destroyed Maccarinelli in two rounds.
Haye now saw his journey through the cruiserweight division completed, he was now the unified champion and decided to move up in weight and take on the big boys. Proclaiming, just as Harrison had done, that he would become World heavyweight champion.
We know the rest. Haye actually talked the talk and walked the walk, backed up what he said and became a heavyweight world champion. Winning the belt was no easy feat either, after a warm up bout with Monty Barrett, which Haye won by TKO in the fifth, Nikolay Valuev was the man in question, all 7 Ft, 324 lbs of him.
With a display of efficiency, accuracy, good footwork and a cool head, Haye took the title over twelve rounds, and almost floored the giant late in the twelfth.
Harrison got this world title shot through firstly, winning Prizefighter, which he looked good in, knocking out two of the three opponents on the night.
Prizefighter, though, is a competition that Audley Harrison should win all day. Three round fights with a break in between against relatively sub-par opponents. This win in turn got Harrison his European title shot against Michael Sprott.
The same Michael Sprott who knocked out Harrison the first time they met. Harrison looked uninspired on the night, like a rabbit caught in headlights for the majority of the fight. He could not pull the trigger and would not commit. He was getting punched from pillar to post.
But in the closing seconds of the twelfth, Harrison found a looping left and caught Sprott bang on the money, knocking him clean out. He was behind on every card, and had he not of landed that shot, this fight against Haye would not be happening at all, he may have even retired.
So here Harrison is, would you believe it, once AGAIN claiming he will be world champion. If we take their last fights for example, which was Harrison against Sprott and Haye a title defence against John Ruiz 44-8-1.
Ruiz, even a shopworn Ruiz, is still a far more dangerous opponent than Michael Sprott…or Audley Harrison for that matter, and Haye dealt with Ruiz, flooring him twice in the first, once in the fifth, and again in the sixth before it was stopped in nine.
Haye is an explosive puncher with excellent movement, people question his chin, but as he has the same amount of KO losses on his record as Harrison, I don't see that as being an issue here.
Could there be that twinkle back in Audley's eye? He might very well believe that this time he can actually go and do it, go and become world champ. Unfortunately it's something we have all heard before…not once or twice but quite a few times now, and in all honesty the only thing that validates him being in this position is one punch against Sprott. One punch, that's it, nothing in his last five, six of seven fights says he has any of the old form left in him.
Haye is mixing it in a different league now, and with all the hype and badmouthing from each other over the past few months, Haye is going to want to get in there and do the job on him. He will be too fast and too powerful on the night, never mind the reach advantage to Audley, Haye can deal with fighters who have more than a few inches on him…see Valuev.
Upsets can always happen, and don't get me wrong, Harrison will be good value at the bookies.
In reality though, Haye beats Harrison in every department; speed, power, aggression, movement, even age with Harrison 39 now and Haye just 30.
Haye will fight clever and reserved until he finds his openings, and when he does he will explode and really try to tear Harrison's head off.
This one ends early folks, it shouldn't get to the middle rounds, and it very well could be the end of Audley Harrison.