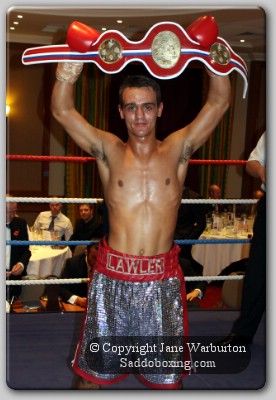 Thursday night, at the Moat House, Festival Park, Stoke, Paul Dykes promoted a dinner show which featured three contests. Headlining the bill, Rob Hunt of Stafford faced Ben Lawler of Skegness for the British Masters Welter-weight Title, but it wasn't to be the Stafford mans night!
Hunt has a disastrous start which sees him down in the first round. Lawler was encouraged by the knockdown and his trainer Carl Greaves shouts "Believe in Yourself!" from the corner.
The Stafford man goes down again early in the second round, but there were some hefty head shots flying in from both men – either one could have hit the canvas! But it was Hunt again who took a second count.
Round three and Hunt's nose is bloody as both fighters continue to throw some big shots. Hunt's head seems to have cleared by the fifth frame but early in the sixth – Hunt is pressured on the ropes and Referee Terry O'Conner jumps in to stop the contest. Lawler laughs out loud with jubilation and for a few seconds there is an eery silence until the crowd realised what had happened. Then they boo'd their disapproval. In my opinion – the boo's weren't justified and it was unfair that Lawler was subjected to that after such a gutsy performance. A bad night at the office for Hunt, but Lawler wins the title and improves to 7 wins (2 by KO) 8 losses (4 by KO) while Hunt drops to 14 wins (1 by KO) 1 loss (1 by KO)
Llewellyn Davies (Coventry) v Nathan Brook (Plymouth)
4 x 3 Super Middleweight Contest
Llewellyn 'The Blessed' Davies entered the ring wearing a scarf around his face !
The Southpaw from Oliver Harrisons gym got straight to work in the first round, delivering a number of solid body-shots to the torso of Brook who's nose was bloody by the end of the opener and he looked 'winded'.
Davies continues with the body-shots in to the second frame. The third sees Brook pressured in the neutral corner under a barrage of head-shots resulting in the stoppage by Referee Terry O'Conner.
Davies improves to 5 wins (3 by KO) while Brook drops to 1 win (by KO) 2 losses (2 by KO)
Andy Keates (Leek) v Dan Carr (Trowbridge)
6 x 2 Super Featherweight Contest
Popular Debutant – Andy Keates from the Impact Boxing Gym, Fenton, notched up his first pro-win against Carr. A testing first contest for Keates who sustained a cut to the right eye in round two. He kept focussed - brushing his opponent aside when he lunged in low - and though pressured in the fifth round briefly, secured a 59-56 points victory.
Carr's record now stands at no wins 5 losses (1 by KO)