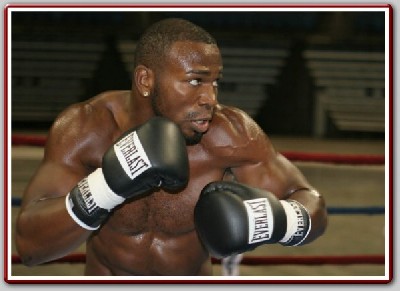 © Tom Casino
Healed up and ready to rejoin the elite!
Jeff Lacy (25-3) was once one of boxing's most revered and feared young fighters. After an extensive amateur career of 210 bouts, several national amateur titles and a spot on the 2000 Olympic boxing team, Lacy decided to turn professional in 2001 when he did not medal at the 2000 Sydney Olympic games.
After turning professional on February 2, 2001, at almost the same weight he fought at during the end of his amateur tenure, Lacy became one of the most exciting young Super Middleweights we had seen in years.
His first eight bouts ended in less than a combined 11 rounds. Three bouts later, he earned his first minor title when he defeated Ross Thompson by UD. His next contest was against the much more experienced James Crawford, who had 42 fights on his resume compared to Jeff's 12.
Crawford was also entering the fight on a four bout win streak. That disparity didn't matter as Jeff ended the affair in less than two rounds, successfully defending his WBC Continental Americas Super Middleweight title won from Thompson and picking up the vacant USBA belt as a bonus for his efforts.
Soon, Lacy would grab another minor title by defeating Richard Grant, this time for the NABA version. Now the owner of three minor titles in just under 15 bouts, Jeff would face off against another up and coming prospect, Vitaly Tsypko.
This would be an IBF eliminator for the number two ranking with the winner facing Syd Vanderpool for the vacant IBF strap. In round two, before the affair could fully get underway the bout was stopped due to an accidental head butt that left Vitaly unable to continue and put Jeff in a title fight after just 15 professional bouts.
A new IBF Super Middleweight champion named Jeff "Left Hook" Lacy was crowned on October 2nd 2004 via an eighth round stoppage of Vanderpool. After defending against Omar Sheika and former amateur rival Rubin Williams, Jeff would next meet the division's IBO champion, Robin Reid, a fighter thought to be Jeff's toughest test to date.
That test was passed in just seven rounds, and then almost three months to the day exactly, Jeff would make the fourth defense of his IBF title and the first of his IBO belt when he stopped tough Scott Pemberton in 2:59 of round two.
In 2006, Lacy was ready for another unification bout; this one would be against Joe Calzaghe with Jeff's IBF/IBO titles on the line and Calzaghe's WBO title added to the pot it certainly would just about clear up who the best 168lb fighter in the world was at that moment. But this time, things would not go in Jeff's favor.
The bout was all Calzaghe from the beginning. His superior hand speed, 20 bouts more of professional experience and hometown crowd support enhanced Calzaghe's performance. Overwhelmed, Jeff absorbed tremendous punishment, losing almost every frame and his titles during the 12 round affair, yet in the loss he proved one thing and that was that Jeff Lacy is no quitter and has the heart of a true warrior.
Slightly, and understandably, dejected, Jeff did not let the loss linger for too long as later that year he rematched Tsypko, whom he faced in the IBF title eliminator four years prior. While Jeff won a 12 round majority decision, it was clear that something was not right with Lacy in that fight. There seemed to be a lack of aggressiveness. We soon found out the reason was a severely torn rotator cuff, the type of tear that has ended many fighter's careers in the past.
After surgery, Jeff returned a year later with success over Peter Manfredo Jr and Epifanio Mendoza, winning both bouts by decision, but Lacy still did not look like the hard hitting fighter of old, the Lacy that could muscle his opponents around the ring and brutalize them with combination punches.
In November, 2008, Jeff faced off against former middleweight champion Jermain Taylor, who himself was looking to get back on track after consecutive losses at the hands of Kelly Pavlik. Jeff would taste defeat for the second time in his career as he was handily outpointed by his former Olympic teammate.
Five months later, Jeff would win a majority decision over journeyman Otis Griffin, a bout he should have been able to dominate. Then, in just another short four months, he would lose for the third time in his career, this time by stoppage when he faced a faded Roy Jones Jr for the WBO NABO light heavyweight title.
It was becoming obvious that Jeff Lacy needed to either make some changes in his career and quickly, or his quest to win another world title would soon be over.
The loss to Jones was an eye opener for Lacy. He took some extra time off, studied his tapes since the injury, went back to rehabilitation for the shoulder and now after another year lost in his career due to the rotator cuff injury, Jeff Lacy is back at 100% and ready to rejoin the elite of the 168lb division. At least he feels healthy enough to make the journey one more time, but only time will tell if that will be true or not.
SaddoBoxing spoke with Jeff earlier this afternoon on how his injury was healing, how he was feeling, how training camp has been for the upcoming UBO International Super Middleweight title fight December 11th and a few thought on the Super Middleweight division as a whole.
SaddoBoxing: Jeff, how are things going for you as you are still getting ready for your upcoming bout on Dec 11th?
Jeff Lacy: I am doing pretty well, Daxx, things are going good, I am ready to come back.
SB: You took some time off after your fight with Roy Jones, a little bit over a year since your last appearance in the ring. It is common knowledge that you have had a shoulder injury that you have been dealing with for quite sometime. If I am not mistaken, it is the same injury that Vitali Klitschko and the late Vernon Forrest suffered? Has the layoff helped get everything back into order?
JL: Yes, I took a lot of time to help get the shoulder back where it should be. I feel 100% right now, though if I didn't I would not be doing an interview right now because I would not be fighting. I am not a sore loser, but I don't like to lose and if I am not 100% then how can I go out and win fights?
SB: In your last couple of losses, one to Jermain Taylor in 2008 and the other to Roy Jones in 2009, you seemed to have a harder time with getting your shots off rather than with what they were dealing you offensively; was that due to the injury?
JL: The problem was my balance had been way off, my right side is my more powerful side, the shoulder being injured it made it difficult for me to throw properly. When I did get off it was hard to connect with meaningful shots. 90% of my shoulder was injured and had to have surgery, so it took a while for things to get right.
SB: So far in training camp, have there been problems with the shoulder?
JL: No, I feel great. I even surprised myself with how well the shoulder is doing. Like I mentioned, I am not a sore loser I just don't like to lose. After the Roy Jones fight, I took a look at the fight later on and noticed some things that I needed to work on, so I went back into therapy for the shoulder so I would not have the same issues in the future. If I can't fight at 100%, then I am not happy.
SB: On December 11th, you return to the ring, facing Dhafir Smith for the vacant UBO International title. If you are successful, what is you next plan? Do you have any future opponents lined up?
JL: I am not looking toward anyone right now, I just want to get past December 11th. I want to focus 100% on that, then I will start looking at my available opportunities. I have seen too many guys get in trouble looking past the opponent in front of them, for one reason or another, then end up with a loss because they were not fully prepared for that fight.
SB: What do you think of the Super Middleweight division as a whole right now? It may be the most talented it has been in over a decade. Does that motivate you even more to get back in the mix along with the other upper tier fighters?
JL: Most defiantly! I have been paying close attention to the Super Middleweight and Light Heavyweight divisions, they have a lot of big fights out there available. Like I said, I am focused on December 11th right now but afterward, I am going to be making my presence felt.
SB: What was your opinion of the Showtime Super Six Boxing Classic when it was announced?
JL: I thought it was a great idea. It was a concept good for both fighters and fans alike. The problem is there have been too many injuries, making the bouts so close together like the way they did maybe did not allow fighters to heal up enough before the next round. It is hard to say what fighter will advance to the end because you never know when an injury will come up, or if a fighter is injured it is hard to say if they are at their best for the next bout.
The idea and concept though was great and I wish it had taken place before my injury; I would have liked to have taken place in it. I hope there are more of them in the future but they need to adjust the way it is set up schedule-wise.
SB: When the Super Six tournament was announced, who did you favor to win it?
JL: Styles make fights and on paper it is easy to say who will win, but in the ring, that's different. I looked towards Andre Ward just because of his style. In a way, he reminds me of Bernard Hopkins, his fights are not always exciting but he goes in there and wins.
With his style, he is difficult to figure out. You never know which style he will show up with. The judges don't always like it, or the fans, but as long as you are effective, you can get the win on the judge's scorecard. Ward reminds me Hopkins in that way a lot.
SB: If you come out on December 11th with the win, how long will it be before we see the Jeff Lacy of old? The one that was taking names and planting opponents on their hind ends?
JL: Soon. Before I was injured, I was on a fast track. I intend to do that again, so after the 11th, if everything works out and I walk away injury free, you can look for that version of Jeff Lacy again.
SB: Jeff, your comeback is one we will be rooting for and I want to say best of luck December 11th. I know you are in the middle of your final preparations, so I will let you get back to business, but before we go, is there anything you would like to say to your supporters?
JL: Just that I am in great shape. I know some people wrote me off, but after December 11th I will shock a lot of people with my return and look for me in the future as part of the 168lb division.