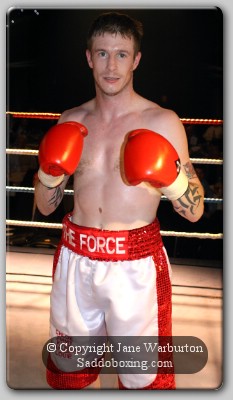 Click the above Image for more Photos
Last night, at the Aston Wood Golf Club in Little Aston, Sutton Coldfield, England, Promoter and former Featherweight/Super-Featherweight Champion – Pat Cowdell, hosted a Dinner Show which featured three contests.
Dean Anderson (Dudley) v Adam Hutchinson (Darlington)
6 x 2 Featherweight Contest
Debutants Anderson and Hutchinson came to blows in this scheduled six-round featherweight contest, but it was Hutchinson who had a disastrous start – finding himself on the canvas twice inside the opening frame.
The second round is more settled for both men but Hutchinson falls to the canvas in the first half of the third round. He recovers well though and fighting resumes. 'Deano' seems physically stronger and has been spurred on by the knockdowns.
When Harrison is dropped again in the first half of the fourth – Referee Terry O'Conner calls a halt to the contest. A delighted Anderson wins his first pro-fight by a stoppage.
Lee Glover (Tipton) v Pavels Senkovs (Mansfield)
4 x 3 Featherweight Contest
Glover faced experienced Senkovs in this scheduled four rounder and is already warned twice in the first round for low blows. By the second round – the 'Tipton Slasher' settles in to the fight and starts to get the better of Latvian-born Senkovs in the second half of the round.
The third frame sees Glover 'driving-in' the body-shots and Senkovs looks under pressure, sustaining a bloody nose by the end of the frame. Senkovs has only ever been stopped once before though and gave Glover a good contest. Glover wins on points 40-36 and improves to 4 wins (1 by KO) no losses, while Senkovs drops to 2 wins (2 by KO) 25 losses (1 by KO) and 2 draws.
James Flinn (Coventry) v Andrew Patterson (Birmingham)
8 x 2 Welterweight Contest
James 'The Force' Flinn faced 'Paddy' Patterson in this headlining contest. It seemed a good match-up between these two who provided an all-action contest. Both men were scoring with decent lefts and rights to the head. Patterson got off to a good start but eased off slightly in the fourth frame. He picks it up again in the fifth but was stopped by a single shot mid-way through the sixth round.
Flinn wins by TKO round six and improves to 6 wins (2 by KO) no losses and 1 draw, while Patterson drops to 3 wins (3 by KO) 13 losses (3 by KO) and 3 draws.