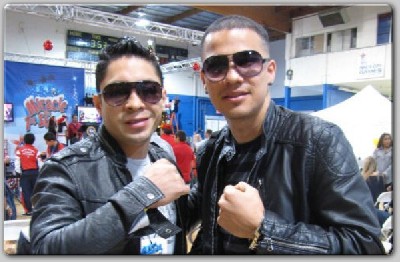 © Robert M / Saddo Boxing
SaddoBoxing had the opportunity to attend the 29th Annual Miracle on 1st St. toy giveaway, held at the Hollenbeck Youth Center in East Los Angeles, CA.
On hand were several professional boxers, along with amateur boxers. Actor Tom Arnold was also there, helping out in the event and over 1,000 people stood in line to accept toys from community leaders.
Also in attendance were The Laker Girls, who put on quite the performance and the city's Mayor.
As the event was still getting underway and the last arrangements were being made by the volunteers, SaddoBoxing took the time to sit down and have a one on one conversation with Israel "El Magnifico" Vasquez.

SaddoBoxing: Hello, Israel how are you?
Israel Vasquez: Hi. I'm good thanks for asking.
SB: What brings you here to the Hollenbeck Youth Center?
IV: Just here with the kids, showing support and helping out the community. This is the 3rd year I'm here and it's great to be able to talk to the kids and encourage them to succeed in life and follow their dreams.

SB: That's great Israel. I grew up in these streets of East LA and believe me, we need more athletes like yourself to take the time to talk to the youth and give them some words of encouragement.
I'm really intrigued in learning about boxers beyond the ring, beyond the ropes. I think as fans we can identify more and relate more when we know more then just the boxer in the ring. One of the things that I'm most intrigued with is knowing the history of a boxer's nickname. So tell me - "El Magnifico" (The Magnificent) where did it come from?
IV: You know it's funny. I don't really like when boxers have nicknames. To me, I always wanted to be just Israel Vasquez. But Jose Ramirez, a boxing journalist [formerly with LA's most popular Spanish language newspaper La Opinion] was the one who gave me that nickname. He wrote several articles on me and in there he would often use the word "magnifico" and it just stuck. Now I like it because I realize that it identifies me and sets me apart.
SB: It really does. I can't think of another boxer with that same nickname; I think it's definitely original. Recently in the news, Salma Hayek said that she had been here in the US illegally for sometime before she got her papers. What's your story on that? I know you were born in Mexico City, DF. But I know you reside here in the Los Angeles area. How long have you been here?
IV: [Laughs out loud and smiles] That's funny. You know I've never been interviewed like this but I like it. No, I've never been here illegally [laughs again] I either had a visa or now I have my residency. But I've been living here in LA for about eight years now.
SB: So what does Israel like to do here in LA? Do you like going to City Walk [Universal Studios entertainment area] or The Mall, Santa Monica or maybe Hollywood?
IV: Well my wife loves going to the mall [laughs]. I like going out to eat with my family.
SB Oh, OK, cool. Where do you like to go eat?
IV: There's this Mexican food restaurant called "El Jalisciense" in Huntington Park [an LA suburb] that I really like. Matter a fact, just last night I took my wife and some friends to eat there. The food is very authentic there.
SB: In other words, no In n' Out, Jack in the Box or Pizza Hut for you?
IV: Well, I'll eat the food but it's not something I crave for. I'd rather eat good Mexican food.
SB: Israel, if we were to go to your car right now and turn on the stereo, what would we hear? Whether a CD, or the radio or your I-Pod if you have one in there?
IV: Music, yeah, who doesn't like music? I like a little bit of everything. Spanish rock like Caifanes and Mana. I also like bands like Guns n' Roses and Metallica.
SB: Ever been to one of their concerts?
IV: No. Guns n' Roses hasn't been the same for years and when they were touring before, I just never got around to see them.
SB: Now for a bit about your profession. Israel, take us back to your first pro fight. What is it that you remember most about that day?
IV: The nerves [laughs[, it was just a bit unexpected. There was a tournament that was going to take place and about one week away, my trainer calls me and tells me that there was an opening in the tournament and if I wanted to participate but I had to fight at 116 and I wanted to go in at 118.
After talking it over, I just told myself to just go for it. I mean, I was 17 and it was an opportunity to finally step in the ring. I had to lose about 10 pounds that week to be ready come fight night, but it was worth taking that risk. I was even told by doctors then since I was only 17, that if anything went wrong that night like if I got KO'd or beat up really bad that they would suspend my license and not let me fight again. But here I am today.
SB: Just the other night I was watching your trilogy with Oscar "Chololo" Larios. What can you tell me about that fight and events leading up to those fights?
IV: Wow! You really brought a smile to my face. Not a lot of people know or at least talk about my fights with him. You caught me off guard and my defense is pretty good. [laughs] What can I say? The first fight was just a flash. We were both considered really good boxers. He was more known then me at the time and I had just suffered my first defeat. I think they felt confident that they would knock me out.
SB: And were they wrong. You got him first with what looked to me like a flash knockdown. But then you delivered what I consider one of the most brutal and devastating KO's I have ever seen.
IV: Yes, it was like he fell like a tree. We traded well in the center of the ring and he got me with a few good shots but I got him back when it mattered. The second fight I have to admit was hard to take. My son was sick, my wife was pregnant and about to give birth and I got really sick several days prior to the fight. There was just so much going on and don't think those are excuses.

SB: Oh, I don't. I clearly asked you a question and I feel you are being honest.
IV: It was just hard because I know I would have beat him, but it happens. He beat me fair and square and we settled it with a third fight and I got the best of him.