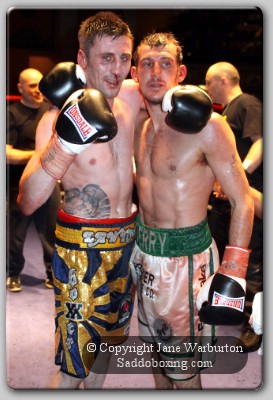 Click the above Image for more Photos from this Event
Saturday night, at the Olympia in Liverpool, England, Steven Vaughan promoted a fightnight that headlined the vacant IBO Lightweight Title bout between Scott Lawton of Stoke and Derry Mathews of Liverpool.
This was to be the second time that these two fighters had faced each other. Lawton won last time out by securing a sixth round TKO in November 2009.
Round one gets off to a steady start for both men, but an accidental clash of heads causes a cut to the head of Matthews, which starts to bleed.
Known for getting cut – Mathews looks undeterred. It's a good round two for Mathews but Lawton 'flies' out of his corner for the third. He grins at Mathews when the local man lands, as if to say, "is that all you've got?"
Lawton is sent tumbling backwards in the closing seconds of the sixth round and gets up grinning as the bell signals the end of the round. The seventh was a good round for Mathews who looks to be growing in confidence. He has huge support from the Liverpool crowd – most of whom are on their feet.
Another clash of heads in the eighth sees Lawton shake off the effects as his nose takes the impact. Blood starts to flow from the nose and Mathews has another cut to the head – this time in the middle, high on the forehead.
It's a better round nine and ten for Lawton who lands with long-reaching head shots. Mathews is warned for holding by Referee Marcus McDonnell and both men are bathed in blood from their wounds!
It's a good finish for Lawton , but Mathews – the sharper of the two men – gets a clear points win to take the title.
Mathews' record now stands at 26 wins (12 by KO) and 5 losses (5 by KO) while Lawton drops to 27 wins (6 by KO), 8 losses (4 by KO) and 1 draw.
Lawton, now aged 34, announced that last night was his final bout. He continues to run his gym (Impact Boxing) at Fenton.
Other results last night included:
Kevin Satchell ( Liverpool ) v Francis Croes
6 x 2 Super Flyweight Contest
'Satch' keeps busy against last minute opponent Croes (who he fought last time out!). Dominating the fight with use of the uppercut – Satchell gets the points victory over experienced Croes.
Satchell improves to 3 wins no losses, while Croes drops to 1 win (1 by KO) and 13 losses (1 by KO).
Joe Tonks (Liverpool) v Sid Razak ( Birmingham )
6 x 2 Lightweight Contest
It was a bad second outing for popular Tonks who was ruffled early on in his contest when experienced Razak caught him mid-way through the first round.
A startled Tonks is forced to put some distance between them while he tries to settle in to the fight, but he seems to be playing 'catch-up' for the rest of the contest – clearly unsettled by the opener. Both men tear at each other in the third and Tonks is caught again by Razak in the fourth.
Razak lands a left to the chin followed by a hard left shot to the body and the local-man has to hold on as the bell ends the round. Razak continues to go after his opponent in the fifth and deservedly gets the points win (59-56) over a 'shell-shocked' Tonks.
Razak improves to 6 wins (2 by KO) 56 losses (3 by KO) while Tonks drops to 1 win and 1 loss.
James Dickens (Liverpool) v Pavels Senkovs ( Mansfield )
4 x 3 Super Featherweight Contest
Debutant 'Jazza' Dickens got off the mark with his first points win against Latvian-born Senkovs. Senkovs drops to 2 wins (2 by KO) 28 losses (2 by KO) and 2 draws.
Anthony Paul Davies (Prestatyn, Wales ) v Abdul Rashid ( Manchester )
6 x 2 Featherweight Contest
Davies secured his third points win against Rashid. Rashid drops to 1 win 7 losses.
The contest between Andy Keates (Stoke) and Robin Deakin was cancelled at the last minute with Keates failing his pre-fight medical with an ear problem.