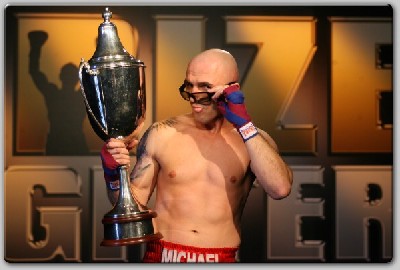 © Lawrence Lustig
Michael Banbula has more fights under his belt than six of the other contenders in the line-up for Prizefighter Light-Heavyweights II on January 29 – experience that the Pole believes will see him claim the title.
Banbula is the veteran of 40 fights since turning pro in April 2004 and enters the 16th edition of Matchroom Sport's eight-man, one-night tournaments on the best run of form of his career. The 30 year-old is unbeaten in his last five fights, including victory over Prizefighter Light-Heavyweights champ Tony Oakey and a draw with Sunderland's Olympic favourite Tony Jeffries.
Liverpool fighter Tony Dodson is the closest man in the line-up to Banbula in the experience stakes with 31 fights to his name and the pair meet in the third quarter-final of the night. When the action gets underway at 8pm from Olympia in London live on Sky Sports and in 3D, Banbula is confident that he will have too much know-how for the rest of the field.
"I know that over ten rounds I would beat all of these guys," said Banbula. "I have got a really strong amateur background too, I had over 80 fights as an amateur in Poland and won a few titles there.
"Professional boxing is miles away from the amateurs, training for a ten or twelve round fight is gruelling, training for the amateurs is more relaxed and carefree."
Pundits and fans casting an eye over Banbula's record will notice a surge in fortunes in the last year, something that the man himself puts down to teaming up with his new trainer, Andy Edge. Banbula acknowledged that Prizefighter is the biggest and toughest night of his professional career to date, but while Edge is keeping his feet on the ground, he has two potential targets in mind should he lift the trophy.
"Andy has really changed me - he's a great trainer and a good friend and it's helped me to win," said Banbula. "My trainer always says don't think about the money think about the glory and that's the main goal.
"I would love a rematch with Tony Jeffries but the dream would be a fight with Tony Bellew for the Commonwealth title. If I win Prizefighter then I know I can get that shot – money comes and goes but the chance to fight for that title would be brilliant."
Also in Banbula's corner and in his ear before the night is a man with more Prizefighter pedigree than anyone else – trainer and manager Jim Evans. He was in the corner for back-to-back Prizefighter champions in the form of Patrick Mendy and Michael Sprott and Banbula is keen to keep Evans' fantastic record going.
"Jim has been giving me inside tips but I can't tell you what they are!" said Banbula. "I have to win this though to keep his record going and if I win I promised to send my Mum on a nice holiday too, so the pressure is on!"
Banbula and Dodson will face the winner of the fourth quarter-final of the night between St. Albans boxer Joe Smyth – aiming to build on a 7-1 record – and Kent man Menay Edwards, unbeaten in his first four fights as a pro. Unbeaten pair Travis Dickinson – younger brother of Cruiserweights II winner Jon-Lewis – and former Wales amateur captain Llewellyn Davies meet in the second quarter-final and will face either popular unbeaten Romford man Billy Slate or Margate banger Jack '13' Morris in the first semi-final after they kick-off the night's action.
Prizefighter Light Heavyweights II Draw:
Billy Slate v Jack Morris
Llewellyn Davies v Travis Dickinson
Tony Dodson v Michael Banbula
Joe Smyth v Menay Edwards
Tickets for Prizefighter Light Heavyweights II are available at £30 unreserved and £50 ringside at SeeTickets.com or through Matchroom Sport on 01277 359900. The £20 unreserved, £40 ringside and £120 VIP are now all Sold Out.