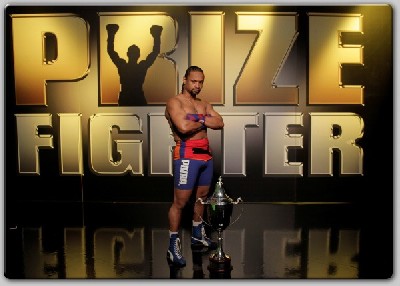 © Lawrence Lustig
Former World Champion Adrian Dodson is ready to make his boxing comeback for Prizefighter Super-Middleweights II – and could face his 1992 Olympic teammate Robin Reid in the March 23 showdown in Liverpool.
Dodson will fight in a four-rounder this coming weekend and should he get through his first fight since September 2003, then he will line-up at Liverpool's Olympia in the 17th edition of Matchroom Sport's eight-man, one-night tournaments live on Sky Sports.
The Islington fighter represented Guyana in the 1988 Olympics and then made the Great Britain squad for 1992 Olympics in Barcelona. Reid fought at Light-Middleweight in Spain and claimed the bronze medal, and as a result, Dodson had to drop to Welterweight in order to compete and crashed out of the event in the second round.
The 41 year-old turned professional soon after a successful amateur career and won the first 18 fights as a pro, claiming the WBO inter-continental title and defeating Lloyd Honeyghan with a third round knockout.
Dodson came unstuck against Ronald "Winky" Wright in a world title shot in 1997 but won the IBO super-middleweight title in 2001. The southpaw bowed out in 2003 following a defeat in Nottingham but explained at the Sky Sports promo shoot on Monday (March 7) that he was returning to primetime action in Prizefighter now that his sons are older – and has scores to settle in the ring.
"I've been a single dad of two boys for the last eight years so obviously they have been my priority," said Dodson. "But now they are much older and things are stable in my personal life, I can come back and deal with some unfinished business.
"I feel that I underachieved from the standard I set and this is a very good platform for me to get back into the big picture. Experience will be vital in this tournament because there are a lot of talented young guns who are hungry to impress and trying to add my name to their records and I'll be trying to remind them just who I am."
Dodson and Reid are joined in the line-up by an ambitious crop of twenty-somethings including Liverpool duo Carl Dilks and former British champion Tony Quigley, unbeaten Welsh prospect Tobias Webb, Sheffield pair Wayne Reed and Patrick J. Maxwell and Leicester hitter Jahmaine Smyle. Dodson knows that the competition will be tough on Merseyside, but the 25-6 fighter believes that Prizefighter can be the springboard to a shot at the biggest prize around.
"I really believe that winning Prizefighter could get me back up to World title contention – that's what I am here for," said Dodson. "The current crop of super-middleweights in Britain is exciting but I still feel that I can mix it with the best."
Tickets for Prizefighter Super Middleweights II at Liverpool Olympia on Wednesday 23 March are available from Matchroom Sport priced £30 unreserved, £50 ringside and £100 VIP – to buy call Matchroom Sport on 01277 359900.