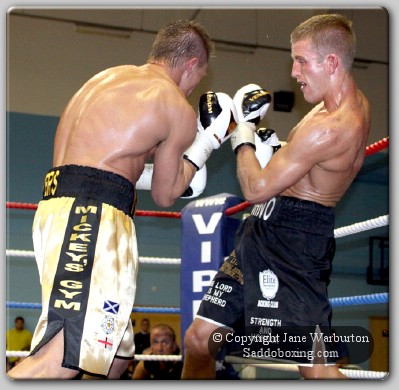 © Click Image for more photos from this Event
Last night, at Leigh Sports Village, England, Steve Wood / VIP Promotions hosted a fight-night which headlined Chris Johnson's first defence of the Central Area Welterweight Title against Neil Beevers of Wombwell, Yorkshire.
(The Bill was also scheduled to feature six under-card contests, but Ryan Clark and Mike Stafford's opponents dropped out at the last minute.)
Chris Johnson (Leyland) v Neil Beevers (Wombwell)
BBBofC Central Area Welterweight Title
Both men 'fly out' at the start of this scheduled ten rounder with 'all guns blazing' ! Beevers lands an overhead right to Johnson's face but the local man gets in with a notable uppercut in the third minute of the opener which sees his corner urge him to go for the same shot throughout the rounds. Finding success with the uppercut in the second frame – he then begins to target the body of Beevers. Beevers has also started off strongly and the action yo-yo's between the two men in the first two rounds, but by the third – Beevers seems to have tired already, his arms look like lead-weights as he throws punches. Johnson lands a shot and Beevers hits the canvas (his legs were almost doing the splits when he went down!). He takes the count from Referee Phil Edwards and fighting resumes. His right eye is swollen top and bottom – and his corner work on it during the break.
The fourth round sees Beevers under pressure against the ropes as Johnson throws a flurry of shots and Referee Edwards jumps in to stop the contest.
'Johno' wins by fourth round TKO. His record now stands at 14 wins (8 by KO) 3 losses (2 by KO).
Beevers drops to 6 wins (2 by KO) 1 loss (1 by KO) and 1 draw.
Terry Needham (Liverpool) v Matt Seawright (Tamworth)
4 x 3 Welterweight Contest
It's a steady first round for these two. But Needham 'goes for it' in the second round using the solid right to land head shots while experienced Seawright keeps focussed. Both men tumble over to the canvas in the third but it's a no-knockdown. Needham keeps up the pace to force a points win.
Needham improves to 3 wins (1 by KO) while Seawright drops to 3 wins 46 losses (9 by KO) and 2 draws
Phil Fury (Manchester) v Louis Byrne (Guildford)
6 x 3 Light-Middleweight Contest
'Intense' Fury dominates this six rounder, affording himself a bit of 'show boating' to keep the crowd entertained (!) But Byrne clipped confident Fury on the chin in the opener and the Manchester man looked almost embarrassed by it.
Fury targets the body of his opponent in the third and begins to 'pick him off' with shots almost like he's practising on the punch-bag at times (!)
Tough Byrne doesn't let him have it all his own way though and does catch him with a smattering of head-shots during the fight.
Fury secures the points win - keenly supported by big cousin, Tyson Fury, who is sat ringside. He improves to 9 wins (2 by KO) while Byrne drops to 2 wins (1 by KO) 16 losses (5 by KO).
Maxine McCarthy (Salford) v Zsofia Bedo (Hungary)
4 x 2 Lightweight Contest
This was a 'messy' fight !
Blond-braided McCarthy – aka 'Mad Max' – bundles her opponent to the canvas in the opener – hitting her a couple of times while she is down! Then she continues hitting her after the bell signals the end of the second frame!
Thankfully she ditches the gold tabard she was wearing and – with eyes glaring like someone possessed – goes after Bedo, but it's all too sloppy and there's a lot of grappling. Quieter Bedo (who was McCarthy's first opponent 13 months ago) looked confused at times like she didn't quite know what to make of her opponent, but she kept focussed (as best she could) and did try to produce the tidier work….to no avail.
McCarthy (cheered on by her small army of female supporters) gets the points win.
McCarthy improves to 4 wins no losses, while Bedo drops to 3 wins 20 losses (4 by KO) and 1 draw
Craig Boardman (Atherton) v Carl Allen (Wolverhampton)
4 x 3 Welterweight Contest
Boardman notches up his second pro win on points over tough veteran Allen.
He lands lefts and rights to the head of Allen but finds his best success when he dips low and targets the body of the Wolverhampton man.
Allen's record is now 18 wins (5 by KO) 95 losses (15 by KO) and 7 draws.