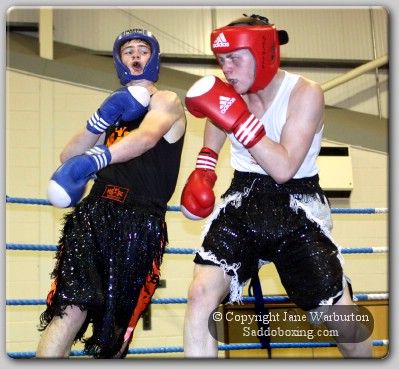 Click the above Image for more Photos from Jane Warburton
Yesterday, at Havercroft Leisure Centre, Ryhill, the ABAE hosted the Northern Semi-Finals of the Junior ABAE Championships.
The results are as follows, but for me personally – the 'stand-out performance' of the day came from Qais Ashfaq of Burmantofts ABC, Leeds. Scoring a win of 38-5, Ashfaq (a member of the GB Boxing Development Squad) looks to be 'one to watch'.
Also worthy of mention – is the congratulations bestowed upon Referee Yaqoob Hussain who has recently been awarded an MBE for his dedication to boxing in the Darwen / Blackburn area. Mr Hussain – who runs the Audley ABC Club – has worked tirelessly to encourage young people off the streets and in to boxing.
Results (Winners in Bold)
Click the above Image for more Photos from Jane Warburton
Class 4 1995
66 kg – Aaron Lovell (St Francis) v Michael Connor (Leigh)
70 kg – Blondie Price (Karmand) v Thomas Whittaker (Rotunda)
80 kg – Ben Dean (Malthouse) v Marcin Lewicki (Lancaster)
Class 5 1994
50 kg – Oliver Simpson (Kelly's) v Mark Leach (Bridgewater Salford)
52 kg – Jack Daniel (Kelly's) v Joe Maphosa (Middlesborough)
63 kg – Jake Westlake (Doncaster Plant) v Macauley McGowan (Jimmy Egan's)
66 kg – Connor Loftus (Burmantofts) v Jake Cotsopoulos (Higherside)
70 kg – Sam Plumb (Solihull) v Jake Haigh (Macclesfield)
75 kg – Rhys Constable-Williams (Exhall) v Patrick Miller (Lancaster)
91 kg – Matthew Archer (Cleary's) v Vojtech Cicka (Ryhill)
Class 6 1993 (4 Rounds)
54 kg – Qais Ashfaq (Burmantofts) v Alex Rutter (Middleton)
57 kg – James Beech (Wildstar) v Jack Catterall (Leigh)
71 kg – Aroon Fiaz (Shrewsbury) v Zac Burton (Boarshaw)
75 kg – Samuel Eggington (Warley) v John Newell (Shannon & Ancoats)