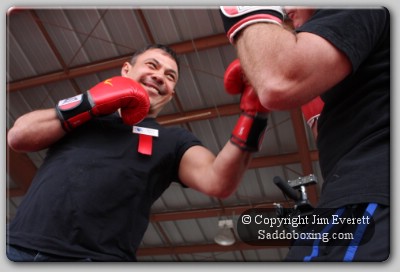 Click the above Image for more Photos from this Event
By now everyone has read and heard about Mike Tyson getting choked up or Sylvester Stallone declaring "Yo, Adrian! I did it!" as they gave their induction speeches this past weekend at the International Boxing Hall of Fame. It was a spectacular event and for many the highlight of the weekend, but for some of us that didn't have the opportunity to stay for the ceremony the rest of the weekend was just as exciting.
I have been to the International Boxing Hall of Fame in the past but never for their induction weekend which typically falls on the same weekend as the Puerto Rican Day parade in New York City. In past years I always seemed to be booked covering a Miguel Cotto fight at Madison Square Garden on the eve of the parade.
This year provided the perfect opportunity to attend. A high profile list of inductees that included Mike Tyson, Julio Cesar Chavez, Kostya Tszyu, Nacho Beristain, Joe Cortez, Sylvester Stallone and no major boxing events to cover paved the way for my first induction weekend.
The weekend begins on Thursday and runs through Sunday. Thursday through Saturday include a variety of events such as ringside lectures, celebrity workouts, fist casting ceremony, 5K run, golf outing, boxing autograph card show, dinners and other special events all of which are complete with several opportunities to meet current and retired boxers. The weekend ends on Sunday, beginning with a parade which includes all the attending boxing celebrities and finishes with the Hall of Fame induction ceremony.
My plan was to arrive Thursday evening and attend events all day on Friday and Saturday. I went into the weekend knowing I would be missing the highlight of the weekend by not being able to stay through Sunday. Although I was a bit disappointed to not have that opportunity, my feelings were quickly dismissed after experiencing all the events on Friday and Saturday.
There is no other boxing event that gives the fans an opportunity to meet and interact with so many boxing celebrities at a single time. It provides the fans the chance to shake their hands, say a few words or perhaps get an autograph.
Personally, the best part of the weekend was listening to all the stories from the boxers, trainers, referees and ringside physicians. Hearing their perspective on what truly happened or what they were thinking during an historic event made you feel like you were getting the inside story and that you were part of the event.
Ringside physician Dr. Schwartz gave a lecture and told incredible stories about what it was like to work the corner of Micky Ward during his fight of the year against Arturo Gatti. Angelo Dundee reflected about working with Muhammad Ali, answering questions such as what was in Ali's eye during the Liston fight, did you tear Ali's glove in the Henry Cooper fight?
Coincidentally I have been covering boxing for the past 5 years which is the same amount of time a boxer must be retired before being eligible for induction into the International Boxing Hall of Fame. It gave me the opportunity to cover an event that would include boxers I may not have ever had the chance to cover.
This was most evident during a variety of workout sessions. I had the opportunity to photograph Kostya Tszyu and Micky Ward as they demonstrated some of their signature moves. Aaron Pryor also stepped into the ring beginning with his signature intimidation move of staring down his opponent in the opposite corner pointing with one fist forward.
My two days at the International Boxing Hall of Fame made me feel rejuvenated towards the sport. I've already started re-watching my boxing DVDs to see if I could pick up on any of the inside stories, or just to watch some of the classic fights of fighters that I had just met.
I would recommend the induction weekend to any boxing fans as something to add to your bucket list. Ideally it would be best to attend all four days but even if you can only make it for a day or two you won't be disappointed.